Fishkill. The name itself—once you realize that the "kill" part is taken from the Dutch for "creek"—implies bounty. In the days of the early settlers, what better news could there be about a creek than the presence of plentiful fish?
And since 1683, when Frances Rombout and Gulian Verplanck purchased 85,000 acres from the Wappinger Indians, this southwestern corner of Dutchess County has proven bountiful. Indeed, driving Route 9 during rush hour, one might almost conclude that the area's been bountied half to death, with a strip of intense commercial development offering just about every consumer option imaginable.
But take a closer look. Not at all far from the beaten path, you'll find two vibrant, historic and close-knit villages, Fishkill and Wappingers Falls, each with its own downtown, landmarks, cultural centers and distinct sense of place.

Springing Back to Life
The Village of Fishkill is much beloved by residents and those who do business there, newcomers and old-timers alike. "It's just a wonderful place," says Paul Stokes, proprietor of Hudson Valley Photo Studio. "We've been here since 1983, and it's been a great ride. Everybody bonds—we have block parties and craft fairs that bring everybody out. The cops stop in just to say hi and you know they're keeping an eye on your store after hours. The village politicians really care."
They do, if village trustee Rafael Delgado is any example. "I went to some board meetings years ago, and the next thing you know they started finding things for me to do," he says. "It's very open and nonpartisan. You have a good idea, something you want to do? Come in, sit down, and let's get to work. It's a very supportive environment."
Delgado creates, sells, repairs and restores fine watches and other jewelry at his Main Street store, the Watchpital, and is adding new product lines for the holiday season: scarves and aprons handmade by his daughter. "When Walmart first opened in town, almost 10 years ago now, it devastated Main Street for a while," he says. "Lots of places closed. People from Garrison and Cold Spring who used to drive up here to shop stopped coming. But then they renovated the old Union House—it was a stage stop—into the Sapore Steak House, which is just a wonderful place to eat, and things started springing back to life. Now we have, let's see, several great restaurants, a shoemaker, small engine repair…Whatever we're doing here, it seems to be working."
Jennifer Lopez agrees. Not to be confused with the J-Lo who's targeted by paparazzi, Fishkill's J-Lo is a transplanted California girl who opened up Maizie's Tea Room with her caterer mom six months ago. "I was scared that I was going to have to become some super-competitive business person, but it's been more like moving in and all the neighbors bring plates of cookies," she says. "I'm a people person—I spent nine years studying psychology, sociology, and philosophy—and I love hearing people's stories," Lopez says. "We're building up a fascinating group of regulars—one woman brings us antique teapots, the local harpist comes in. It's a great mixture of hip and quaint, this town."
Fishkill Supervisor Joan Pagones says that it's a sense of balance—making room for the hip and the quaint, the historic and the modern, the business-friendly and the ecologically aware—that keeps the town thriving; while Maizie's Tea Room and the Watchpital thrive in the village, construction giant Toll Brothers is doing a brisk business creating and marketing town homes. "Because they're pricing them under $300,000, which is downright affordable compared to places south of here," she says. "And we do have actual affordable housing too; we require it of every developer. Our master plan calls for one-third open space, and I think we're actually doing a little better than that, because the businesses are concentrated in the village and on Route 9 where they belong."
Fishkill: At the Crossroads
Fishkill's location at the crossroads of Route 84, Route 9, and the Taconic Parkway, with easy access to the Thruway, has brought in a wide variety of players over the years. There's the Castle Point Veterans Hospital and a state correctional facility, affordable baseball at Dutchess Stadium (the kind of place, Pagones notes, where you can not only afford to take the kids but can feel safe letting them head to the restroom on their own) and Splash Down Water Park. It's a place of contrasts, as Delgado points out. "We just put together a great new park, 52 acres along Fishkill Creek. I can take the kids canoeing and feel like we're lost in the Amazon, then hop in the car and be home—or at a great restaurant—in under 15 minutes. All those posh hotels and motels? When the kids get antsy in the dead of winter, we'll take a night off and check in, hit the sauna and the pool, have a great meal, let them spoil us—and again, be home in the blink of an eye."
The village of Wappingers Falls, to the north, is another historic gem with a lot of moxie and an ability to roll with the punches. "We started as a factory town, then it became an IBM bedroom community, and now there are a lot of commuters," observes Joanne Fatherly, reference librarian and assistant director of Grinnell Library in the heart of the village. "Through it all, it's the kind of place where people stop and talk and care about one another." The library tailors its offerings to fit the community's changing needs, and Fatherly says she enjoys keeping up. "People move here from all over the world with their families, not all the parents speak English, and every weekday afternoon, the little ones come in and the high schoolers get their community service requirement done helping them do homework—the noise level's not to be believed," she says. "We've had a few kids discover a passion for teaching that way. We had an antique appraisal day last year and the mayor [Matthew Alexander]—he owns an antique shop—brought something down to be appraised. The community is very supportive—they voted us a budget increase even in the middle of the worst of the recession- and we love them right back. We just had a henna workshop, and we had everything from kids who think it's cool to older Indian ladies teaching them more about it than we could have. We do manga [Japanese animation]. The diversity around here is very rich, and we just respond as we go along. It's a blend of history—we are the sixth oldest library in the state—with world culture. And the village seems to be thriving; I've noticed a lot of new little businesses in formerly defunct storefronts."
The diversity is indeed dazzling. On Route 9D in the village, you'll find the Amish-themed At Home in the Woods, offering fine finished furniture. Out on Route 9, the Hawaiian-based Bad Ass Coffee Company has just opened its latest franchise, offering java and reggae to all—among a mix of indy and national outlets thriving in a competitive yet nurturing mix that offers just about any service or artifact a person could ever conceivably need.
And down in Fishkill, they're busily nurturing the next generation of entrepreneurs at the Fresh Air Fund's Sharpe Reservation, home to Camp Mariah (Carey) and Camp Tommy Hilfiger, both of which aim to help inner-city kids find not just fresh air but also a sense of career possibilities. "And Tommy and Mariah both do stop in and spend time with the kids," says Pagones proudly. "In the winter, the scouts and other community groups can use the facilities…Somehow it all just works. We're a great big small town, and I love it."

RESOURCES
At Home in the Woods www.athomeinthewoods.com
Bad Ass Coffee Company www.badasscoffee.com
Grinnell Library www.grinnell-library.org
Hudson Valley Photo Studio www.hvphoto.com
Maizie's Tea Room (845) 896-4103
Pamela's Java Hut (845) 896-1261
Sapore Steak House www.saporesteakhouse.com
Splash Down Park www.splashdownbeach.com
Town of Fishkill www.fishkill-ny.gov
The Watchpital (845) 897-5069
Village of Wappingers Falls www.wappingersfallsny.gov
click to enlarge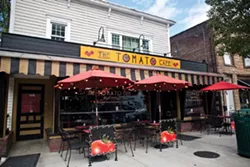 click to enlarge
click to enlarge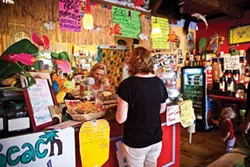 click to enlarge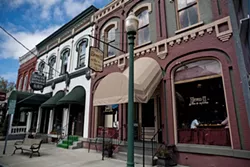 click to enlarge