click to enlarge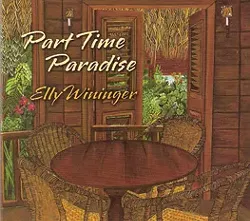 Okay, all you drunken Buddhists out there," Woodstock's own Elly Wininger addresses the High Falls Café audience, "here's your chance to improve your karmic lot so you don't come back as a bug!" She launches into a beery rendition of her original reincarnation anthem "Samsara Drinking Song," and within moments mortal coils are left on the floor and the room is filled with singalong spirit. Although it is the only live cut on Wininger's excellent
Part Time Paradise
, "Samsara Drinking Song" best conveys the infectious generosity of soul that is Wininger's forte.
Armed with only an acoustic and/or National steel guitar, this woman of the mountains can weave all manner of spells with authoritative, expert fingerpicking, propulsive strumming, and snaky slide. A voice that is by turns resigned ("Square One"), determined ("Walkin' Off the Blues"), worldly wise ("Mother Earth"), and sexy ("Rock Me Baby") rides atop spare, confident accompaniment (mostly just Wininger, with occasional help from her friends). Wininger shows assurance as an interpreter on the psychedelic rock anthem "Somebody to Love" and the Brill Building classic "Crying in the Rain" by slowing down, giving each song new depth and breadth, letting resonant chords linger, and squeezing ache and desire out of every syllable she sings. This is impressive stuff, executed with deceptive calm.
Part Time Paradise
is both lively and laidback, ending with the stunner "Don't Wait," a shining carpe diem ballad that will have you running for a loved one and embracing them.
www.ellywininger.com
.