click to enlarge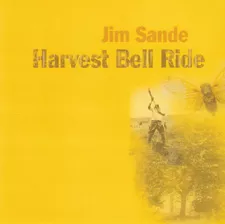 Composer and worldview ideologue Jim Sande's solo work
Harvest Bell Ride
stretches beyond lovely. His 15 original compositions fluidly stream into one another's state of abstraction, enhanced by Sande's balance of instrumentation, timbre, pace, and space.
Early in his education he seated himself in various musical contexts—rock, jazz, classical chamber ensembles—and played piano and guitar. These experiences are expressed throughout and within the four-minute-or-so portals that Albany resident Sande has created. He's as crafty a composer as he is the leader of his Jim Sande Ensemble, and is also an instrumentalist, illustrator, author, animator, and blogger. As he puts it, he finds "inspiration from the material I read, from examining visual artwork, from quiet observation alone or out in nature."
A former player with the Executives and Boy in the Button, Sande uses digital reinterpretations of orchestral instruments to illuminate and speak to the plaintive narrative of some pieces ("As Deer Surrender," "Mulberry"), the fancifulness of others ("August Bug Hum"), and the explicitly incomplex ("Empty Rug Pageant," "Lullaby of Blue"). Unlike on his previous releases, Sande renders his voice mute for this body of work. Within the context of the 60-minute
Harvest Bell Ride
, each composition on is distinguishable and delicately shaped as an aural montage. Consider listening a mental massage.
www.jimsande.org
.