click to enlarge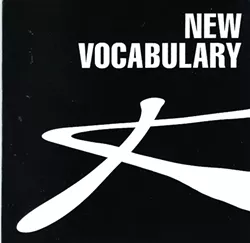 New Vocabulary New Vocabulary
(2014, System Dialing Records)
A new album with Ornette Coleman is big news. Recorded in 2009, New Vocabulary is billed as a "collective collaboration" between three extraordinary artists (and one guest). The album consists of 12 individual tracks, but the music flows like an extended suite; each track feels like a movement in a larger work.
Joining Coleman are trumpeter Jordan McLean, who also provides electronic effects, and drummer / label co-founder / Upstate New Yorker Amir Ziv. Pianist Adam Holzman appears on "Value and Knowledge," "Sound Chemistry," and "Gold is God's Sex." Ornette Coleman's fire is undiminished by age. McLean's trumpet arcs through the background as his electronics create a hazy atmosphere through which Coleman slices with his saxophone. Ziv gives the album its pulse while remaining rhythmically elastic.
When the three men simultaneously improvise, the effect is exhilerating. At no point does the music lose its focus. Coleman makes the center hold. When Adam Holzman's piano is added, the music changes texture but remains fundamentally consistent with the album as a whole. It's no accident that Holzman appears at what would be the closing tracks on each side of an LP. His presence augments the trio, helping them achieve apotheosis at the album's midpoint and end. At the same time, the final track, "Gold Is God's Sex," ends with a literal unresolved note, suggesting that the music could loop back around, much like James Joyce's Finnegans Wake. New Vocabulary is fascinating and adventurous and well worth the listen. Systemdialingrecords.com.