click to enlarge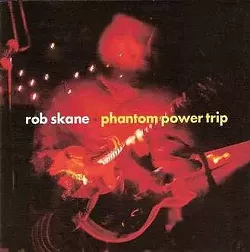 Rob Skane's website links to Nick Lowe, Graham Parker, Paul Westerberg, and the lesser-known Jim Campilongo. A veteran of the unsung, lo-fi Capital District music scene, Skane boils these influences down to simple and catchy sneaker rock. Deceptively casual, but addictive, and its subtle needles prick until the naïve weekend warrior wakes up one Monday with the sweats, a full-blown junkie. Short, repetitive, and sometimes quirky tunes chug along with lyrics that go down smooth. Highlights like "I Waited," "You Preach Peace," "Girl Next Door," and "Army of Individuality" dare you not to sing along or hit repeat and repeat again.
Filled with hooky melodies, the way-up-front vocals declare, "I am power pop," and the backups and doubling by Dale Haskell seal the deal. Despite this, neither the delivery nor the subject matter feels forced into a generic genre balloon. One reason is the refreshingly undistorted solos of vintage tone and nicely polished country bent. The production is decent, considering the record was mixed by Skane in his basement studio. The drums fall flat on a few tunes, but Skane's steady strumming breathes confidence. The voices are dry and unpretentious, and the rawness, combined with brave mixing choices, serve to purify the melody and message.
Phantom Power Trip
is a vibrant example of someone staying true to their roots and not striving too hard or straying too far from what they do best. Like an old pair of shoes or a T-shirt you wore in college, it delivers a palpable comfort, goes on easy, and everything fits in the right place.
www.robskane.net
.