click to enlarge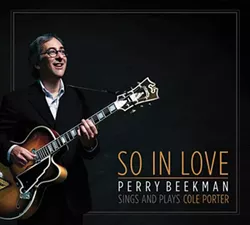 On So in Love, Woodstock-based jazz guitarist and vocalist Perry Beekman offers 15 lucid and swinging readings of Cole Porter songs in a drum-less trio setting. If you let it, it will slide by pleasantly enough—standards like "It's Delovely" and "Anything Goes" are played and sung in high-classicist jazz style. Pianist Peter Tomlinson and bassist Lou Pappas purr along agreeably. Beekman sings with only a modicum of jazz-naningans, respecting as scripture the flawless metrics, the astonishing exactitude of Porter's inventive phrases. From a distance, it appears less a personality-stamped act of interpretation and more an efficient Cole Porter delivery system. This is hardly a bad thing. Porter was a genius, and anything that channels his craft and imagination, relatively unembellished by the vessel, is welcome.
I Happen to Like New York
Update Required
To play the media you will need to either update your browser to a recent version or update your
Flash plugin
.
Porter concealed radical sophistication within his swanky urban pop, and Beekman also sports depths that he makes optional for the listener, especially as a guitarist. As an interpreter, Beekman finds Porter's art songs especially congenial. The conceptually daring "I Happen to Like New York" was experimental chamber pop before there was such a thing, and is a real stunner here. Beekman struggles a bit to connect with Porter's louche, Prohibition-age naughtiness, but that element is so often over-sold it is almost refreshing to find it muted. The rightful star of this record is Cole Porter, but it took ninja skill and deeply empathic musicality to deliver him so fittingly. Perrybeekman.com.