This year, Poughkeepsie and Hyde Park's greatest landmarks are being refitted and revamped in the hopes that a surge of day trippers will follow. While the Culinary Institute of America and the Franklin D. Roosevelt Presidential Library and Museum are getting add-ons and facelifts, Pleasant Valley is coolly hanging out under the radar, steeped in history and enjoying only subtle changes.
The Walkway Over the Hudson, which connects Poughkeepsie with Highland and stretches over the Hudson River, has paired up with BCI Construction Inc. from Albany to open a 20-story elevator this fall on the Poughkeepsie side of the bridge. Visitors will be able to ride from the base of the bridge up to the deck, making it easier for people to seamlessly go from the waterfront to the Walkway. The eight-by-ten-foot foot elevator will be framed with glass and the supporting steel tower will stand 220 feet tall; changes will be made to the bridge so people can easily and safely step off the elevator. The Walkway will also link up with the Dutchess Rail Trail, which stretches all the way to East Fishkill, and opening at the same time will be a riverfront park at the base of the bridge.
Walkway visitors will be able to access more of Dutchess County than before, but that's just the first step in the marketing overhaul that the area is undergoing. Soon, you'll be seeing signs throughout Dutchess and Ulster Counties for the newly launched Greater Walkway Region, thanks to a wide-reaching branding and communications strategy. New images of the Walkway, an informative website, brochures, and ads are all part of the plan, along with cohesive signing with color codes and icons to indicate restaurants, shops, and scenic views. A new smartphone app will help visitors navigate the area; locals will benefit too, because a lot of residents still don't know all of the perks that the area has to offer.
Brasserie 292 and the Ice House, both within walking distance of the Walkway in Poughkeepsie, are just a couple of those eateries that will enjoy a boost from the rebranding. Brasserie is a debonair little slice of Paris, with bright white tiles, a copper-colored tin ceiling, red booths, and a black-and-white floor. The Ice House on the waterfront is one of the city's newest additions to the dining scene. Menus are influenced by both local and seasonal fare and a raw bar is available as well.
click to enlarge
Pleasant Valley
Elaine's Tap and Table in Pleasant Valley, formerly Gentleman Jim's, is set in a 200-year-old farmhouse that was once Tate's Inn during World War II. Big names like Jimmy Cagney and Jack Nicholson have been patrons in the past, adding to the establishment's cultural draw. True to its name, Tap and Table actually has taps at some of the dining tables. The restaurant has events throughout the year, including beer tastings and pairings. Other Pleasant Valley eateries include the Purple House restaurant, which serves Italian fare, and the Publick House, a favorite local watering hole.
Quattro's Farm Store is a jack of all trades, operating as a custom butcher shop, deli, Italian specialty store, hunting supplier, and ice cream shop. Family run since 1942, Quattro's sells poultry and game meats from their own farm, including pheasant, geese, and venison—all animals are raised without hormones, chemicals, or antibiotics.
click to enlarge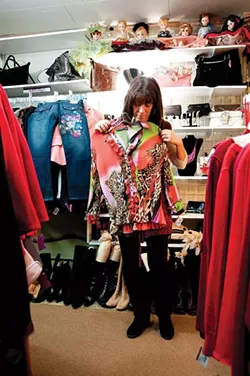 YUJ Yoga & Fitness is more than meets the eye, with classes as varied as Pilates and boot camp offered on a regular basis. Participate in community yoga every 2nd and 4th Sunday of the month at 1:30 p.m. Ballroom dancing is available every Saturday at 4:30pm. Additional classes include yoga, of course, plus cardio circuit, spinning, TRX trainng, and Zumba. There are also classes specifically for moms, fitness groups for kids, and stretching for seniors.
Hyde Park
A hyperbolically oversized spoon-and-fork set was used by President Tim Ryan of the Culinary Institute of America and Richard E. Marriott to break ground on the brand new Marriott Pavilion in September of last year. Extending from the established J. Willard Marriott Education Center, the 42,000-square-foot theater and conference center will serve as a facility for students to learn about menus, products, and professional development. The theater will seat 800 people and include seminar rooms and a demonstration kitchen. As always, the CIA is not just interested in turning out successful chefs, but also innovative thinkers who are interested in everything from nutrition and food science to business. The Marriott Pavilion is set to be completed by the fall of this year.
Bocuse Restaurant is another of the Culinary's up-to-the-minute additions, replacing the college's Escoffier room. Like all of the CIA's restaurants, Bocuse is student-staffed since it doubles as a class. Modern techniques are used on traditional French dishes, teaching students how to freshly interpret classic cuisine. (See our profile of Bocuse on page 80.) If you're in the mood for a mellower atmosphere, the Hyde Park Brewing Company, located right up the road, serves beer flights of their own brews and they host live bands on weekends.
After undergoing demolition and abatement in 2012, the Franklin D. Roosevelt Presidential Library and Museum began working on a major renovation. Equipment that had been in the building since its opening in the 1940s has finally been replaced. The library also has a new roof and upgraded stone, and there are new stone walks in the courtyard. Exhibition areas now have walls and brand-new windows have been installed throughout the building.
Much of the restoration has been in preparation for a permanent museum exhibit that's set to open in the summer of this year. Installations will show the lives of Franklin and Eleanor Roosevelt, including details about the Great Depression, the New Deal, and World War II. Visitors will also learn about Roosevelt's political career, specifically during the time following his polio diagnosis. The museum will have interactive exhibits and audio-visual theaters to keep guests engaged and entertained.
The FDR Library and Museum was completed in 1941, and other than the addition of two wings in 1972, there hasn't been any type of redevelopment. Now, several components of the building have been brought up to date while the historic design has been preserved. Two major changes were elevating the museum and archives to the standards set by the National Archive and creating complete accessibility for wheelchairs.
The FDR estate isn't the only historical site that Hyde Park has to offer. A few minutes north are the Vanderbilt Mansion and its famous Italian gardens. Many on-site trails are meandering while a few others are strenuous. For a taxing workout, trudge along the 10-mile Hyde Park Trail that connects FDR's home with the Vanderbilt Mansion. Nearby Pinewoods Park has a skate park, tennis courts, fishing, and a baseball field, while Hackett Hill Park has a swimming pool, horseshoe pits, hiking trails and a campsite.
Resources
Adams Fairacre Farms
Crafted Kup
Dreaming Goddess
Focus Local
Freight Liquidators
H. G. Page and Sons Home and Hardware (845) 452-7130
Hudson Valley Center for Neurofeedback
Hudson Valley Skincare
Hyde Park Antiques
Ice House
Madison's Pizza Cafe (845) 635-9500
Marlene Weber
Pleasant Valley Department Store
Sushi Village (845) 471-5245
Valley Endovascular Associates