In the December 2004 issue of
Chronogram
, we published an article about a lesbian couple's long and difficult journey toward adopting a child. "The Right to a Family," by Amanda Bader, chronicled the legal hurdles, discrimination, and various indignities Peri Rainbow and Tamela Sloan endured to bring Cecilia (now Rainbow-Sloan), a foster child, into their family.
On September 18, at Peace Park in New Paltz, Peri and Tamela, (now Rainbow-Sloan), celebrated their 10th wedding anniversary and renewed their vows in the presence of Rabbi Jonathan Kligler, Mayor Jason West, and friends and family. Though the New York State Marriage Equality was passed in June, Peri and Tamela, like many committed same-sex couples, had already been united in a number of ceremonies, including a legal wedding in Canada, which precluded them from getting hitched again in New York State.
A chronology of Peri and Tamela's unions:   
June 2001
: United in a Civil Union in Vermont.
September 2001
: Married in a religious ceremony by Rabbi Jonathan Kligler in Woodstock.
February 2004
: Married by Mayor Jason West in New Paltz.
August 2005
: Legally married in Niagara Falls, Canada.
click to enlarge
click to enlarge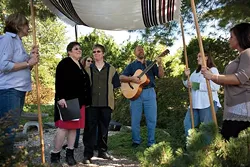 click to enlarge