It's easy to celebrate the produce of this region in the summer. The farms and markets explode with sustainably grown vegetables that are so beautiful, they look lit from within. Even a modest, well-tended kitchen garden can supply a family with a substantial portion of their weekly groceries; gardenless neighbors are often the happy recipients of the surplus. This time of year? Not so much. The ground is rock-hard and our garden beds are desolate. The seed catalogs arriving in the mail rival pornography in their evocation of the unattainable. It's a hard time to be a gardener.
But it doesn't have to be. Whatever the scale—from small backyard plot to large commercial farm—it is possible to grow food all year long in this climate using a few simple, inexpensive techniques. And the resulting vegetables actually taste better for having been grown in the cold.
Stone Barns in Pocantico Hills was built in the 1930s for the Rockefeller family as a dairy farm on about 80 acres of land. Now, besides being an organic farm that provides much of the food for Blue Hill's on-site restaurant, Stone Barns is a nonprofit educational institution with extensive programs and classes for all ages in a variety of areas, including winter gardening. An elegant complex of stone buildings grouped around a central courtyard, it offers views on three sides of the sloped, undulating, partly wooded site that includes a seven-acre garden, pasture and housing for poultry, sheep, and pigs, several hoop houses, and a large, heated greenhouse. Some of the fields are fallow, but nearby plastic tunnels shelter long rows of plump spinach, shielded further by corn stalks left standing in adjacent rows on their north side as a windbreak. Nutrient-adding cover crops blanket much of the rest. It's not postcard pretty, but there's a whole lot of food still in the field, and in conditions that let it reach the pinnacle of flavor and remain accessible for harvest. Jack Algiere is the four-season farm manager at Stone Barns. This time of year, his main focus is on the half-acre greenhouse that is farmed intensively all year long, growing 50 or so crops at a time. Minimally heated to 30 degrees (the thermostats are down at plant height) by high-efficiency propane burners (which also generate growth-spurring carbon dioxide), the vast enclosure smells like spring even as a cold wind scours the outside.
Most of the farm's produce goes to the restaurant, and the rest is sold at farmers' markets in the area and at their own monthly winter market on the second Sunday of every month. Because the greenhouse is expensive to run—$11,000 per year in propane, and a total cost of three cents per square foot per day—Algiere works constantly to maximize the value of his crops. "Bigger is not necessarily better; the most money sometimes comes from the smallest things," he explains; baby carrots and turnips and microgreens fetch far more than their mature siblings. Plantings are very close together, making use of every available square inch. Other plants—beets, parsnips, spinach—are better when they freeze, so they stay outside. Working closely with the restaurant up the hill, he says, "gives us the ability to grow different and exciting things. I search the world for cutting-edge ingredients, and they are always looking for new things to try." Recently, he has been growing ginger with great success (try buying some, burying it in a pot of soil, and keeping it in a warm place.)
Dan Barber is the James Beard Award-winning executive chef and co-owner of Blue Hill at Stone Barns, where he has earned a reputation as one of the most gifted and passionate proponents of farm-to-table cooking in the country. For Barber, eating locally grown food in the winter is a question of quality. "We're not going to choose a bad-flavored vegetable just because it's local," he says, but winter has culinary benefits: Cold weather makes hardy plants taste better. "Starches convert to sugar to prevent ice crystals forming. We taste sweetness, but it's the plant trying not to die." He sees the constraints of winter as a boon to creativity: "Working with a distributor, the world is your pantry. With the farm, we're limited in many ways, but there's real pleasure in the limits. I enjoy the lack of options; we end up being really creative in the kitchen." Recently, faced with a ton (literally) of banana squash that needed using, Barber pressed them under bricks as they cooked, trimming the result to look like steaks, and served them with steak sauce, creamed spinach, and cranberry ketchup. "There's a glory to restrictions; we concentrate on the limited palette available. And I like food that has a story, a connection to a place."
Place, like taste, begins with the soil. "Good soil makes flavor," says Algiere, enthusiastically. "We're always working with the soil, touching it every day. It's an ecosystem."  This dynamic, living dirt allows plants to achieve their full chemical complexity, which means they taste as good as they possibly can. Take pak choi, for example. The compounds that it generates to defend against pests are responsible for its bright, mustardy taste; the healthier the plant, the better the flavor. The sugars it makes when the frosts come mean that when caramelized quickly in a hot pan it develops a complex sweetness that contrasts beautifully with that sharpness. Add a pinch of salt and a splash of vinegar and you have a humble dish punching way above its weight. Salad greens like lettuce, arugula, mâche, and spinach are at their best in winter. Roots are sweeter: Parsnips left in the ground until it thaws are one of early spring's great treats; they're sugary enough to make into ice cream. It is simply not possible to get the same results with produce from thousands of miles away.
And this brings us to the relevance of these techniques for the home gardener. While a 22,000-square-foot heated greenhouse may be a tad ambitious, a few simple tunnels or cold frames can provide fresh vegetables of the highest quality all winter long. "Anything that can make it in November can survive the winter," says Algiere. Eliot Coleman is a renowned expert on four-season gardening and the author most recently of The Winter Harvest Handbook, a book with a companion DVD (Chelsea Green, 2009). He lives in Maine, and his methods all arise from the simple truth of latitude: Kingston is the same distance from the Equator as Barcelona. Their climate is different, of course, but we get exactly as much sun as they do; with a layer or two of protection it is possible to grow everything here that they do there. With a hoop house or row cover mitigating the damaging effects of cold and wind, our backyard plot can easily be the equivalent of three USDA zones warmer: While our lawn is frozen solid, our salad is basking in Southern comfort.
Algiere explains that a heated greenhouse allows for winter growth, while a tunnel allows for winter harvest: "An unheated space is like using the outdoors as cold storage; most plants won't grow much. They'll be in suspended animation," staying alive and happy until harvest. Coleman agrees, stating that hoop houses and the like are really for harvest extension, not year-round growth. The key is successive plantings of various crops from late summer through fall, so that there's plenty to pick once growth slows to near stasis. As space opens up, spring seeds like radishes and greens can go in the empty rows.
The simplest method is to use appropriate lengths of block truss—stiff galvanized-wire mesh used for reinforcing masonry walls—or plastic electrical conduit poked into the ground so it forms arches that span the bed every few feet, with six-mil construction plastic draped over the hoops and weighted against the wind with bricks. The sun can easily heat the interior of such a space to 60 degrees, even when it's 25 degrees outside. This keeps the soil from freezing overnight, and the plants either grow slowly or stay fresh and alive until harvest. An open-bottomed cold frame right outside the kitchen door allows one to grow and harvest salads and roots all winter long with a minimum of effort. Even a quarter-acre subdivision has microclimates; the north side of the house will often retain snow for weeks after the south side is boasting crocuses. Any cold frames or hooped beds should be placed in these warm spots to maximize use of passive solar energy.
Climate change notwithstanding, winter looks to be a regular occurrence around here for some time to come. The local options in the produce department are pretty thin in the cold months, but if we're already growing some food for ourselves, we can extend the season for top-quality vegetables deep into winter, and get a jump on spring. This is a subject that can become quite detailed and complex at a commercial scale, but at its core it's very simple: Plant some hardy crops from late summer into the fall, and give them some shelter. You will reap salads that positively squeak with freshness, and cooking greens and roots that surpass anything else available.
click to enlarge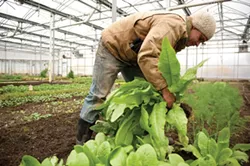 click to enlarge
click to enlarge