click to enlarge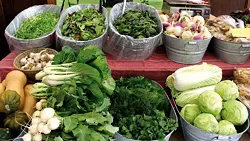 Amy and Gerry Hepworth Farms
506 South Rd, Milton
(845) 795-2007;
Hepworthfarms.com
A seventh-generation family owned farm. Multiple different variations of certified organic produce.
B & C Christ Farms & Greenhouse
90 Wiltsie Bridge Rd, Ancramdale
Fruit and vegetable CSA grown on this family-run farm. Mini and double shares available.
Binnewater Farm Project
PO Box 166; Rosendale
(518) 945-8880,
Binnewaterfarm.org
A wide-range of vegetables in a large number of varieties. Seasonal herbs and fruits.
Blooming Hill Farm
1251 Rte 208, Blooming Grove
(845) 782-7310;
Bloominghillfarm.com
Share includes fruit, vegetables, herbs, plants, and flowers.
Brook Farm Project
60 Gatehouse Road, New Paltz
(845) 255-1052
Farmers market-style CSA. Members pay for a share of the 27 week harvest. Come to the farm on Saturdays and fill your bags with vegetables, the total will be deducted from the original payment. Sustainably grown vegetables, herbs, flowers, and berries.
Carter Farm
17 Hurds Corner Road, Pawling
(845) 855-5782
Full and partial shares include herbs, greens, and seasonal produce. A full share is enough for a family of four or two vegetarians, while a partial share provides enough for a family of two or one vegetarian.
Cascade Farm
124 Harmony Road, Patterson
(845) 878-3258;
Cascadefarmschool.org
A wide variety of vegetables as well as herbs, honey, and maple syrup.
Clove Valley CSA
81 Clove Valley Road, High Falls
(845) 687-0535;
Clovevalleycsa.org
No-till permaculture-style; A weekly share of seasonal veggies, herbs, and flowers. U-pick gardens on-site.
Common Ground Farm
79 Farmstead Lane, Wappingers Falls
(845) 231-4424;
Commongroundfarm.org
A wide variety of vegetables are available. Meat and dairy products from Lewis Wait Farm in Greenwich available with summer membership.

Common Hands Farm CSA
389 Route 23B, Hudson
(518) 929-7544;
Commonhandscsa.com
Organic vegetables
Cowberry Crossing Farm
55 Wenzels Ln, Hudson
(518) 828-2682;
Cowberrycrossingfarm.com
A weekly share of seven to twelve varieties of biodynamic vegetables.
Creekside Acres Fiber Farm
14 Creekside Place, Pleasant Valley
(845) 518-1239,
Creeksideacresfiberfarm.com
A CSA fiber and yarn share includes four percent of the farm's total clip of raw fiber, roving, or yarn.

Eats Village Farm
677 Sawkill Road, Kingston
(845) 532-2448;
Eatsvillagefarm.com
Located on a 5-acre plot in Ulster County; organic-only fertilizer; vegetables, fruits, flowers, and herbs.
Escot Valley Farm
1158 Berme Rd, Kerhonkson
(845) 480-4428
Pasture-raised chicken share available bi-monthly.
The Farm at Miller's Crossing
81 Roxbury Road, Hudson
(518) 851-2331;
Farmatmillerscrossing.com
Organic vegetables, plants, and small-scale grass-fed beef production.
Farmers Table at Stone Mountain Farm
PO Box 389, Rosendale
(845) 399-4800,
Farmerstable.biz
Various types of fresh greens harvested the day of share delivery.
Fishkill Farms
9 Fishkill Farm Rd, Hopewell JCT
(845) 897-5194;
Fishkillfarms.com
Fruits including apples, peaches, berries, and black currants and vegetables, and herbs. Full and split shares with a pick-you-own produce available at on-farm pick up.
Fresh Meadow Farm
407 Ingrassia Road, Middletown
(845) 800-8135;
Freshmeadowfarm.com
USDA certified organic by NOFA-NY. A wide-range of vegetables and herbs. Fresh baked pies, quiches, and loaves. Homemade pickles and salads.
Full Field Farm
PO Box 66, North Chatham
(518) 766-0155;
Fullfieldfarm.com
A mixed-meat CSA, which includes pork, chicken, veal, and beef. Starting in May, each member will receive 10, 15, or 20 pounds of meat each month. Members can commit for one to 12 months. The longer the commitment, the lower the cost.

Glynwood Center
1 Glynwood Road, Cold Spring
(845) 265-3338;
Glynwood.org
Farming on 225-acres, Glynwood grows certified-naturally grown vegetables in composted soil and natural fertilizers. Glynwood flowers, eggs, and meat are also available. "Basket" or "Peck" share available on a sliding scale, which allows members to pay what they are able to.

Gray Horse Farm
286 Hobbs Lane, Clinton Corners
(845) 266-8991
Currently offering USDA certified organic egg and chicken shares, to members of the Poughkeepsie Farm Project and Great Song Farm.

Great Song Farm
475 Milan Hill Rd, Red Hook
(908) 227-0004,
Greatsongfarm.com
Fresh vegetables, flowers, and herbs. Organic eggs and chicken provided by Gray Horse Farm.
Greig Farm
225 Pitcher Lane, Red Hook
(845) 758-1234,
Greigfarm.com
Asparagus and sugar snap peas, along with summer seasonal berries—strawberries, raspberries, blueberries, and blackberries, and apples, fall raspberries, and pumpkins in the fall.
Hand Hollow Farm
402 Hand Hollow Rd, East Chatham
(518) 794-0176
Over 40 kinds of organic vegetables as well as culinary herbs, and flowers for a 50 member CSA.

Hawk Dance Farm
362 Rodman Road
Hillsdale, NY 12529
(518) 325-1430
A vegan farm featuring flowers, herbs, and vegetables. No use of chemicals or pesticides.

Hawthorne Valley Farm
327 Route 21C, Ghent (Harlemville)
(518) 672-7500 x105;
Hawthornevalleyfarm.org
Full or half vegetable share or fruit share.
Healthy Harvest CSA at Johnson's Farm
180 Carpenter Road, Hopewell Junction
(845) 226-8877
Herbs and produce grown using all-natural, pesticide free practices.

Hearty Roots Farm
223 Pitcher Lane, Red Hook
(845) 943-8699;
Heartyroots.com
Seasonal produce.
Herondale Farm
90 Wiltsie Bridge Rd, Ancramdale
(518) 329-3769;
Herondalefarm.com
Share includes grass fed beef and lamb; pasture raised pork and chicken.
Hesperides Organica
397 Big Island Road, Warwick
(845) 216-1282;
Hesperidesorganica.com
A variety of vegetables and herbs grown in the fertile Black Dirt region of Orange County.

Hudson Valley Fiber Farm
641 Hortontown Road, Hopewell Junction
(845) 592-4349;
Hudsonvalleyfiberfarm.com
The first "Fiber CSA" in the country. Offering prize-winning fleece from Angora Goats and fine wool Cormo and Merino sheeps.
Huguenot Street Farm
205 Huguenot Street, New Paltz
(845) 810-0033;
Huguenotfarm.com
This 77-acre farm grows 125 types of fruits, flowers, and vegetables. Additional fruit share available.
J&A Farm
Indiana Road, Goshen
(845) 360-5380;
Jabialasfarm.com
Over 150 different varieties of vegetables are grown using organic methods.
Katchkie Farm
34 Fischer Rd Ext, Kinderhook
(518) 758-2166;
Katchkiefarm.com
A weekly share of eight to ten different varieties of vegetables from this certified organic farm.
Lineage Farm
492 Rt 217, Hudson
(518) 755-3391;
Lineagefarmcsa.com
Over 30 varieties of seasonal veggies from broccoli and kale, to beets, squash, and more, are grown using biodynamic/organic methods.
Little Seed Garden
P.O. Box 195, Chatham
(518) 392-0063,
Littleseedgardens.com
More than 50 types of vegetables and herbs; certified organic by the Northeast Organic Farming Association of NY.

Loose Caboose Farm
(518) 537-777;
Loosecaboosefarm.com
Vegetable CSA specifically intended for canning and fermenting.
Midsummer Farm
156 East Ridge Road, Warwick
(845) 986-9699; Midsummerfarm.com
Certified organic vegetable and fruit share. Add on herb, mushroom, flower, and egg shares also available.
Northwind Farms
185 West Kerley Corners Road, Tivoli
(845)757-5591; Northwindfarmsallnatural.com
All-natural chicken, beef, pork, turkey, duck, and other types of poultry.
Old Ford Farm
Old Ford Road, New Paltz
(845) 220-7819
A variety of vegetables. The cost of the share is determined by the size of your household; at CSA distributions members take as much produce as they need for their household, no limits—including extras for preserving. In addition, pasture-raised meats and eggs are sold at the farm store.
Partners Trace Farm
32 B Rousner Lane, New Paltz
(718) 877-2602; (347) 334-4734; Partnerstrace.com
40 types of vegetables, 20 herbs varieties, and flowers.
Phillies Bridge Farm Project
45 Phillies Bridge Road, New Paltz
(845) 256-9108; Philliesbridge.org
Sustainable and organic growing techniques for vegetables and the herb garden. Optional add-on shares for Phillies Bridge eggs, and sweet corn, berries, and orchard fruits from neighboring farms.
Pine Hill Farm
3298 State Rte 94, Chester
(845) 325-1115; Pinehillfarmvegetables.com
Market-style CSA featuring vegetables.
Poughkeepsie Farm Project
Corner of Raymond and Hooker Avenues, Poughkeepsie,
(845) 473-1415; Farmproject.org
Seasonal vegetables, fruits, and herbs. Organic eggs and chicken from Gray Horse Farm.
Red Oak Farm
1921 Route 9, Stuyvesant
(518) 799-2052; Redoakfarmny.com
Fruits including currants, raspberries, and grapes, vegetables including beets, arugula, cucumber, kale, and tomatoes. Optional pasture-raised egg share available. A diverse selection of herbal teas.
Rexcroft Farm
389 Leeds-athens Rd, Athens
(518) 821-8709; Rexcroftfarm.com
Twenty-week vegetable share. Add on shares include sweet corn, fruit, and naturally raised poultry.
R'Eisen Shine Farm
133 Under Mountain Rd, Copake
(518) 329-0448; Reisenshinefarm.blogspot.com
Year-round CSA using sustainable organic principles. Over 100 varieties of veggies grown. Shares include eggs and meat (chicken and rabbit, with the option of up to two thanksgiving turkeys), which will be available on a regular basis.
Rondout Valley Organics
Wawarsing
(845) 647-6911; Farmtocity.org/affiliates/rondoutvalley
Cooperative CSA made up of Wararsing's August Farm, Farm & Granary, and Rusty Plough Farm.
Roxbury Farm
2343 Route 9H, Kinderhook
(518) 758-8558; Roxburyfarm.com
Vegetables, fruit, grass-fed, pasture-raised pork, lamb, and beef, as well as chicken.
Royal Acres
621 Scotchtown Collabar Rd, Middletown
(845) 692-6719
A wide variety of seasonal vegetables, herbs, and flowers. High quality produce grown with no impact to the environment.
Ryder Farm Cottage Industries
400 Starr Ridge Road, Brewster
(845) 279-4161; Ryderfarmorganic.com
NOFA-NY certified organic. Fresh produce including vegetables, herbs, and fresh-cut flowers.
Second Wind CSA at the Four Winds Farm
158 Marabac Road, Gardiner
(845) 417-5624; Secondwindcsa.com
A variety of vegetables and herbs grown using an organic no-till method.
Sheltie Meadow Farm
15 Pulcher Ave, Hudson
(518) 828-7803
A variety of organic fruits and vegetables. All-natural free-range whole chicken, eggs, and all-natural grass-fed whole, half, or individual cuts of lamb. Home-made baked goods including breads, muffins, pies, and dog and horse treats. Raw wool available.
Shoving Leopard Farm
845 River Road, Barrytown
(845) 758-9961; Shovingleopardfarm.org
Vegetable and flower shares, pick-your-own flower labyrinth, eggs (blue, brown, speckled, white, and tan), and honey (from Anarchy Apiaries) are available. A fall fruit share also available from Montgomery Place Orchards.
Sisters Hill Farm
127 Sisters Hill Road, Stanfordville
(845) 868-7048; Sistershillfarm.org
Harvest of vegetables varies throughout the season. Share provides enough for an average size family or two vegetarian adults.
Slow Roots Farm
Jacob Diaz
205 Hidden Valley Rd, Kingston
(845) 339-2731; Slowrootsfarm.com
Over 200 varieties of classic and unique vegetables.
Sol Flower Farm
90 Wiltsie Bridge Road, Ancramdale
(518) 329-1004; Solflowerfarm.com
Over 40 different types of vegetables and over 20 different varieties of flowers grown organically. One share feeds two vegetarians or four omnivores.
Smyler's Farm
70 Van Deusen Rd, Hudson
(845) 750-5252; Smylersfarm.com
Organic seasonal vegetables, herbs, and flowers; all-natural local meat shares available including lamb, beef, turkey, and bacon.
Stone Ridge Orchard CSA
3012 Route 213, Stone Ridge
(845) 266-3979; Stoneridgeorchard.com
Partnering with Hugenot Street farm to provide vegetable shares. Also working with Breezy Hill Orchard for fruit shares and Knoll Krest Farm for egg and fresh pasta shares.
Threshold Farm
16 Summit Street, Philmont
(518) 672-5509
Fruit CSA runs from mid August through early November; including apples, pears, and peaches. Some vegetables. In addition yogurt, almonds, raw honey, lentils, beans, oatmeal, and barley are available.
Taliaferro Farms
187 Plains Road, New Paltz
(845) 256-1592; Taliaferrofarms.com
Vegetables, fruits, and herbs grown using certified organic methods.
W. Rogowski Farm
327-329 Glenwood Road, Pine Island
(845) 258-4574; Rogowskifarm.com
Root vegetables, salad and cooking greens, herbs, onion crops, and short season crops. Grown naturally without synthetic fertilizers or pesticides.
Veritas Farms
32 Rousner Lane, New Paltz
(845) 384-6888; VeritasFarms.com
A wide variety of open pollinated and heirloom varieties of vegetables using organic methods. Working in conjunction with the Poughkeepsie Farm Project.