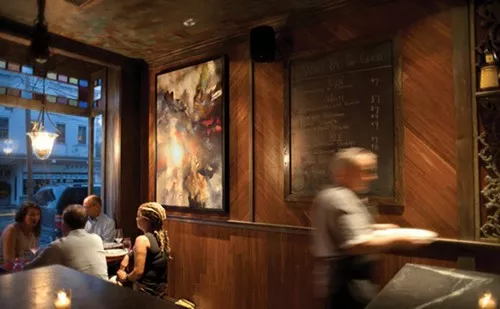 The front bar area of Crimson Sparrow
Our food maven, Peter Barrett, wrote a glowing profile of Crimson Sparrow last summer, just after the unclassifiable restaurant opened on the 700-block on Warren Street in a former antiques store. Crimson Sparrow is the project of two acolytes of molecular gastronomy guru Wylie Dufresne, John McCarthy and Ben Freemole, who met while working at WD-50 on the Lower East Side.
I ate there with Peter last summer, and the food—a mix of local ingredients, free-form flavor pairings (oxtail with congee, anise, turnip, cilantro, and vinegar to name one)—was stunning. The decor is also in keeping with Hudson's general reclaimed-industrial-grandeur aesthetic, and in the summer months, the interior courtyard is an oasis of trees and greenery.
Lee Anne and I headed up to Hudson on Saturday for some window shopping and a spot of lunch. Hudson is an eater's city—Swoon, DaBa, Cafe La Perche, Baba Louie's Pizza, and Red Dot are favorites—and we were hard-pressed to make a decision on where to nosh. As Lee Anne had never eaten at Crimson Sparrow, we headed up Warren.
The lunch menu is basically a collection of choices from eight small plates, two for $12 and 3 for $15. It seemed foolish not to order three dishes a piece so we ordered six small servings. Here's a look at half of what we ordered.
Highlight of plate 1:
Lee Anne, a transplanted Southerner, declared the cornmeal crusted fried green tomatoes to be on par, texture-wise (crunchy outside, firm and juicy inside), with her nostalgic recollections of home. The harissa aioli (harissa is a North African chili sauce) took the chunky Southern rock guitar of the fried green tomato and fused it to the spicy and sensous beat of a Tuareg tambourine. ZZ Top meets Tinariwen.
Highlight of plate 2:
The duck confit with grapefruit marmalade and pistachios was superb: crispy skin, fatty casing around moist duck, the marmalade a perfect citric sidekick. But what really surprised us was the orzo. The pasta was served with tiny cubes of tart Granny Smith and minced scallion, as well as pieces of pickled cabbage and chips of dehydrated kimchi as well. Tasty and ingenious, like a classic waiting for invention.
We washed it all down with a bottle of Vouvray (Roche de Lune, 2011, $36) that embodied some of the best characteristics of Chenin Blanc: touches of fruit and minerality all at once, like a melon washed in the surf.
This is all just to say that I have unreserved praise for Crimson Sparrow. All the dishes we tried were exemplary and transcended our (not inconsiderable) expectations. McCarthy and Freemole seem to be hitting their stride. Crimson Sparrow is one of the most delightful and interesting places to eat in the Hudson Valley right now.