Page 6 of 6
What has concerned me throughout the many years I have researched the theme of war and nature, is that all of us specialize. And specialization has its advantages because we get to focus and become more knowledgeable in one particular area. But the more we specialize, the more we also leave behind neighboring areas that may be integrally connected to our own study area. What I hope my book will do, or has the potential to do, is to reconnect people and their activity and activism; inspire them to reach out from their own area of isolation and connect to somebody else in another area of isolation, and examine how things are related to each other, so that we don't become "activist idiots"—that is, so focused on one issue area that we overlook that there are other issue areas to which our own issue is related. People need to become a little more holistic even in their activism. And I would like to see scientists be more aware that there are plenty of study areas open and to start to fill the gaps that I identify.
If they can get the funding.
Well, I took 11 years of my life and dedicated them to the subject matter with zero funding. Perhaps my book will encourage graduate students working on their PhDs to dedicate themselves to study the environmental effects of war. To my knowledge there is no such specialty niche in the life sciences. There is a whole career path here that awaits enterprising young scientists.
Each question I've asked you, you addressed through the logic of science. Yet I wonder how people will receive what you are saying.
I gave a set of lectures in South Africa six years ago and made the point that we only study what affects us in the West and how fundamentally unfair and unjust that is. People were thanking me, happy that at least one person in the West recognizes and sympathizes that people in Africa and their environments are just as valuable as people in the West and their environments. Wherever there is a war, there are people and an environment. All are equally eligible of our attention. That point was received very well. But the practical fact of the matter still is that the research funding is not forthcoming and will only be forthcoming if it suits the interests of the Western governments. So there is plenty of scope left to mix scientific passion with politics and justice, for humans and for their environment.
click to enlarge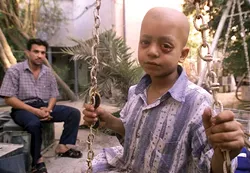 click to enlarge