Hips are rocking. Feet are stomping. Arms sway, shoulders shrug, and someone even does "The Robot."
It's a little after three on a Tuesday afternoon, and the old firehouse at 20 Academy Street in Poughkeepsie is abuzz with the sound of giggling children and an exotic drumbeat. Ten kids hold hands in a circle, warming up during an exercise that helps break inhibitions. Each middle schooler gets a turn to execute the movement of their choice, which everyone else must mimic. "There's a cootie protector as you walk through the door!" instructor Nancy Ewing exclaims when two kids are reluctant to grasp each other's hand.
Every week before the children are allowed to enter the room, Ewing asks them to recite an affirmation, and 10 young voices respond that they're committed to positivity and respect. They wash their hands and fill plates with slices of apples and bananas, walnuts, carrots, and cheese that Ewing has prepared for them. They've come to Children's Media Project to participate in the workshop "I Live Here."
"Our theme is identity," Ewing says. "We're going on a journey to find out who we are." Blending elements of personal narrative and the history and context of living in Poughkeepsie, Ewing's class is writing and developing characters to create a script, and ultimately a film, that reflects these meditations on identity. "It's about helping [the kids] see themselves as more than the media says they are," she explains.
This idea is part of the philosophy behind Children's Media Project (CMP), which filmmaker Maria Marewski founded and has directed for the past 14 years. "I think it's very, very important for kids to understand that media looks like you're just putting quotation marks around reality," Marewski says. "But in fact it's very carefully constructed by people who have a specific agenda."
Marewski moved to the Hudson Valley after the birth of her first child, leaving a budding film career in New York City. "We didn't have much media at home," she says, explaining that they didn't own a television. "Then, when [Julius and Annick] got to school, I realized that everybody else was plugged into the media. So it was sort of a ridiculous goal to keep my kids shielded from it."
It was then Marewski says she began to realize that kids need to be fluent in what she calls "the language of the media," so that they can become critical viewers. This spawned what would be the groundwork for CMP. Operating out of her station wagon, Marewski began an ambitious endeavor to educate youth about the media—both as critical viewers and as creators of media.
In 1994 she began teaching classes at the Randolph School in Wappingers Falls, where students created animations from their journal entries. After lugging cumbersome film equipment like Super 8 cameras from classroom to classroom, Marewski decided it was time to establish a fixed setting for her workshops. Following bouncing around a handful of locations over the course of a few years, the organization settled into the Lady Washington Firehouse on Academy Street in Poughkeepsie in 2004. The spacious site was restored by historic renovator Eitan Dor with CMP in mind. "It gives us enough room to do multiple programs simultaneously," Marewski says, "so that gives us a lot of flexibility." There are three floors of vibrant, artsy style—lime green and lavender walls, dangling lights, cushy maroon couches, bright children's artwork, plants, paper lanterns—which transform what would be a sterile area into a warm, welcoming, and cheerful space. The staff complements this laid-back environment with their approachable demeanor, and their casual, often colorful clothing. It's so relaxed that Marewski sits on the floor next to a coffee table with her shoes slipped off, batting around program ideas with the other directors.
For the past four years, CMP has continued to evolve and grow in its new home. Marewski credits supportive organizations like the Dutchess County Children's Services Council and United Way, which fund productions and workshops that can help fulfill certain goals, like antismoking and childhood obesity campaigns, and Vassar College for providing the organization with interns. "In one way, it was momentum," she says of the growth of CMP. "It was just really building a web of connections and being in a community that was receptive and supportive." Today, CMP operates under Marewski and directors Nicole Fenichel-Hewitt and Emily Bennison, along with five others—a mix of Vassar College graduates and interns, and Children's Media Project program alumni who work as media educators or producers.
The organization produces DROP TV (Direct Revolution of Programming), a year-round endeavor in which high school contributors are responsible for all phases of preproduction, production, and post-production aspects like camera, sound, lighting, editing, sound mixing, writing, and researching. Their dynamic programming is smart and energetic, and tackles a range of issues through a variety of techniques, including animation and documentary-style tales. An episode from the third season, "exSPRAYssion," shows rival spray painters—one representing Israel and one representing Palestine—covering up each other's graffiti until they both hit on the same note of understanding and respect. The piece was created by Jewish and Muslim teenagers involved in the Salaam-Shalom: Children of Abraham Film Project, which uses filmmaking to open dialogue between two minority communities.
Another sketch is an award-winning claymation by Spencer Weaver, "Why Did the Duck Cross the Road?" which features a clever duck persuading a hunter that he'll get more meals out of him by letting him live. (The duck becomes his cook). Past DROP TV episodes have addressed issues like the portrayal of women in the media, smoking, gangs, and homelessness, as well as interviewed prominent political figures such as Hillary Clinton. Episodes are archived on CMP's website (www.childrensmediaproject.org), and are broadcast, on Cablevision station 6 in eastern Dutchess and channel 18 in the rest of Dutchess, Putnam, and Ulster counties, at 7pm on Saturdays and Sundays, as well as on Time Warner's Manhattan Neighborhood Network, which awarded DROP TV the best youth programming award in 2006.
Fifteen-year-old DROP TV contributor Brian Beckwith explains that he developed an interest in filmmaking when he was 12 years old and experimenting with a family video camera. He saved up money to buy his own camera and began making films, eventually drawing 50,000 viewers to a "silly music video" he posted on YouTube. Last fall, he joined a workshop at CMP and this summer, honed his skills at DROP TV. In one sketch he plays a man with an unruly moustache that can't be shaved, who is banned from restaurants and social activities because of his malady. Soft-spoken, Beckwith transforms on camera into a lively and hilarious character as he reacts to each new situation. Although acting is not his favorite part of working with DROP TV, Beckwith says getting to try all the facets of filmmaking helped him narrow down what he wants to pursue—working as a video editor or cinematographer. He feels CMP is giving him a leg up toward a future career. "Coming here definitely helps," Beckwith says. "Kids make videos on YouTube, and I come here and learn about what it's really like in the industry."
Although the primary focus of workshop and production experiences are for middle and high school students, CMP also offers tuition-based workshops for adults. Artist and media worker Andrew Lynn recently gave a workshop called "Beyond YouTube: Blogging, Vlogging, and the Web 2.0," which focused on how to take advantage of the free resources that exist for circulating media, as well as various related techniques like compression, syndication, and promotion. The organization also hosts the "Digital Café," which provides screenings of youth and independently produced films and offers a forum for community discussion. A recent Digital Café presentation showed two films by Poughkeepsie youth who traveled to South Africa to document the impact HIV has had abroad as well as in the Hudson Valley.
Marewski says she believes access to an education about the media is essential, and worries that in cities like Poughkeepsie, a child's economic status might derail. "The digital divide is a real issue," she says. "If these kids that come from underresourced communities don't have access to media literacy and media education—that includes production—they're getting cut out from the future. We live in a media-saturated world. It's a way of thinking that comes from participating in that world, and schools are big institutions that are slow to innovate and adopt change. And that's for various reasons, but it is what it is." Beyond education, Marewski wanted to provide a place in the community where kids could interact with and be inspired by adults like Ewing, who has written plays and acted on television and Broadway. She says all too often, youth can get disconnected from those relationships. "The job of the adolescent is to separate from the parent and sometimes those things take you to places that aren't so good for you," Marewski says. "So we really thought it was important to be able to provide that to the kids in this community, because they have parents that are working a couple of different jobs and are just not available to them. Some of them have really rough circumstances."
Both Fenichel-Hewitt and Marewski agree that one of the strongest parts of the organization is its mentoring element. "A beautiful thing about Children's Media Project is the mentoring component, in that [kids] stick with the program," Fenichel-Hewitt says. "Students sometimes come full circle, becoming mentors to the next generation of media artists." Two current media educators, Ryan Sullivan and Russ Pellerito, both began as youth with DROP TV.
"It's nice to see the influence that it has on people's lives," Fenichel-Hewitt says. "Often students who aren't excelling in standard tests or reading and writing, you get them in this environment and they're amazing editors and producers. It's a nice exploration of strengths in youth that may not realize that they have this amazing skill."
Fenichel-Hewitt is slated to take over the position of executive director in December, and Marewski will be moving into a position as executive production director, seeking to increase CMP's professional production division. As media is constantly evolving, Fenichel-Hewitt says they're always brainstorming new programs and batting around ideas. "We're starting to dial in to a whole bunch of new arenas," she says. "We're starting to think about creating [video] games for youth, and it's kind of like wherever the digital wave goes, we're on it."
On Thursday, December 6, Children's Media Project will host a "CMP 2.0: Come Witness the Upgrade" celebration at the Lady Washington Firehouse with live music, a video retrospective from 2007, and tunes spun by DJ Broken Robot. For more information: (845) 485-4480; www.childrensmediaproject.org.
click to enlarge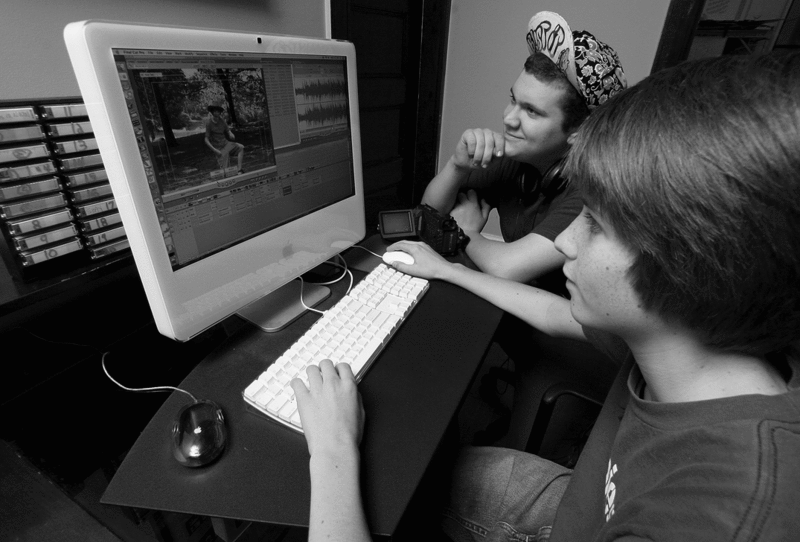 click to enlarge