click to enlarge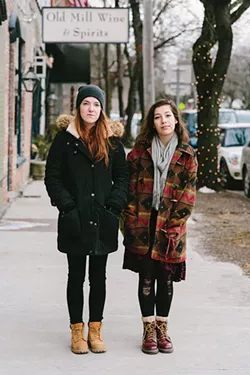 Each month, we profile a city or town in our Community Pages section, featuring its residents and businesses in words and pictures and trying to capture some of the essence of a place. Six months ago, we began working with a new photographer, Tom Smith. Tom's instincts as a day-in-the-life photographer are pretty sharp, and he has a knack for sniffing out street life as it unfolds. In the fall, Tom happened upon the filming of a rap video in Newburgh and captured some of the most dynamic images we've printed in recent years. (In an interesting twist, Tom was also captured by the filmmaker and appears in the background of the video.)
On January 18, Tom was prowling the streets of Rhinebeck, searching for iconic street scenes of that town, which admittedly, is a tall order when it's below freezing in January. Nonetheless, Tom shot an interesting cross-section of images: a mom and her kids at Rhinebeck Bagels, bon bons being made at Oliver Kita Chocolatier, a woman being instructed in stretching at Rhinebeck Pilates, a girl and her horse at Southlands, pizza being made at Posto Pizzeria. Another image, typical in its way, was of two college students walking down East Market Street. The tragic coincidence was that less than two weeks later, those students, Evelina Brown and Sarah McCausland, would be dead.
Brown and McCausland, both students at Bard, were struck and killed by a drunk driver while walking northbound on Route 9G, just north of Broadway in the Village of Tivoli on the evening of Friday, January 31. As Bard College and the greater Northern Dutchess community reeled from this tragedy, Chronogram hit the streets on February 1, featuring a sidewalk portrait of Brown and McCausland. Calls and e-mails poured in to our office, informing us of the ghostly appearance of the pair in the magazine the day after they had died. (An eerie additional note to the drunken driving tragedy—a sign for Old Mill Wine & Spirits hangs above the young womesn's heads in the photo.)
Tom Smith, who took the photo of McCausland and Brown, tells how the Bard students ended up in front of his camera:
"I had just taken a portrait of a young couple and a baby and thought to myself, 'I need to find cool young college kids,' and that's when I saw the two of them strolling by Summer Moon on East Market Street. They were talking and laughing, hands in their pockets because it was frigid out that day. I quickly ran across the street right in front of a 14-foot box truck that was making a left off of Route 9. They saw me pop out in front of them on the sidewalk and I asked if they wanted to have their photo taken for Chronogram.
"They looked at each other and said sure. I said, 'Well, good thing, since I almost got hit by a truck coming over here to ask you.' So they asked me what they should do and I told them to walk with me, I wanted to find a good spot. That was the only photo I took of them. I remember they laughed at each other before and after it was taken, but the expression they gave in between was something from a movie, something of great confidence. Like they were so comfortable with each other. I told them afterward that they had mastered the art of not smiling on camera. I think they knew what I meant. A lot of people refrain from smiling, but few people have such a bright, glowing happiness about them that they don't even need to smile."
I did not want to write about McCausland and Brown in this issue. Death has swung its scythe wide in the Hudson Valley this long, punishing winter—from my neighbor's demise (which I wrote about last month), to Pete Seeger's passing, to the heart attack that felled spoken word artist and sometime Chronogram contributor Maggie Estep at age 50. (And remember the horse I mentioned from the Rhinebeck Community Pages feature? The horse's name was Oklahoma. A couple of weeks ago, it had to be put down after breaking its leg.) I am done with death. But death, of course, is not done with me—not by a long shot. One of the distinctive features of human consciousness, and what separates us from other animals, is our keen awareness of our terminal state. We're going to die and we know it all too well.
This knowledge of our own cessation, like the acknowledgement of the passing of our neighbors, heroes, colleagues, and fellow community members we did not even know except through the links of tragic circumstance, propels us to live more fully in the ever-shortening span left to us. So, here's to the two young women cut down by the side of the road, and to Pete, and to Maggie, and my neighbor Tom. Rest in peace. For those of us remaining, a directive: Kiss your children. Call your parents and tell them you love them. Hug your siblings. Laugh with your friends. Drag your wildest dreams into the bright sunlight and dare to live them. Do it today—find where your bright, glowing happiness resides and cradle it like there's no tomorrow.