click to enlarge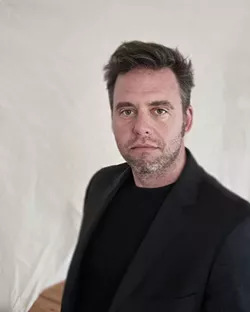 Some mornings when I get up, there's a song in my head. The song can be something I listened to the day before, which makes sense, as if I left the radio on. What's baffling is when it's not a song I heard recently, but a deep cut I hadn't thought of in years. This isn't surprising given the thousands of songs loaded into my cerebral cortex, in whole or in shards of hook-y choruses. I get 13-year-old-girl excited about music, as anyone who's been forced by me to sit through repeated listenings of "Call Me Maybe" would know. Songs are moods I pass through, environments I briefly inhabit and analyze.
For example, I can spend hours wondering why Cat Stevens couldn't write "Tea for the Tillerman" longer than 61 seconds. While the most beguiling part of its genius may reside in its brevity, as in Williams's "The Red Wheelbarow" and Pound's "In a Station of the Metro," it's still a bit of a tease. Just as the thing starts to rumble along into ecstatic bliss, the chorus of voices booming in the final seconds like heavenly trumpets, like a trick borrowed from Beethoven's "Ode to Joy," it abruptly ends.
Allow me to note here that I am not a musician, nor am I well-versed in psychology. I don't read music and I've never gone in for talk therapy. I think from a functional point of view. My subconscious is as mysterious to me as how to play the guitar intro to "Sweet Child O' Mine." Yet they're connected, right? Music and the subconscious, that is. It stands to reason that if "That Smell" by Lynyrd Skynrd is playing on my internal jukebox when I surface from sleep, I'm sending myself a message. Though hopefully not "he who smelt it, dealt it."
Waking up with songs in my head—it has to do with dreams, I think. I can't be sure however, because I don't remember my dreams. While I know that I must dream—everyone dreams—I just have no idea what I'm dreaming. I must have dream amnesia. There was a time, in my late 20s, just after I'd stopped smoking pot every day, that I experienced total recall of my dreams. The unfortunate part: my dreams resembled my waking hours. I went to work, I did the dishes, I drove around, I picked up my dry cleaning. There were none of those mindbending moments people experience in dreams—pitching a perfect game, being in the house you grew up in that's also the house where you currently live, flying, or other logic-upending situations. I have never flown in my dreams.
So the songs must be taking cues from dreams that I don't remember. For instance, a coworker mentioned a trip to the Bronx Zoo with her son the other day. The next morning, I woke up with Simon and Garfunkel's "At the Zoo" playing. I probably dreamt about going to the Central Park Zoo with my grandmother. She used to take me there after we ate lunch at the Automat. Or maybe it was another time I went to the zoo. I guess it could have been an aquarium.
On another morning John Mayer's high school disillusionment anthem "No Such Thing" was lodged in my mind. This must have followed dreaming one of the four high school anxiety dreams that have dogged me since I graduated 25 years ago. Pick from one of the following: I didn't actually graduate and need to return to Archbishop Molloy at age 43 for a final semester; I can't find my locker; I'm cut from the soccer team; I'm not wearing pants. Or maybe I dreamt of John Mayer.
So I believe I know why I woke to Tim Minchin's "White Wine in the Sun" the week before Thanksgiving. Admittedly, it could have been the Sauvignon Blanc. But I drove past a house the night before that was gussied up for Christmas in all its ostentatious, energy-bill-boosting glory. A week before Thanksgiving. Isn't there some kind of local ordinance against this? If not, how come? If not, why did the homeowners wait so long to put up the decorations? Why not put the lights, Santa, eight tiny reindeer, et al., up in August? After dragging out the boxes and sweating it out up and down the ladder 200 times, they could have hit the pool.
I hope I dreamed that Tim Minchin was drinking with me, because he is a clever satirist with an ear for a catchy tune and his "White Wine in the Sun" is the best Christmas song ever. If you don't know Minchin, he's an Australian musician, actor, and comedian. He wrote the music and lyrics to "Matilda: The Musical," based on Roald Dahl's book, which won four Tony Awards this year. "White Wine" is the Christmas song I would have written if I were a musician and had a penchant for writing Christmas songs and I hadn't already penned "Christmas Wrapping" by The Waitresses (composed by Accord resident Chris Butler) or "Listening to Otis Redding at Home During Christmas" by Okkervil River.
There's a video of a live performance of Minchin playing "White Wine" on solo piano that will just about break your heart with its sappy genius. (This could be said, of course, for half the videos shared on Facebook.) He admits to being sentimental, sets himself up for the ironic dismissal, then works it and owns it. Sample lyric: "And yes, I have all of the usual objections / to consumerism, the commercialization of an ancient religion / to the Westernization of a dead Palestinian / press-ganged into selling PlayStations and beer / but I still really like it." Minchin acknowledges the bullshit of the holidays as a prepackaged sentiment and then embraces the part he loves—feeling safe at home, spending time with his loved ones. That dream we all have, whether we remember it consciously or not. I dream it for all of us this season, complete with a soundtrack that includes "White Wine in the Sun."