click to enlarge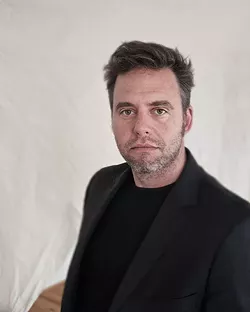 What a night. Those of you who attended our little shindig on August 17 know what I'm talking about. There are precious few times in life when something—anything—can truly be declared a total and unmitigated success. Our 20th anniversary Block Party was that thing. The scene outside our office was magical: thousands of people in the street, music playing, people dancing, children laughing, wine spilling. A community celebrating its own good fortune.
Thanks to whatever mixture of metrological phenomena and divinity conspired to provide such clement weather. Thanks to all who attended. Thanks to our sponsors. Thanks to the City of Kingston for allowing us to take over the street. Thanks to the bands and all the entertainers. Thanks to all the local businesses that collaborated with us. Thanks to all the volunteers. Thanks to Eric Francis Coppolino for supervising the Tarot Fair. Thanks to the staff of Luminary Publishing, especially the Block Party Coordinating Committee—Michael LaMuniere, Jennifer Gutman, and especially Jaclyn Murray, who art directed the event. And great big gobs of thanks to our marketing and events coordinator Samantha Henkin, the logistical genius who steered the event from rough idea to glorious reality.
Dunk You Very Much
Thanks to all the good sports who got soaked for a good cause in our Block Party dunking booth: Joe Concra of the O+ Festival, Paul Maloney from Stockade Tavern, Ulster County Commissioners of Jurors Paul O'Neill, Sarah Lipari of the Perseverance Foundation, Dr. Tom Cingel, Steve Ackerman of the YMCA, Tim Weidemann of Rondout Consulting, and Drew Andrews of the Center for Creative Education. We even had a few volunteers from the crowd clamber out onto the plank! We raised $1,000 for the Kingston YMCA Farm Project, which is going to break ground on a one-acre farm this month in Midtown Kingston. The YMCA Farm Project will be a place of both learning and food production, providing kids the opportunity to grow food for themselves, their neighbors, and their community. You can learn more here: Kingstonymcafarmproject.org.
An Idea Whose Time Has Come
When this thing began—when two brash and visionary youngsters named Jason Stern and Amara Projansky decided to try their hand at publishing— sustainability was not a household word. Neither was yoga, nor alternative medicine, nor personal development, nor artisanal food, nor the idea of a local economy. But we've been talking about it since 1993. Because that's what we cared about, that's the kind of magazine we wanted to create. It's also the kind of place the Hudson Valley was, and is. A place that allows the space—both physically and psychically—to chase seemingly impossible dreams. Chronogram started out as one of those. Twenty years later and the world has caught up with us. The mainstream has embraced local food, spiritual development, buying locally. The world has caught up with the Hudson Valley. The world has caught up with Chronogram.
The mission of this 20-year endeavor has not been to create a product that we will eventually merge with Disney, or be bought by Jeff Bezos. Chronogram is not a product to be consumed. It is not market-researched and aimed at a particular demographic in order to maximize shareholder value. It is not a get-rich-quick scheme. Chronogram is an attempt to provide something honest and beautiful to our community that's created in our community. It's a reflection of what the Hudson Valley is as well as a vision of what the Hudson Valley can be, of what we can be. A stab at greatness. We should demand no less of ourselves.
20th Anniversary Issue
In November, to cap off our anniversary year, we'll be publishing a special retrospective edition of the magazine, with 16 pages of legacy content. We've already begun work on it, and its been a nostalgic hoot to dig through the archives and start pulling together our favorite content from the 234 issues we've published thus far. For long-time Chronogram readers, the names of the contributors featured will be quite familiar. Expect to see writing, photos, and illustrations by such former stalwarts of this magazine as Lorna Tychostup, Frank Crocitto, Lorrie Klosterman, Sparrow, Beth Wilson, Emil Alzamora, Jennifer May, Todd Paul, and many others. It's been a pleasure and a privilege to have collaborated with these creative and insightful folks over the past two decades.
Please forgive us if this year seems like one long victory lap. But 20 years in, while other publications—both national and local—continue to close or drastically scale back their operations, it feels good to still be here, still be strong, and still be telling the unfolding story of the Hudson Valley. And remember that this is your victory lap too. Without you, my brilliant neighbors, we'd neither have stories to tell nor anyone to tell them to.