Dine late into the night with our new winter menu. Experience The Rhinecliff's Christmas Cheer on the Hudson with a performance of A Christmas Carol, Christmas Eve and Christmas Day dinner and The Grand New Years Eve Party. Here's a list of our upcoming events:
IRON GRAD III, HEAT 2
Monday, December 12, 6:30pm Cocktail Reception, 7pm Dinner.
The Culinary Smackdown returns to "Stadium Kitchen Rhinecliff," for Heat 2 on Monday, December 12.  Reigning Champ, winner of Iron Grad II, Master Grad Chef Devon Brady, returns to defend his crown against three handsome, bachelor CIA grads!
4 enter, only 1 leaves!
$42.95pp, plus tax & gratuity gets you 4 courses from 4 Chef's, beer/wine pairings included.
THE MOST FUN CULINARY EVENT IN THE HUDSON VALLEY!
HOLIDAY DINNER THEATRE EXPERIENCE
Sunday, December 18, 5.30pm
Murder Café presents "A Christmas Carol" by Charles Dickens. A live dinner theater experience – experience the true spirit of the season, Ebeneezer Scrooge, Tiny Tim, The Cratchits and the Three Ghosts of Christmas!  A family show, great for kids, comes with traditional English-style Christmas Dinner!
$35.95pp + tax + 20% service + beverages  /  Kids 6-12, $14.95pp
Special Seniors Price $24.95pp / Reservations Required.

FRIDAY NIGHT LIVE MUSIC
Friday, December 9:
  Vague Assurances
Friday, December 16:
Dangling Succes
Friday, December 23:
A Yuletide Special with "SONNY SINGS!"
Join Sonny on a trip down memory lane from the 40's to the present! Frank Sinantra, Tony Bennett, Michael buble, and Paul Anka will all be present through Sonny's stirring renditions...Bring your own Handkerchief! No Cover Charge. The best of the Rat Pack and all your Italian favorites. 7pm – 10pm.
Friday, December 30:
Enjoy from WDST the Big Joe Fitz Blues Band!
CLASSIC SUNDAY BRUNCH ON THE RIVER
Sunday, December 11:
Jazz Brunch with Perry Beekman
Sunday, December 18:
Jazz Brunch with Elaine Rachlin
Sunday, December 25:
Merry Christmas!
NEW YEAR'S EVE PARTY!
Don't Miss our much anticipated
GRAND NEW YEAR'S EVE PARTY
! DRESS UP, HAVE FUN!
Cocktail Hour, 8pm, w/sparkling champagne cocktails, hors d'oeuvres, and socializing!
The Grand Dinner
, 9pm, a sumptuous six course gourmet tasting menu followed by...
The Grand Midnight Celebration
, disco dancing & midnight champagne toast, late night hors d'oeuvres, going home hot chocolate & warm cookies
$84.95pp + tax + gratuity + additional beverages
EARLY NEW YEAR'S DINNER
5pm - 7pm
A sumptuous four course prix-fixe dinner and a Glass of Champagne Taittinger
$54.95pp + tax + gratuity + additional beverages
MIDNIGHT CELEBRATION & DANCING
11pm - close
$30pp
Reservations recommended. 845-876-0590 or
reservations@therhinecliff.com
For more information on our upcoming events, visit
www.therhinecliff.com
click to enlarge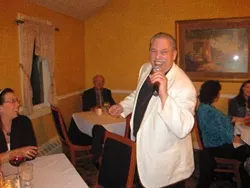 click to enlarge
click to enlarge