click to enlarge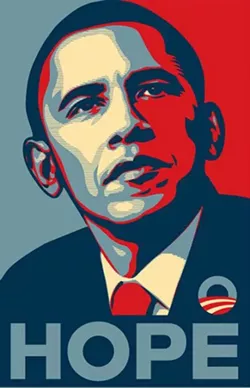 Hope of consciousness is strength.
Hope of feeling is cowardice.
Hope of body is disease.
—A proverb
Esteemed Reader of Our Magazine:
Remember the presidential campaign of six years ago and its inspiring but deceptively simple slogan, "Hope"? Looking back to the images that word evoked—the changes I hoped for—I see the hope the politicians and their marketers evoked was false.
I recall the words of a dead Englishman—"Power tends to corrupt, and absolute power corrupts absolutely. Great men are usually bad men." Since memorizing this statement for an exam in high school, I thought it sounded too categorical to be true. Nevertheless, I now see no reason to expect authorities and leaders will someday be better.
I see in myself an impulse to want to believe in authority. I want leaders that will guide me to what is good and just, whose decisions are well founded and sound—leaders with my best interests in mind. I don't think this is unnatural—it is not simply that I am addicted, like the liberated convicts of the Bastille, to my prison cell.
Yet everywhere I turn, I find people in positions of power and authority who are self-interested tyrants with no greater satisfaction than lording it over their minuscule fiefdoms. It is blatant in contexts that have no scruples about self-interest, like the corporate business world and government—where ruthless ambition and backstabbing are de rigueur; but it is more startlingly to find it in altruistic people and organizations espousing high ideals. In these latter contexts, the petty, power-wielding is insidious, neatly cloaked in spiritual-sounding sentiments.
I find myself caught on the horns of dilemma with two seemingly opposite impulses at work. One is the comfortable habit of believing and doing what I am told by those in charge (and even possessing a deeper wish to submit to something real). The other is finding no one in positions of authority that deserves any trust.
There is the impulse to grasp one horn or the other—to look for a better authority: a leader, master, belief, or organization that has real stability and substance; or conversely, enter the dark, cozy, cynical cavern of unbelief in anything—a nihilism that is disdainful of the weakness of followers and believers in anything.
Hanging out in the discomfort of contradiction, a cloud begins to form between the antlers of opposing truths. It has a rich, rusty red color. The cloud is a feeling, but also carries information. It may be what an anonymous 14th-century Neoplatonist called "The Cloud of Unknowing."
The message that it conveys is that there is real authority, and it is alive somewhere deep in my breast. It is not me in the usual sense of this or that self-interest, but a kind of seeing or knowing that is always there. It evokes the image of a compass ever pointing to what is so. It is never not working—only one thing and another prevents my noticing where the needle points.
The authority of the compass is not a belief or hope in anything in particular—no thought, no idea, no philosophy, no person, no religion, no nation, no government. The authority of the compass is a living sensitivity, together with ruthless willingness to acknowledge if not truth, then at least facts. It is an inner authority not to lie.
The only obstacle to hearing and heeding the knowledge of the inner compass is me—the animation of self-importance, and an assessment of the idea of who I am that is relative to externals. This takes myriad forms, but the most powerful is the perpetual jockeying of master and slave.
In every, even fleeting, relationship, we automatically size up our counterpart, and quickly, almost instantaneously, become the superior or inferior party in the exchange. We become either master or slave, authority or subjugated. This is the root of the slavery that infects our culture like a strange disease of somnambulism. It is what makes us believe and do what we are told like sheep being led to shearing, and then the slaughter.
Waking up to the situation—that we and everyone we know are slaves to self-importance—is a shock. Staying in that discomfort requires resilience. But to really see it opens a door that invites and beckons passage to a different world. However fleeting the glimpse, we see it is a world in which hope does not need an object to be alive, and so cannot be dashed.
In that world, hope is present in the presence of being. In that world, we are equals, and as such, we treat one another with respect. In that world, we know mutuality, because we value the same thing above self-importance—we value the living truth toward which the inner compass points.
The doorway beckons.
May you enter in Truth.
May you exit in Truth,
And be guided to the presence of Being.

Learning To Be Human is a curated selection of Jason Stern's "Esteemed Reader" columns available in book form. Click here for more information or to get your copy.