Before Estelle Kessler Yarinsky begins work on one of her portrait quilts, she thoroughly familiarizes herself with her subject to see if she likes them. Since a piece of fabric art takes Yarinsky some three to four months to create, it's in her best interest to care about the people she portrays. "I see if I would really want to live with these people" for that time, she says. This is important, when those who most interest you are the unknown, the anonymous, and the obscure. These are Yarinsky's heroes and—mostly—heroines.
"Women are often more ignored throughout history," says the artist, whose subjects hail from the periphery of history and theology. "I want to rescue [them] from obscurity." These include the spirited Miryam, prophet and sister of Moses, who brought water to the wandering Israelites, and was exiled for questioning Moses's authority, and Gracia Nasi, a Spanish noblewoman who defied the Inquisition to practice her Jewish faith. There's Emily Warren Roebling, who supervised construction of the Brooklyn Bridge after her husband, Washington, was incapacitated with the bends. And there's Rosalind Franklin, the forgotten scientist among the team that discovered the structure of DNA.
Completely apart in time and place are Yarinsky's goddess figures, ranging from Devi, the Hindu deity of birth and death, to her Minoan Mothers, inspired by an ancient fertility figure. The imposing When God Was a Woman, a composite of goddess images from Egypt, Greece, and other pre-Judeo-Christian traditions, challenges the orthodoxy of the divine as male. That's just the way Yarinsky likes it. "I'm a liberal Jew," she says. "I want to reach out to people. I love my tradition, but I'm not Orthodox at all."
The tradition Yarinsky draws on comes from her experience in an extended Brooklyn Jewish family. "The Sisters Project" is a series of quilts to honor the memory of her mother and four aunts that works as well to dispel their anonymity. The same is true of Brother, an homage to her brother Jerome that depicts him surrounded by pages of his poetry. "I didn't know he had written these poems until he died," she says. "I wanted to publish them before I go."
"Fabrica," an exhibition now on view at the Albany Institute of History & Art, represents a decade of Yarinsky's work with needle and thread, sewing machine and fabric. A strong response to her large, boldly colorful works is inevitable—Yarinsky's portraits stare unflinchingly out at you, as if you're the one on display. "I hope viewers admire the visual impact," she notes, "but also hope that they delve deeper and learn something new, too. Learning about these people is the greatest part."
"Fabrica: Fiber Constructs by Estelle Kessler Yarinsky" remains at the Albany Institute through December 30. (518) 463-4478; www.albanyinstitute.org.
click to enlarge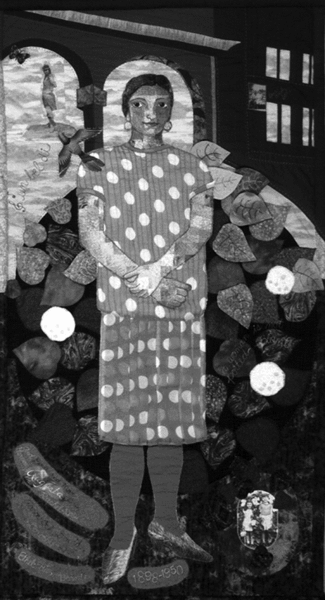 click to enlarge
click to enlarge