In 2003, when Cecilia Dinio-Durkin was working as a travel writer in Botswana, she accompanied a nonprofit worker on a crafts-buying trip to a San settlement in the Kalahari Desert. The San are southern Africa's oldest inhabitants, and, until recently, had practiced hunting and gathering for tens of thousands of years. While many San still live in the desert, few subsist entirely on traditional methods of acquiring food.
For the trip into the desert, Dinio-Durkin and her guide brought everything they would need, which included a tent and their own food, water, and firewood. During the bumpy, eight-hour drive across sand, during which Dinio-Durkin says her "whole insides were completely shaken," she learned that they would be gone for three days. She remembers exclaiming, "Three days? We're going to be out here for three days?"
Although Dinio-Durkin had moved to Botswana with her two young children and husband, Peter Durkin, a civil engineer and former Peace Corps volunteer, she considered herself to be a city girl, a New York City girl in particular. She had agreed to go along with her husband, whom she calls the outdoorsy one, after he had seen a posting for a game-reserve manager on findajobinafrica.com. Now she found herself traveling alone with a woman she had just met, across an endless flat landscape interrupted only by an occasional hut.
The next morning, Dinio-Durkin had what she calls a life-changing experience. It led to her working for the same nonprofit as her guide, the Kuru Family of Organizations, and ultimately to opening a crafts shop called Women's Work in Cold Spring.
"We started boiling water in this tin pot for coffee," she says, "and I look up, and women are coming from all directions. I don't know how many hundreds of women surrounded us." During the course of a year, Dinio-Durkin says, the nonprofit worker would rotate visits to 16 settlements, where she bought crafts to sell in the organization's shop in Ghanzi, a town with about 30,000 residents.
"I was stunned," says Dinio-Durkin. "So I sat there, and I had my camera, and I was writing notes, and they would just come, and surround us, and pull out their crafts." She says that the women had wrapped themselves in blankets and other garments, and from within the folds of their clothing, they pulled out jewelry, baskets, and other items. Many of the women were accompanied by young children.
"I couldn't have been further away from the life that I knew, and I'm looking out at these women, and I'm crying," she says. "And I didn't even know I was crying until I realized that this little kid among the women looked exactly like my nephew. And that's when it just overwhelmed me, [the knowledge] that we're all the same. They only wanted what I wanted when I was in Cold Spring."
In the mid '90s, after their daughter was born, Dinio-Durkin and her husband left Manhattan and moved to Garrison, then Cold Spring. At first, she commuted to her job as a magazine editor, a job she loved, but the 11-hour days left little time for family. She quit and began working as a freelance writer, which also proved to be frustrating due to the short time frames and her inability to predict when the next assignment would arrive (typical of freelance work).
"To me, Cold Spring was this remote, desolate place, because I lived so far away from New York City and everything I knew," says Dinio-Durkin. "I gave up my career so that my children could have a safe haven." She adds, "These women [the San] could go into the cities and get jobs and make money [primarily as domestics], but they'd rather be home with their children. And if I could do something to help them stay home and raise their children and live with their husbands and have a life that they've always known, if all it took was for me to buy one of their bracelets so they could feed their family for a month, that's what I needed to do."
After the crafts-buying trip, she began working for the nonprofit. Her job was to help market the crafts and apply for grants. She says a series of incidents, plus the fact that the nonprofit survived mainly on a limited number of donations, prompted her to reach into her own savings to buy additional crafts from the women. She was buying "hundreds of cases of jewelry," she says, and although she wasn't quite sure when or where she was going to resell the items, she envisaged setting up a booth at a PTA meeting during a visit to the US.
Meanwhile, she and her husband had begun worrying about the quality of their children's education in Ghanzi, and they had also become concerned about the health of their mothers, both of whom lived in the US. Dinio-Durkin says the final push came after the family was away for a few days helping a friend with a fund-raising tour. Back at home, their dogs got loose, and a neighbor shot them because they had wandered onto his property.
"Our daughter [Macallan] was devastated," says Dinio-Durkin. When Macallan, then 10 years old, and their son Markham, then 6, began having nightmares, she realized it was time to go. "Once your [sense of] security and safety is shattered," she says, "it's time to leave. And that's what we did, reluctantly."
The family left Africa in November 2005. In September 2006, Dinio-Durkin opened Women's Work. One of the most intriguing items in the shop is the jewelry made with ostrich-eggshell beads. The same process of transforming bits of broken eggshell into small, smooth, uniform beads using a drilling stick and a grooved board and polishing stone has been employed by the San for thousands of years.
Dinio-Durkin says that most of the jewelry displayed at Women's Work is designed and crafted by the same women who make the beads. If the beads or designs are not up to par, she doesn't return them. She says she wants to buy from all of the women, not just the young girls. She is working with designers in the US who will use the beads to create more contemporary, and thus saleable, items. She would like to see the finished pieces in boutiques like Barney's, which is known for its unique jewelry.
Another item that she would like to see go national is marula oil. As far as Dinio-Durkin knows, she is the only importer in the US of cosmetic marula oil from Botswana. "It's a great moisturizer, and it has healing properties," she says. The oil is made from the nut of the drought-resistant, indigenous marula tree (related to mango, cashew, and pistachio). Dinio-Durkin would like to see the essential oil, which is produced for a community trust by women, in stores like Whole Foods.
Other items in the Cold Spring shop include baskets, tableware, masks, furniture, paintings, rugs, pillowcases, duvet covers, and tablecloths. While most of the stock is from Botswana, there are also crafts from Zimbabwe and other parts of the world. A few necklaces were made by Dinio-Durkin's mother, who was born in the Philippines (as was Dinio-Durkin, who moved to New Jersey with her family when she was four). Crafts from Peru include worry dolls, small boxes, whistles, and Christmas ornaments.
Dinio-Durkin says that she is a member of the Fair Trade Federation, which stipulates that craftspeople get a fair rate for what they've produced. "I'm for profit, and so are they," she says. Her markup includes the cost of shipping from each country.
"I know how long it takes that bracelet [in Botswana] to be made," she says. "I know what the women should be paid. Regardless of that, all of the producer groups I have, they tell me what they want, and I pay them. I don't haggle." She adds, "I believe I am paying fair-market value in the hopes that the women receive enough money to buy food and a sense of empowerment, respect, and acknowledgment of their skills."
She says that she doesn't worry about the craftspeople taking advantage of her. "It doesn't happen," she says. "They trust me. They want me to keep coming back. They know that I'm there to help them. They're fair, and I'm fair. It's a long-term relationship that we're working toward. And one day I hope they don't need me. They won't need my little store, and everyone will see how wonderful their products are and want them."
Dinio-Durkin and her family will be leading a crafts-buying trip to Botswana in summer 2008.
Women's Work is located at 65 Main Street in Cold Spring. (845) 809-5299; www.womensworkbw.com.
click to enlarge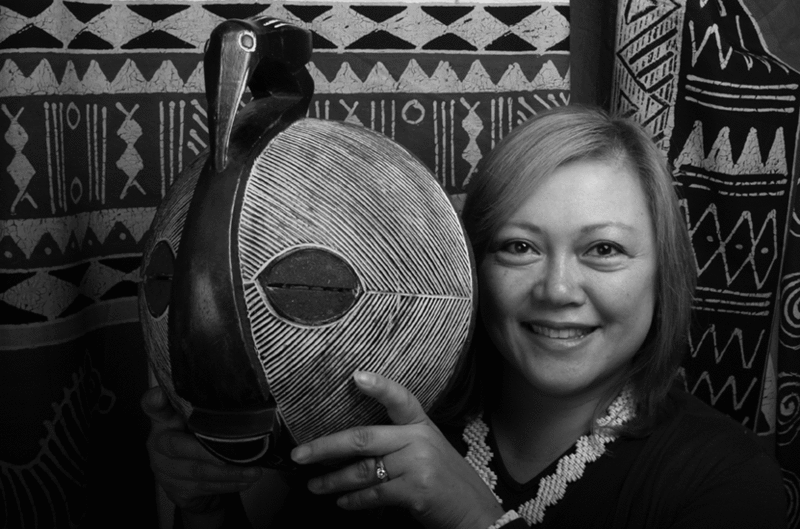 click to enlarge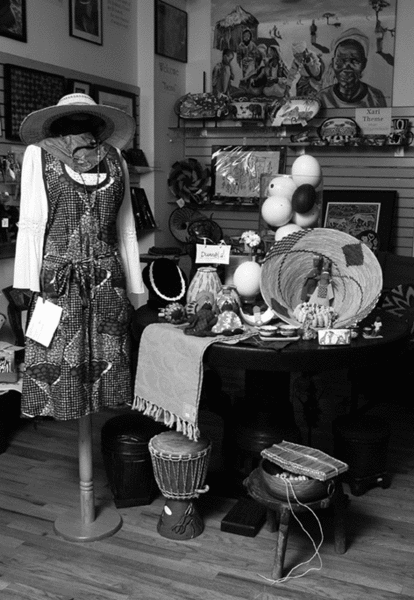 click to enlarge