Pilot a boat down the shores of Orange County and you're rewarded with serene views: The city of Newburgh rolling gently down into Newburgh Bay, Storm King Mountain standing proud above the Hudson Highlands with its crown wrapped in clouds, secluded Cornwall Landing, and West Point regally keeping watch over the Hudson like a silent fortress from a Tolkien novel. But the history of Orange County's river towns are steeped in battle, and the reverberations of those conflicts are still being felt today.
The Hudson River was an early focus of the Revolutionary War, with both sides considering it integral to victory. Throughout 1776 and 1777, General George Washington oversaw the construction of a chevaux-de-frise: a series of sharpened logs underneath the surface of Hudson and stretching from Plum Point in New Windsor to mysterious Pollepel Island, the current site of the Bannerman's Castle ruins. But the blockade was never fully finished. The British sailed right through and burned the city of Kingston to the ground.
Orange County is full of Washington's legacy—his base at West Point, his headquarters at Liberty Street in Newburgh, and his camp at the New Windsor Cantonment State Historic Site. Even the National Purple Heart Hall of Honor in New Windsor is there because of Washington: It was when the army was stationed in New Windsor that Washington first got the idea to affix a heart made of purple cloth to the uniforms of soldiers who distinguished themselves.
Almost 200 years later, another historic battle with far reaching repercussions erupted on the shores of Orange County. In 1963, Consolidated Edison proposed building the world's largest hydroelectric dam by hollowing out Storm King Mountain. A group of concerned Hudson Valley residents banded together to fight the plan in court. Calling themselves Scenic Hudson, they succeeded in protecting the mountain from development. Suddenly, people from all over the county realized that they too could band together and fight on behalf of the environment for their local communities. The modern environmental movement was born.
Aside from the occasional thunderous booms heard from West Point's artillery ranges, and the fierce 100+ year rivalry between Cornwall-On-Hudson's Storm King School and the New York Military Academy, things have mostly settled down along the Orange County coast. But in Newburgh, Orange County's final battle wages on.
Newburgh was another idyllic Hudson River town until 1963 when the Beacon-Newburgh bridge was completed, bypassing the city's celebrated downtown district. Things went downhill shockingly fast. An ambitious urban renewal plan for the city's waterfront was only halfway completed: The historic structures previously there were demolished, but thanks to the energy crisis of 1973, the new complexes that were intended to be built in their place were never even started. Crime and poverty skyrocketed. Today, Newburgh consistently ranks as one of the 10 most dangerous places to live in America.
Newburgh is also extraordinarily beautiful. Many of the City's Gilded Age mansions and townhouses still line the streets overlooking the river; some recently renovated, others available for a song to anyone willing to roll up their sleeves. Downing Park, created by the same designers who created Central Park, Frederick Law Olmstead and Calvert Vaux, is a landscaped marvel. Newburgh's Broadway is one of the widest streets in the country, and when it crests at its eastern end near the new SUNY Orange campus, it can make you feel like you are on the deck of a vast ship, steering the city itself up the river and beyond.
Developers and real estate professionals point to those dilapidated mansions and say that Newburgh's best hope for the future lies in attracting the sorts of young and/or monied creatives who helped transform such Hudson River towns as Kingston, Hudson, and Beacon. Get them to buy those properties, fix them up, swell the tax rolls, attract upscale businesses, and everything will change, goes the thinking. Perhaps. But it's more likely that Newburgh's revival will come from those who already live there, who have been fighting for the city's future for years. Local nonprofits like Safe Harbors of the Hudson and Habitat for Humanity, churches, youth groups, teachers, and parents who have been bringing the city back from the brink block by block, lot by lot, kid by kid.
This is true urban renewal: difficult, slow, steady, unglamorous, unheralded and life saving. There are many who say that it can't be done, that Newburgh is too far gone. People said the same thing about keeping British troops out of the Valley and Con Edison out of Storm King. When all is said and done, the revitalization of Newburgh may prove to be Orange County's most impressive victory yet. General Washington himself, looking down from his headquarters on Liberty Street, would be proud.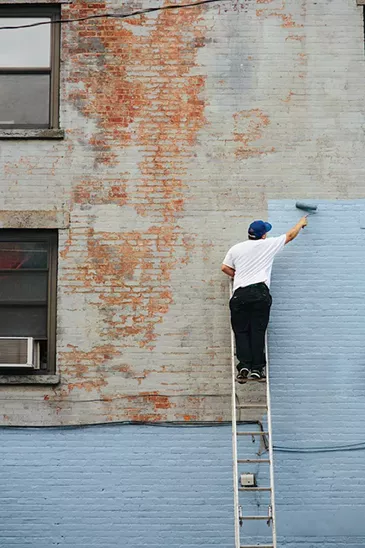 31 slides
10 Things to Know About Orange County
You know that friend of yours, the one who moved away from the Northeast and now complains that they "can't find any good pizza?" Ship 'em one. Prima Pizza & Shipping of Cornwall will ship one of their fresh, brick oven pizzas overnight anywhere in the United States. It's not exactly cheap—including shipping, it'll set you back about $50—but since Prima has been churning out some of the Hudson Valley's best pizza for 60 years now, it's worth it.
Meanwhile that other friend of yours, the one who complains that they can't find any good Mexican and/or South American food in the Hudson Valley needs to set aside a day and get acquainted with the many outstanding Hispanic restaurants and markets of Broadway in Newburgh. Trying to pick the "best" one is a fool's errand, but you could spend a very happy day at the corner of South Robinson and Broadway, bouncing back and forth between Los Portales and Machu Picchu before loading up on ingredients at Paulita's Market and heading home.
There's no reason to grill out in your backyard this summer. Instead, head to the Kowawese Unique Area at Plum Point in New Windsor. This riverside park offers plenty of grills, picnic tables, great places to fish and crab, hiking, a small beach, a playground, and stunning views of the Hudson Highlands gorge.
Lucille Ball made her stage debut in 1941 at Newburgh's Ritz Theater, headlining a new vaudeville act. Although Ball was already a veteran of radio and film, she was terrified about performing in front of a live audience. She needn't have worried—the evening was a success and laid the groundwork for "I Love Lucy." The theater itself is in the process of raising funds for a full restoration, and currently hosts concerts in the lobby.
It's fitting that one of television's most beloved shows got its start in Newburgh: The city was an early test market for RCA when they first started selling TVs, making them one of the first cities in America to have access to television. The citizens of Newburgh were used to being trailblazers. The city was also home to the first of Thomas Edison's power plants, making it the first fully electrified city in the world.
New York City's Central Park isn't the only park designed by Olmsted and Vaux. At the end of the 19th Century, the two designed Downing Park in downtown Newburgh, named after their mentor Andrew Jackson Downing, a native of Newburgh.
Visiting West Point is a bit tricky for obvious security reasons. The campus is only open to the public for events such as concerts, sporting events, and bus tours. But the West Point Museum is free and open to the general public. It houses one of the most impressive collections of military artifacts in the world.
Anyone interested in purchasing and renovating a house in Newburgh should be familiar with the blog Newburgh Restoration, an invaluable source for finding out what historic buildings are on the market. More than a real estate blog, the site also covers new businesses, the burgeoning arts scene, community events, urban planning, and anything else positive going on in the city.
Cornwall Landing is one of the best places to launch a kayak on the Hudson River. Don't have your own kayak? Storm King Adventure Tours in Cornwall-on-Hudson not only rents them, but leads kayak tours of Bannerman's Castle and the Moodna Creek Marsh as well.
Those not interested in kayaking should still make visiting Cornwall Landing a priority, and Cornwall-on-Hudson's annual Riverfest is a perfect time to do it. The festival takes place on the first Saturday of June every year (June 7 this year), with water sports, music, food, arts and crafts vendors, and activities for kids.