click to enlarge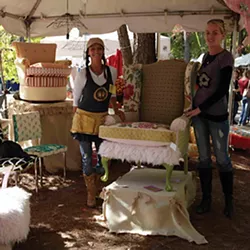 JUNE 6-8
Country Living Fair
Dutchess County Fairgrounds, Rhinebeck
The pages of Country Living magazine come to life with great shopping, antique appraisals, seminars, cooking and artisan demonstrations, delicious food, and a chance to meet the editors. Featured vendors include Hudson Valley Seed Company, Findings at Summerhouse, Laurie Messeroll, Red Door Antiques, and many more. 10am-5pm daily, rain or shine. (845) 876-4000; Countryliving.com.
JUNE 7
Great Plant Swap & Sale
Forsyth Park Pavilion, Kingston
This 16th annual Cornell Cooperative Extension of Ulster County event is a fundraiser for the Master Gardener Program of Ulster, where all are welcome to bring in and swap their healthy, contained plants. Master Gardener volunteers will be available to share their knowledge and provide gardening information. Drop off your flora from 9-10am, get vouchers at 11am, then at 11:30am swap until all the plants are gone! (845) 340-3990; Cceulster.org.
JUNE 21
Gardens of Goshen
St. James' Episcopal Church, Goshen
Beginning at St. James' Episcopal Church, enjoy a fresh gourmet lunch on the lawn, raffles, experts, and self-guided tours of six different Goshen gardens. Visitors receive a road map the day of the tour, free to pick and choose which gardens to experience. Dan Daly of Hudson Valley Landscaping and Cornell Cooperative Master Gardeners will answer gardening questions. The luncheon includes delicious dining options, refreshments, and desserts. Tours 9am-3pm. Luncheons 11am or 1:30pm. (845) 294-9004; Stjamesgoshen.org.
JUNE 28
Woodstock House Tour
The Byrdcliffe Shop, Woodstock
After picking up a map at The Byrdcliffe Shop, experience a mix of historically significant and culturally representative Woodstock homes with gorgeous views and amazing art collections. One of the featured homes is White Pines, designed and built in 1903 by Ralph Whitehead and Bolton Brown, an architectural example of living in harmony with nature. 11am-5pm. A benefit cocktail party will follow from 5-7pm. (845) 679-2079; Woodstockguild.org.
JUNE 28
Warwick 21st Annual Countryside House Tour
Railroad Green, Warwick
View acres of wilderness, greenery, and a cottage surrounded by dahlias, wisteria, and peonies. The self-guided tour begins at Railroad Green in downtown Warwick, where participants will receive badges, a tour guide, and map to seek out five to seven of the loveliest gardens in the Hudson Valley, open to the public for one day only. This major fundraiser event is planned a year in advanced by Warwick Valley Gardeners. 9am-5pm. (845) 987-8580; Warwickvalleygardeners.com.