The City of Hudson was inhabited by Mohican Indians until Dutch settlers purchased the land in the 17th century. In 1783, it became known as a whaling port when New England seafaring men sought safety from attacks during the Revolutionary War. The city traces the edges of the Hudson River, exhibiting breathtaking sunsets and crystal clear views of the Catskills.
click to enlarge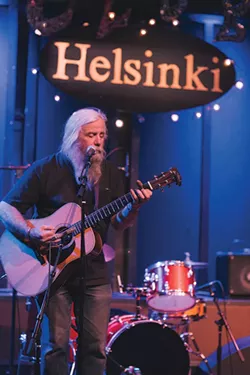 Dutch architecture still has a strong presence in the urban district and hints of the city's whaling past are displayed on street signs. Lately, Hudson has gained some noteworthy attention; it's been deemed the "New Orleans of the North" by Ulster Publishing's Weekly Almanac and was the target of dismissive remarks from musician David Byrne about being a last refuge for expat hipsters from New York. Just steps off the train from New York City or Albany, Hudson has transformed from a place to venture on the weekends to a place to call home for nearly 6,500 people. An antiques hub in the 1980s, Hudson has evolved into a meeting ground for the arts, world-class eateries, and high-end shops on Warren Street, the small city's focal point.
Dining options are plentiful, with bits of Mexican, French, Italian, German, and American bistro at restaurants like Mexican Radio, Red Dot, Swoon Kitchenbar, Café Le Perche, American Glory BBQ, and DABA. New to the eating scene is Fish & Game, a renovated blacksmith's shop owned by Fatty Crab franchisers Zak Pelaccio, his wife Jori Emde, and partner Patrick Milling Smith. The restaurant relies on local products they love, including those of Blue Star Farm, John Fazio Farms, Letterbox Farm Collective, and Rubiner's Cheesemongers & Grocers. Clothing shops range from those selling vintage wear, like Sideshow and Five and Diamond, to contemporary clothiers de Marchin and Louisa Ellis.
"There was no reason to come to Hudson 20 years ago except for the DMV and Mama Rosa's pizza," says Rob Caldwell, owner of the community music shop Musica. "[Now] the young, hip people have found a haven here. People just do this exodus from New York." Tucked behind Warren Street, Musica offers a variety of instruments, as well as in-store lessons and performances. Music continues to marinate throughout the city in well-known venues like Helsinki Hudson and the Half Moon, located across from the river on South Front Street.
Art plays a vital role in the city's intensity. Galleries like the Davis Orton Gallery, Peter Jung Fine Art, and the Tom Swope Gallery mix into the antiques paradise featuring shops like Arenskjold, Hudson Supermarket, and 3FortySeven. Local folk artist Earl Swanigan's somewhat provocative and humorous paintings can be found at almost every Hudson shop; he sells 20 to 30 pieces a weekend. The Spotty Dog Books & Ale is a one-stop shop for art supplies, books, and coffee; stick around in the evening for the bar and live music.
Busy Warren Street is also home to the annual Hudson Music Festival, New York State's largest free music festival, and to arts centers like the 1855 Hudson Opera House, which hosts high-caliber programs of world class and local performances, exhibitions, and workshops. Internationally renowned performance artist Marina Abramovic has chosen Hudson as the site of the Marina Abramovic Institute, housing her legacy.
Montreal musician Melissa Auf der Maur, formerly of Hole, and New York filmmaker Tony Stone opened Basilica Hudson in a renovated 19th-century factory as an art, performance, and event space. "It wasn't until we moved into the city that I discovered the magic of Hudson. It began to reveal itself as really unique and one of a kind," says Auf der Maur. "I consider it close to Utopia. There's a dark side to the town—but if you're looking for a really dynamic and inspiring [city] and you're willing to work really hard, this is the community to join."