The City of Hudson was inhabited by Mohican Indians until Dutch settlers purchased the land in the 17th century. In 1783, it became known as a whaling port when New England seafaring men sought safety from attacks during the Revolutionary War. The city traces the edges of the Hudson River, exhibiting breathtaking sunsets and crystal clear views of the Catskills.
click to enlarge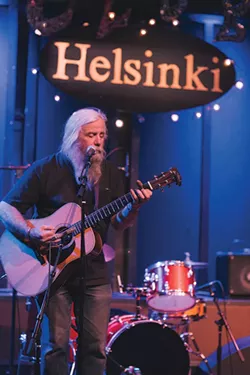 Dutch architecture still has a strong presence in the urban district and hints of the city's whaling past are displayed on street signs. Lately, Hudson has gained some noteworthy attention; it's been deemed the "New Orleans of the North" by Ulster Publishing's Weekly Almanac and was the target of dismissive remarks from musician David Byrne about being a last refuge for expat hipsters from New York. Just steps off the train from New York City or Albany, Hudson has transformed from a place to venture on the weekends to a place to call home for nearly 6,500 people. An antiques hub in the 1980s, Hudson has evolved into a meeting ground for the arts, world-class eateries, and high-end shops on Warren Street, the small city's focal point.
Dining options are plentiful, with bits of Mexican, French, Italian, German, and American bistro at restaurants like Mexican Radio, Red Dot, Swoon Kitchenbar, Café Le Perche, American Glory BBQ, and DABA. New to the eating scene is Fish & Game, a renovated blacksmith's shop owned by Fatty Crab franchisers Zak Pelaccio, his wife Jori Emde, and partner Patrick Milling Smith. The restaurant relies on local products they love, including those of Blue Star Farm, John Fazio Farms, Letterbox Farm Collective, and Rubiner's Cheesemongers & Grocers. Clothing shops range from those selling vintage wear, like Sideshow and Five and Diamond, to contemporary clothiers de Marchin and Louisa Ellis.
"There was no reason to come to Hudson 20 years ago except for the DMV and Mama Rosa's pizza," says Rob Caldwell, owner of the community music shop Musica. "[Now] the young, hip people have found a haven here. People just do this exodus from New York." Tucked behind Warren Street, Musica offers a variety of instruments, as well as in-store lessons and performances. Music continues to marinate throughout the city in well-known venues like Helsinki Hudson and the Half Moon, located across from the river on South Front Street.
Art plays a vital role in the city's intensity. Galleries like the Davis Orton Gallery, Peter Jung Fine Art, and the Tom Swope Gallery mix into the antiques paradise featuring shops like Arenskjold, Hudson Supermarket, and 3FortySeven. Local folk artist Earl Swanigan's somewhat provocative and humorous paintings can be found at almost every Hudson shop; he sells 20 to 30 pieces a weekend. The Spotty Dog Books & Ale is a one-stop shop for art supplies, books, and coffee; stick around in the evening for the bar and live music.
Busy Warren Street is also home to the annual Hudson Music Festival, New York State's largest free music festival, and to arts centers like the 1855 Hudson Opera House, which hosts high-caliber programs of world class and local performances, exhibitions, and workshops. Internationally renowned performance artist Marina Abramovic has chosen Hudson as the site of the Marina Abramovic Institute, housing her legacy.
Montreal musician Melissa Auf der Maur, formerly of Hole, and New York filmmaker Tony Stone opened Basilica Hudson in a renovated 19th-century factory as an art, performance, and event space. "It wasn't until we moved into the city that I discovered the magic of Hudson. It began to reveal itself as really unique and one of a kind," says Auf der Maur. "I consider it close to Utopia. There's a dark side to the town—but if you're looking for a really dynamic and inspiring [city] and you're willing to work really hard, this is the community to join."
click to enlarge
Columbia County
Columbia County sits on the eastern part of New York State, framed by the Catskill and Berkshire mountains and nestled southeast of Albany and tickling the Massachusetts border. Nearly 30 quaint towns and villages spread over 648 square miles of primarily rural terrain, with seas of agricultural land and farms. Yet while the mountainous area may be quiet, it's not sleepy.
Like much of the Hudson Valley, Columbia County takes pride in its historic heritage. Kinderhook is home to the Martin Van Buren National Historic Site, where the eighth US president was born and retired, and Steepletop, the Austerlitz home of Pulitzer Prize-winning poet Edna St. Vincent Millay. Visitors to the area learn about the American Shakers at Old Chatham's Shaker Museum/Mount Lebanon, the notable Livingston family at the Clermont State Historic Site in Germantown, or Greenport's 250-acre Olana estate of Hudson River School painter Frederic Church. The rural landscape isn't shy of entertainment, either; each October, Chatham hosts the five-day FilmColumbia festival at the Crandell Theater.
For the adventurous type, Hillsdale's Catamount doubles as a ski resort and aerial adventure park. Hiking and biking tend to draw attention to the county, whether on the beautiful trails or back country roads. Visitors can spot bald eagles and other diverse wildlife while walking along the Hudson River, says Columbia County Land Conservancy Director of Outreach & Resource Development Thomas Crowell. "Columbia County is unique in that we're at the crossroads of habitat types [from the] northern end of southern species and southern end of northern species," says Crowell, which creates a rare overlap of birds.
"Agriculture is one of the defining features of our community in terms of the overall land use in the county,"Crowell says. "There's been a resurgence of young farmers in the county. Most of them are recent college grads or in their 30s and wanting to get back to things local, which includes a desire for eating fresh, locally raised food." Slightly northeast of Hudson is Ghent, home to the Hawthorne Valley Association. Turn down County Route 21C to discover the association's dual purpose: the experiential Hawthorne Valley Waldorf School sits on one side of the street and a 438-acre biodynamic farm and locally and regionally sourced grocery store rests on the other. Self-guided tours are recommended, just watch out for tractors, says Karen Preuss, director of marketing for the Hawthorne Valley Association. The farm and store keep a strong focus on organic and nonGMO products as well as supporting other farms in the county and farther, similar to the small but loved Chatham Real Food Market Co-op. "When (people) are here they can really feel the spirit of community, it's not isolated," says Preuss. "How can you come here right now and not fall in love with Columbia County? It's so beautiful."
click to enlarge
Apple orchards trickle throughout Columbia County, including Love Apple Farm in Ghent, White Oak Farm in Hillsdale, and Samascott Orchards in Kinderhook, among many others. Yet Valatie's Golden Harvest Farms has been hitting the headlines with its famous apple cider donuts. "I've seen people almost crash their car because they couldn't wait to eat their donut before they left the property," says Peter Upstill of Harvest Spirits, which ferments hard apple cider, among other varieties, from the orchard's unused crop.
Other county breweries also stick to using the farm-to-table method. In Ancram, Hillrock Estate Distillery creates 100-percent barley, rye, and bourbon whiskey through the incredibly rare field-to-glass operation, using organic rye and barley straight from its land. The brand new distillery is also known for its solera-aged bourbon, which is unlike any other bourbon in the world, says Hillrock's director of operations, Timothy Welly. Hillrock also hands some of its bourbon barrels over to the Chatham Brewery, which makes its own barrel-aged beers.
For a daily visit or to follow an urge to escape the city life, Columbia County is worth the visit. "It may be this idyllic dream people have, but it's realized here," says Preuss. "It's buccolic, pretty. There's enough going on around here where you don't get bored."
Resources
Classic Country
(518) 392-2211
Columbia County Tourism
Columbiacountytourism.org
Copake Country Club
Copakecountryclub.com
De Marchin
(518) 828-3918
Lea's Clothing, Jewelry, Gifts
(518) 392-4666
Valley Variety
Valleyvariety.com
Winter Walk
Hudsonoperahouse.org