A lot of things can happen at a yoga teacher training program in Rwanda. Unexpected things. Life-changing things. Throw-you-for-a-loop things. "Weddings just pop up, and trainees bail for a whole day" says Megan Leigh, the Chichester-based yoga teacher at the helm of a recent Africa training. A student's prosthetic leg breaks, and money is hurriedly raised to replace it. Another day, someone is kicking up into her first-ever handstand, and a newbie teacher is finding his voice in a series of Sun Salutations led on the fly. At the Ubushobozi Project, a sewing and weaving NGO near Dian Fossey's mountain gorilla country, it's a lot to take in. Yet there are few places in the world that Leigh—the owner of Chichester Yoga, just outside Phoenicia—would rather be. The trainees, mostly teenage girls supporting their families, rise at 4 a.m. and return home after dark to do chores before and after the daylong yoga sessions. With only a little prior exposure to yoga from Western visitors, the project workers are hungry for the ancient Indian practice and its healing gifts. "Rwanda is one of those rare places where you can experience the effects of your work in real time," says Leigh. The collective's response to the opportunity to become teachers is so overwhelming that Leigh has so far raised money for two volunteer training visits, one completed in 2012 and another in February 2013, so she can give her time, her heart, and her yoga to people who need it most.
A Yoga Peace Corps
Extraordinary as it is, Leigh's Rwanda experience is not the only outreach story of its kind these days. A blossoming field of yoga service is taking root and spreading internationally—evidenced by a body of research around yoga's therapeutic effectiveness with underserved populations at home and abroad. Recent studies show the benefits of yoga and mindfulness practices for everyone from PTSD military veterans and at-risk youth to cancer survivors and prison inmates. Disparate efforts to bring yoga to populations like these are coming together to resemble something like a grassroots movement. Many of the field's experienced envoys as well as new enthusiasts will gather June 7 to 9, 2013, at the Omega Institute for Holistic Studies in Rhinebeck for the second-annual Yoga Service Conference. While talks and breakout sessions will allow participants to share best practices and find community, a luminary list of presenters will include yoga research expert and author Kelly McGonigal, PhD, and Trauma Center founder Bessel van der Kolk, MD. "We're taking a two-pronged approach," says Jennifer Cohen Harper, a founding member of the Yoga Service Council, the organization behind the conference. "One is to delve into very specific populations and their needs, and the other is to take a broad look at the field as a whole to see what we have in common and how we can support each other."
The connection between yoga and service is a natural one, built into the very fabric of yogic philosophy and tradition. "Seva" or karma yoga—the yoga of selfless service, or the art of giving without expecting anything in return—is a path of yoga that runs parallel to asana, the physical practice of yoga poses. Karma yoga can encompass any act of selflessness or volunteerism, from Mother Theresa-like work to simply putting another person's needs ahead of one's own. Physical yoga doesn't have to be part of the offering—but it's often a perfect fit. "The inspiration to serve usually comes from a very personal place in the life of a yoga practitioner or teacher," says Cohen Harper. "Once people experience the transformation in their own lives that a regular yoga practice inevitably brings, it's impossible not to see the connection between yoga, mindfulness, and an improved quality of life for other people." On the flip side, many experts who work daily with underserved populations—social workers, teachers, therapists, health-care workers—are finding in yoga a powerful modality to add to their repertoire. "They're struggling to find tools that work," says Cohen Harper, "and they're often really startled by yoga's effectiveness. Naturally, they want to learn more."
click to enlarge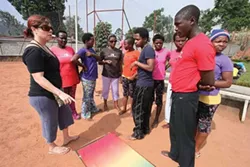 From Inspiration to Action
For Leigh, the Rwanda sojourns seem like an act of fate: Ever since a friend visited the area on vacation in 2010 and told her about the Ubushobozi Project and the young women who spend their days sewing bags and weaving baskets, she knew that one day yoga would take her there. A Westerner from the Dian Fossey Foundation had already taught some yoga to the project's workers, and they ate it up. "Then the money ran out and the yoga stopped," says Leigh. "So I decided to go. But I didn't want to just teach them. I wanted to train them so they could stop waiting for tourists to come and teach them yoga." After a short fundraising campaign, she set off for the first 10-day training in February 2012, not knowing what to expect. Not only did she find the trainees super-fit (they walk two hours each way to work every day), but their enthusiasm bubbled over. "There is so little support there that any support is noticeable," says Leigh. "It's a country with PTSD. Everybody is connected to the genocide of the 1990s in some way, so there aren't many people over 40." At 44, Leigh finds herself considered a "muchechu," an old lady. Yet despite the memorials at every street corner, she discovers in Rwanda an indomitable spirit. "In general it's a really welcoming, loving, friendly culture," says Leigh. "The project is a happy place, despite the odds. It's a success story."
Like many yoga service volunteers, Leigh has no specific training in cross-culture outreach work. She lets inspiration and intuition show her the way, and thankfully these guides haven't let her down. Culturally, she's had to feel her way—choosing to leave most yogic philosophy out of her teaching in a country that's had its fill of dogma. And then there are the social challenges. "Rape is a huge problem," says Leigh. "Not only does the woman experience that trauma, but sometimes it's used to entrap the girls into marriage." To help address this, Leigh is working on bringing self-defense training to the Ubushobozi Project through an NGO called No Means No. Now that she's got a taste for service, she's ready to take it even further. "I always get fed more than I give," says Leigh. "When you feel yourself brimming over and your hairs are standing on end, then you know it's worth it—in all its imperfections and all the stuff that goes on when you're working for free. It fills me up."
click to enlarge
Angels in Our Midst
From the minute she steps off a plane, Leigh tells me, she comes alive. But other yogis find their karma calling closer to home. Ellen Forman, who teaches yoga at Sky Baby Studio in Cold Spring, started her own service project at the Putnam/Northern Westchester Women's Resource Center in Mahopac. At this freestanding shelter where women and their children find refuge from domestic violence, Forman taught a series of free classes in the summer of 2010. The constant flux of residents and the omnipresent kids wandering in and out of the room made for an unpredictable teaching environment—but Forman adapted by keeping the structure loose and the yoga gentle. Sessions included guided breathing and positive-thinking exercises geared toward finding sanctuary within. "When you have to armor yourself over because of abuse, you don't even know how you feel," says Forman. "I think the women were able to let down their guard a little bit. To relax and let go of the stress was pretty huge." Her benchmark for success came about a month after the experience, when she ran into a woman who had completed her stay at the shelter and gone back into the world. "I'm over at Mrs. Green's [Natural Market] in Mahopac, and I hear 'Yoga lady, yoga lady!' The woman gives me a hug and says, 'You don't know how much your class affected me.' She was feeling empowered and was so thankful." Forman continues to offer the occasional karma yoga class in which she donates all proceeds to a local cause such as a homeless shelter or animal shelter. "I'm drawn to reaching out," she says. "It feels really right."

Bringing yoga to hospitals and prisons is the kind of service that excites New Paltz yoga teacher Maggie Heinzel-Neel. Yet while she completed a special training in teaching yoga to prisoners, she has yet to find a Hudson Valley correctional facility that will take her on as a volunteer instructor; miles of bureaucratic red tape seem to stand in the way. Hospital yoga has been easier to manifest. For about the past four years, Heinzel-Neel has been teaching a restorative yoga and meditation class at Benedictine Hospital's Cancer Support House in Kingston. "I do a lot of guided meditation with the patients," says Heinzel-Neel, who also teaches at NP Rock and Ashtanga Yoga of New Paltz. "It's a great way to tap into the inner awareness and bigger presence that we're all connected to. For many of them, it's very new and they're just blown away." In another project close to her heart, she plans to restart her series of "Sacred Sunday" yoga classes that donate all proceeds to Women for Women International, an organization that supports desperate women in war-torn countries. In previous years, Heinzel-Neel and her students raised enough money to sponsor three women for a year through this life-changing organization. "My new vision is to inspire some students to each support a woman for a year, and then to take a trip together to visit and do yoga with these women. That's my hope and dream."
A Flexible Movement
Can downward dogs make the world a better place? Yes, says Cohen Harper—as long as we make an effort to keep yoga inclusive and adaptable. "There's a culture around yoga studios that not everybody feels a part of," she says. "We want to encourage people to think about the specific needs of the populations they're working with, recognizing that there's no one-size-fits-all yoga." If the service movement keeps gaining ground, future steps could involve working to get yoga therapeutics covered by health insurance, for example. For Leigh, the next goal is to return to Rwanda to help one of her trainees open the region's first yoga studio. "There's something that happens when we practice yoga that is unexplainable, that's magical, and that I can't take credit for at all," says Leigh. "If you add to that just being present with people and keeping your heart open, that's one of the most loving things you can do. I think that's part of why the yoga works."
Resources Ellen Forman Pranamoonyoga.com
Maggie Heinzel-Neel heinzel-neel@earthlink.net
Megan Leigh
Ubushobozi Project
Yoga Service Council