click to enlarge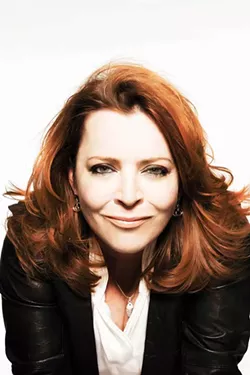 Kathleen Madigan walks into a comedy club to get a beer . . . . This isn't the beginning of a pub joke—it's the happy accident that launched the veteran standup comedian's career. The comic's on-the-road itinerary, which includes over 100 venues across the country in a given year, includes West Point on January 12.
The ease with which Madigan stumbled into comedy has carried over to her laid back, charismatic style. Her upbringing in a Missouri suburb is reflected in her material, which revolves around four staples of the American consciousness: Politics, religion, family, and sports. As a result, Madigan is commonly described as having a "Midwestern sensibility." "I think it means common," says Madigan, reflecting on the characterization. "Representative of the country in a nutshell."
Madigan represents a very different country than pop-culture-centric comedians, though. "Kathy Griffin is very funny," Madigan says. "But sometimes I don't know what she's talking about because I don't watch those shows. I've never seen an episode of 'The Kardashians' in my life. I'd rather watch CNN or ESPN."
Madigan's channel preferences impact her jokes; rather than riff on celebrity culture, she finds humor in weightier issues. "What do we have in this country?" she asks in her 2010 Showtime special-turned-DVD powerhouse, Gone Madigan. "We have a huge terrorism issue and we have a healthcare crisis. Why not, at the airport, send everyone through a CAT scan?"
A late night television regular, Madigan's concern with the media extends beyond her material; she worries about its effect on the industry as a whole. "I think it's harder for young comedians to reach a lot of people at one time because the media is so scattered," she says. "There used to be three channels; now there're 300. It's not just regular radio, now it's Sirius radio. Everyone and their mother has a podcast and a blog. You have to do them all to reach the same amount of people, when, 20 years ago, you'd go on Johnny Carson one time and two-thirds of the people in the country were watching."
Madigan isn't giving up hope for young comedians, though. "They'll figure it out," she says. "I just don't know how." Madigan admires eccentric approaches to standup, referencing Maria Bamford's quirky style. But the standup stateswoman is sticking to the tried and true. "I am kind of a Joe Normal, or a Sally Lunchbox, as my brother says."
But Madigan's normal isn't noxious. She has a warm voice that's often used for delightfully convincing imitations, like of her cigarette smoking, highball swilling mother or USO tour mate, Country pop star Kellie Pickler, and her appreciative laugh carries through her standup routine like an unobtrusive chorus. The Midwestern sensibility that she's come to be defined by refers to something more than just "common." Her comedy is at once familiar and surprising, like a playful jab from a friend who knows you too well.
In a bit about taking a tour of a Mormon temple, Madigan introduces the only other person on the tour with her, Bob, "a 62-year-old Teamster from Chicago who looks and sounds exactly like all of my uncles." She thinks to herself, "This is going to be great, because I can tell by looking at Bob [that] all the inappropriate things that are going to run through my head, Bob is gonna say out loud." Lucky for audiences everywhere, Madigan is happy to be our Bob.
Kathleen Madigan steps up to the mic at Eisenhower Hall Theater in West Point on January 12 at 8pm. West Point alumni Greg Warren opens. Tickets are $38.