click to enlarge
When you buy your petunias, geraniums, and other annuals from a good grower in May, the plants are bushy and prolifically blooming. By midsummer, they often look leggy and the blooming has dropped off. A sense of personal failure can set in: "What happened to my beautiful flower boxes/flower pots/annual beds?"
I believe that this experience with annuals is the reason why a lot of people give up on gardening and decide they "don't have a green thumb." But it's not their fault. Plants should come with instruction—much more instruction than "Sun or Shade" and "18 inches tall."
My fantasy is that every garden center, box store, and nursery would have an in-house educator who you could see on your way out for pithy advice delivered in an infectiously enthusiastic fashion. Oh—and they would not be trying to sell you products you don't need. This is not altogether a fantasy; in the Hudson Valley, we are lucky to have independent garden centers and plant nurseries that provide hands-on education (and we should support those that do!).
Snips for Success
Keep in mind that in greenhouse production, the grower has provided those annuals with the ideal conditions of light, quality potting mix, fertilizer, water, and lots and lots of pinching. It takes some fussing on your part to keep the plants looking like they did the day you brought them home. A huge part of that fuss is 1) pinching back stems in order to keep the plant bushy by encouraging lateral branching and 2) pinching off, or deadheading, spent flowers.
When we pinch off spent flowers, the plant says to itself, "I didn't get to set seed; I gotta produce more flowers, stat!" Petunias are an example of a plant that benefits from both pinching stems and deadheading flowers. Fortunately, pinching and deadheading are relaxing and gratifying because they work so well.
For my pinching I use a pair of $12 microblade pinching shears that is designed for this purpose. It makes it easy to home in on the right place to snip and to not overdo—if I use larger pruners for pinching, I sometimes inadvertently snip adjacent flowers or stems. The pinching shears are precise and fun to use.
click to enlarge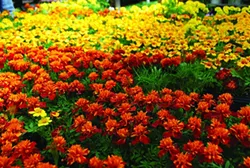 On the other end of the spectrum from tiny shears, I'm reminded of my beloved, irreverent herbaceous plants professor, Dr. Lyons, and what he taught us to do when faced with a bed of petunias that had become leggy and sparsely blooming. We newbies watched, mouths agape, as he brought out the weed whacker and used it to shear off the top half of all the petunias. The plants looked like heck for about 10 days, but after the whack and some deep watering and a modest infusion of granular fertilizer, the petunia beds rebounded like a hundred purple rising Phoenixes. If your annuals are really far gone like the petunias of Dr. Lyons's class, you can consider a hard prune, via weed whacker or other, less dramatic means.
Mohonk Mountain House Greenhouse Grower Cheryl Hearty says, "I have noticed that new gardeners especially are hesitant to prune annuals and perennials. It is okay to prune plants that are straggly, floppy, too tall, or look awful after blooming heavily. Have faith that your plants will come back better than before!"
The question arises, where to cut? Think junctures. For pinching stems, go back to just above a juncture where a lateral stem meets the main stem. For deadheading flowers, study your plant to observe the difference between how flower buds and seed pods look, so that you don't inadvertently remove flower buds. For deadheading flowers, I like to snip back to a juncture as well, like where the flower stalk meets the main stem on a petunia or a geranium. Some people just pop off the dead flowers and don't worry if a flower stalk is left behind. That's fine, too, depending on your aesthetic preferences.
Self-Cleaning Annuals (with a Question Mark)
Annuals breeders are seeking to provide the market with "self-cleaning" plants, those whose spent flowers drop off naturally and don't require pinching. The ubiquitous Supertunia series of petunias is supposed to be self-cleaning, but I find that for optimum summer-long bloom and fullness I still have to deadhead flowers and cut back stems to keep the plants bushy.
Cheryl Hearty says, "I have had the same experience with petunias—keeping them trimmed and well fed throughout the summer keeps them looking fresh. A few annuals that I think truly are self-cleaning, however, are alyssum, lantana, New Guinea impatiens, the Sunpatiens (a series of impatiens for full sun), the Superbena series of verbena, and the 'Gartenmeister Bonstedt' fuchsia (most other fuchsias tend to require deadheading). I am also a huge fan of foliage plants like coleus, alternanthera, ornamental sweet potato vine, and purple heart/setcreasea because they add color and texture and are very low maintenance."'
Some annuals "bury their dead," meaning new flowers come on quickly and hide faded flowers, so no pinching or deadheading is necessary. These include the excellent Artist series of ageratum, African daisies, and creeping zinnias.
Perennials and Pinching
Perennials can be pinched and deadheaded too. I asked Cheryl Hearty about the perennials she finds most worth her effort. She says, "I guess I am a bit of a neat freak, so I make an effort to regularly deadhead perennials. Disease prevention is important, especially with peonies; petals that fall on leaves can cause a Botrytis [fungal] infection."
She continues, "Shearing back plants like catmint, dianthus (pinks), and candytuft after bloom is very much worth the effort because they come back quickly and look much less ratty. There are many perennials that have the capacity to rebloom if you kept them deadheaded, like yarrow, daylilies, veronica, salvia, coreopsis, and black-eyed Susans."
Hearty says, "Some perennials have interesting seed pods that are ornamental and worth leaving on. Two of my favorites are pasque flower and gas plant. The pasque flowers have a fluffy seed pod that is quite beautiful, especially after a rain, when tiny droplets of water cling to them and sparkle in the sun. The gas plant has an interesting star-shaped pod that turns brown but looks great until the end of the season." (Wear gloves when working with gas plant, however, as flowers and leaves can cause a skin rash.)
The Cornell Flower Growing Guides advise you on whether to pinch or deadhead more than 250 types of annual and perennial flowers. So for instance, for snapdragons: "Pinch tips when plants are 2 to 4 inches tall to produce more flower spikes. Cutting flowers as they mature will encourage plants to produce more flowers later in the season. Deadhead to prolong flowering." For the biennial foxglove: "Deadhead when about three-fourths of the flower spike has faded. Cut back to basal rosettes after flowering has finished. Leave a few flower spikes if you want plants to reseed." This kind of specificity around the pinching and deadheading, and all facets of plant culture, makes these guides a treasure.
Resources
Cornell Cooperative Extension Gardening Site Gardening.cornell.edu
Cornell Flower Growing Guides Tinyurl.com/lz6ve4a
Mohonk Mountain House Greenhouse Tinyurl.com/k68xer7