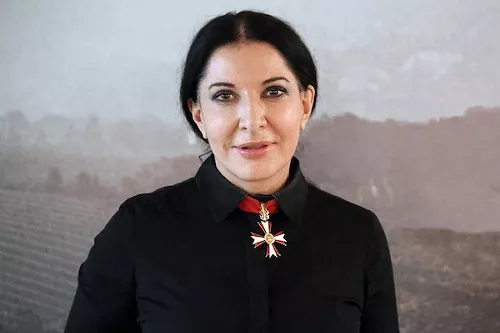 Manfred Werner / Tsui
Marina Abramovic
Self-described as "the grandmother of performance art," Serbian American artist Marina Abramovic is experiencing a surge in popularity.
In 2010, Abramovic completed a ground breaking run at the Museum of Modern Art in New York, boosted by the much publicized surprise appearance of her ex-partner Ulay (and, on another occasion, a certain contemporary pop sensation named Lady Gaga). The show, dubbed "The Artist is Present," featured Abramovic sitting motionless at a table, inviting visitors to sit with her and absorb her energy.
An HBO film documenting the show, also titled The Artist is Present, will be shown on July 10th at Upstate Films in Rhinebeck. Appropriately, Ambramovic will be present for a Q&A session following the screening.
In fact, the performer will be around our area quite a bit, following the opening of the Marina Ambramovic Institute in Hudson. The Institute, which will open sometime this year, vows to serve Ambramovic's legacy by providing a space for performance art.
And quite a legacy she has: Born to two veterans of the Partisan resistance during World War II, Ambramovic built a career out of self destructive performances: cutting, whipping, losing consciousness. Having stretched not only the limitations of art, but the limits of her own body, she manages to sound credible when saying, "I've always been a soldier."
Beyond preserving Ambramovic's legacy, the Institute intends to inspire a new generation of performance artists. While that means focusing on mediums like dance, music, film, and theater right now, Abramovic is already thinking about the new art forms yet to be discovered. Says the artist, "This is really just a base to develop the future."

The Artist is Present screens at Upstate Films in Rhinebeck on July 10. Q&A with Abramovic to follow.