The monotony of the work week, scheduled life, and structured plans start to catch up with us after a while. Surrendering to this dullness is optional. Continuing education doesn't mean being tethered to a desk or tormented by exams. For nondegree-seeking students of life there are numerous nontraditional education options available. More flexible than high school and less stressful than college, these interest-based opportunities allow students to explore areas of interest for the sake of enjoyment and personal growth. School may be out for the summer, or it may have been a few years since you set foot in the classroom, but with the numerous programs in the area, there's never a bad time to take on the challenge of learning something new.
Healthy Immersion
T-shirts, snowglobes, and keychains are classic vacation mementos, but an educational retreat offers a more satisfying souvenir. Kripalu Center for Yoga and Health in Stockbridge, Massachusetts, offers participants the chance to relax while learning nutrition or yoga and working on a personal goal such as establishing a healthier lifestyle, changing habits, or losing weight. "One of the main reasons people come to Kripalu is that they want to immerse themself in a healthy lifestyle," says Cathy Shamir, Kripalu media relations director. Kripalu, though named for a specific type of yoga, offers several types of yoga, healing arts services, appointments with experts, nutritional workshops, outdoor activities such as kayaking and hiking, and creative programs including painting and movement. Generally, Kripalu participants spend between three days and a week residing at the Center and participating in their chosen programs, More in-depth courses, such as certification programs, last about a month. (800) 741-7353; www.kripalu.org.
Rejuvenate and Change
For those seeking wellness and personal growth, the Omega Institute for Holistic Studies in Rhinebeck provides opportunities for improved health, self-exploration, and spiritual growth. Founded in 1977, the Omega Institute uses educational experiences to awaken the best in the human spirit. "Omega provides a forum for people to be exposed to new ideas and ways of navigating an increasing complex world in the presence of leading thinkers of the day," says Chrissa Pullicino, Omega media relations manager. "Through these educational experiences people learn how to 'be the change' at home, at work, and in their community." Omega offers more than 350 classes a year in six categories: body, mind and spirit, health and healing, creativity and play, relationships and family, leadership and community, and sustainable living. The Women's Institute focuses on harvesting the power of femininity. The annual Women and Power conference, held this year on September 24-26, will feature Ani DiFranco, Gail Collins, and many more presenters. Omega's upcoming workshop topics include leadership, intuition, painting, social media use, and sport. They also offer retreats, teen programs, professional training, and programs for continuing education credit. (877) 944-2002;
www.eomega.org
.
Spring into Life
Learning and personal development shouldn't be restricted to a timeline. Lifespring in Saugerties offers programs specifically for retired, semiretired, and adult students. Now, in the program's second year, Lifespring learners can take up to three classes on Tuesdays during each six-week semester. Academic course offerings for the fall semester, beginning September 21, include biology and comparative religion. Lifespring also offers writing and poetry courses as well as gentle yoga. While exploring interests and learning skills, members can also engage in additional planned activities and enjoy the learning community created among the students. "The original idea was just to have courses, but it's really about developing a sense of community," says Susan Puretz, Lifespring president. (845) 246-2800 ext. 452; www.lifespringsaugerties.com.
Fly Like an Eagle
Learning to fly may be a forgotten childhood fantasy, but from May through September the Flying Trapeze Club in New Paltz can make it a reality for students age four and up. In their first two-hour lesson, trapeze students can expect to advance from basic groundtraining to their first trips on the bar. Students can anticipate learning the tricks of the trapeze trade: knee hangs, splits, and whips. "Flying trapeze isn't just fun, it's therapy. This sport helps students vanquish fear and feelings of self-doubt, teaching us all that we are what we think," says instructor Meghan Loggia. (845) 255-4375;
www.trapezeclub.org
.

Master Rhyme, Rhythm, and Romanticism
For aspiring wordsmiths, the College of Poetry in Warwick offers aspiring poets, regardless of experience, the opportunity to enhance their poetic skills through general survey courses, topic-specific workshops, special events, and readings. Courses balance study of classical poetic works with writing style and techniques. "Though many people that are taking the courses have a love of poetry, they don't necessarily have a background in it on the college level. The instructors do, and they're able to impart that," says Janet Hamill, instructor. Over the course of eight weeks, students take two classes at a time. Class sessions last two hours on Saturday morning or Saturday afternoon. Fall courses, beginning October 14, include Poetry and Myth, Confessional Poetry, and Song Lyrics and Poetry. (845) 294-8085;
www.collegeofpoetry.com
.
Blown Away
It's hard not to marvel at the artistic creations of others but often difficult to imagine creating one of your own—especially the alchemy of turning earthen materials into glass. Glassblowing lessons provide students the chance to pick up the blow pipe and create their own piece to take home. Hudson Beach Glass, in Beacon, and Gilmor Glass, in Millerton, each offer classes to aspiring glassblowers of all levels. In glassblowing classes, students can expect to learn techniques, gain skills, and complete projects. Early projects for students learning the trade include creating paperweights, solid statues, and beads. Hudson Beach Glass offers classes, including glass-bead-making workshops, and hosts performing glass artists. Classes last between one and three hours. Gilmor Glass offers full-day, half-day, and private or semiprivate sessions. Hudson Beach Glass: (845) 440-0068; www.hudsonbeachglass.com. Gilmor Glass: (518) 789-8000; www.gilmorglass.com.
Reflect and Reconnect
Slowing down can be an important step in spiritual development. There are a number of different opportunities in the region designed to help clarify the window of vision into the immense well of self. Mirabai of Woodstock's workshops focus on metaphysics and spiritual development. The Crystals Center, in Wurtsboro, offers workshops on crystal healing. Gatherings at the Garrison Institute, in Garrison, seek to use contemplative ideas to aid personal growth and social change. The Garrison Institute's annual Cultivating Awareness and Resilience in Education (CARE) training for educators, will be held August 14-19. Tarot on the Hudson's classes, in Rhinebeck, explore the spiritual guideance the cards offer. Menla Mountain Retreat, located in Phoenicia, hosts a variety of retreats including sessions on detox and yoga. Dreaming Goddess in Poughkeepsie offers classes on various psychic energy systems. Mirabai of Woodstock: (845) 679-2100; www.mirabai.com. Crystals Center: (845) 888-2547; www.thecrystalscenter.com. Garrison Institute (845) 424-4800; www.garrisoninstitute.org. Tarot on the Hudson: www.rachelpollack.com. Menla Mountain Retreat: (845) 688-6897; www.melna.org. Dreaming Goddess: (845) 473-2206; www.dreaminggoddess.com.

Add a Splash of Color
Brighten up your free time and express your creative self by taking advantage of any of the multitude of nearby arts programs. Whatever your chosen method of artistic expression, there is a place to unleash your creativity. Paint, in connection with nature, at the Wallkill River School of Art, located in Montgomery. The Woodstock School of Art offers classes, lasting consecutive days or meeting weekly, in an array of topics including artistic anatomy, pose drawing, and sculpture. Learn painting techniques and about the versatility of mediums at R&F Handmade Paints in Kingston or enhance your photographic skills through lectures and workshops at the Center for Photography in Woodstock. Mill Street Loft and the Barrett Art Center, both in Poughkeepsie, will collaborate in the offering of various art courses this fall. Women's Studio Workshop in Rosendale provides classes in papermaking, printmaking, book arts, photography, and ceramics. Wallkill River School of Art: (845) 457-2787;
www.wallkillriverschool.com
. Woodstock School of Art (845) 679-3802;
www.woodstockschoolofart.org
. R&F Handmade Paints; (845) 331-3112;
www.rfpaints.com
. Mill Street Loft: (845) 471-7477;
www.millstreetloft.org
. Barrett Art Center: (845) 471-2550;
www.barrettartcenter.org
. Center for Photography Woodstock: (845) 679-9957;
www.cpw.org
. Women's Studio Workshops: (845) 658-9133;
www.wsworkshop.org
.
click to enlarge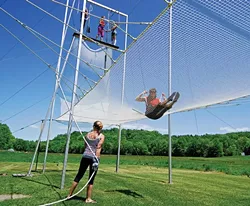 click to enlarge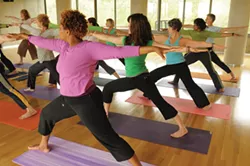 click to enlarge
click to enlarge