It began as a rest stop on the footpath down the river, halfway between Albany and Manhattan, long before those place names existed. To weary travelers, it was "uppuqui ipis ing," roughly translated as "The Reed-Covered Lodge by the Little Water Place," a phrase that the earliest European residents found difficult to pronounce, naming a locality they found easy to love. The footpath was to become Market Street south of Main, and the city in the middle of the Long Reach—a 10-mile straight stretch of Hudson River—seemed well favored from the start.
"Poughkeepsie," wrote James H. Smith in his History of Dutchess County, NY (1882), "is one of the most beautiful and attractive cities in the State, and one of the most delightful of the many charming localities in the valley of the Hudson with its varied associations, its mountains of wonderous [sic] grandeur, its fruitful plains, and vales of rare scenic beauty. In varied natural scenery it is scarcely surpassed by any; while for wealth, culture, refinement—all those qualities which adorn a noble life—it is the peer of all."

Mayor John Tkazyik sounds a lot like Smith, if Smith were reincarnated as a hip, thirtyish businessman with energy to spare. "It's dynamite," he says. "We're on fire here. The Walkway has just erupted; it's terrific, it's brought out hundreds of thousands of visitors and residents. It's a national attraction, a unique park with such beautiful scenery. It's breathtaking to walk upon this bridge that once sat empty and run down, to see this marvel come alive."
The railroad bridge that has been revamped into a park was a marvel in its own right when it opened in the 1880s, the longest bridge in the world and a true masterpiece of contemporary engineering. It lay dark and unused for a quarter century, closed by a fire. But the ambitious dreams of a few visionaries turned out to match the will of the wider community after all, and the Walkway Over the Hudson opened in 2009 and promptly filled up with fundraisers, charity walks, musical events, weddings, art shows, and just plain folks of every description out to get a breath of air. A 2007 impact study projected 267,700 visits a year, leading to $14.6 million in direct spending and $1.3 million in overall tax revenues The Walkway folks have reported happily that the projections were a bit off: 450,000 visitors showed up within the first few months.
Meet the Breathless Mayor
That would seem to be the way things are going in the big little city on the Hudson. With a population of just about 30,000, Poughkeepsie (aka Po-town, PK, and a host of other monikers) is not immune to the issues facing small cities everywhere; in the '70s and '80s, things were looking a bit bleak. The explosion of retail along Route 9 and an ill-considered plan to remake Main Street as a pedestrian mall spelled, some said, the end of the urban center.
Anyone who thought Poughkeepsie was down for the count certainly had another think coming. In the past decade, it's been one thing after another; under the leadership of Tkazyik and his predecessor and mentor Colette La Fuente, so much is popping that the mayor gets breathless trying to list it all. "We're putting in steps from the Walkway to Washington Street right now, and next year there will be an elevator installed from Waryas Park. Waryas Park, our waterfront, that's our jewel in the crown. Other cities may have redeveloped their waterfronts faster but ours is going to be bigger and better. Waryas Park has the boat docks—the Clearwater has been here half a dozen times this year, along with a bunch of cruise lines. The park is being used to capacity—the egg hunt, the parades, the Kids Expo, the big Fourth of July bash, weddings, community events. A lot of major walks start and end there. And we just signed a licensing agreement to restore the icehouse—it will be a place to get refreshments and food."
The mayor is quick to point out that his city has 19 parks in all, in which his administration is busily replacing picnic tables and resurfacing ball courts. "A lot of people can't get away on vacation right now; it's important that they have places to play and feel welcome."
The city's west end is richly blessed: Along with the Walkway's opening, its historic train depot—designed by the same folks who brought us Grand Central Station—has experienced major restorations over the past several years. These helped spark revisionings like that of the Victorian Dooley Square warehouse, which has been converted to retail, offices, and restaurants, and the success of neighboring spots like Mahoney's Irish Pub, occupying the former Vassar Brothers Brewery.

Stalwart Institutions
Up on the former Main Mall—now a proud boulevard once again—the onetime Luckey Platt building, vacant for decades, has become a mixed-use residential and retail space. "We've got absolutely great tenants," says the mayor.
"It's all young, hip people with fresh energy—a city vibe," says Luciano Valdivia, a resident of the Luckey Platt project. He's fresh from a meeting with Mayor Tkazyik about the area's prospects for revitalization, being one of the key players in the creation of a new night spot opening shortly in the neighborhood—the Bull and Buddha, an Asian/fusion lounge that all concerned are hoping becomes a landmark. "It's going to be unlike anything this area has seen before—major sushi bar, lots of dining space—presided over by a seven-foot-tall Buddha from Thailand. So far, the Buddha seems pleased."  The mayor is certainly pleased. "They're adding 85 parking spots! And the place will be exquisite. That area's coming back fast. We're restoring a building on Academy Street. The Artist's Palate [another Main Street restaurant] is doing well.
"It's been a long time since Main Street was really bad," says Valdivia. "It's a perception thing, and people should come see what we're doing. There's this alley here that was a blight on the landscape and kept getting vandalized with spray paint. We commissioned graffiti artists, and now there are murals—an urban feel, that's what we're aiming for, hip urban."
Even during its lean years, Poughkeepsie has always been blessed with stalwart institutions of all sorts that have carried it through.  You want education? Vassar, Marist, Dutchess Community College, and the Ridley-Lowell Business and Technical Institute stand ready to teach whatever you'd like to know. Health care? Vassar Brothers and Saint Francis, both highly rated hospitals, are the tip of the iceberg—there are literally dozens of health care organizations and agencies that call Poughkeepsie home. Vassar Brothers is about to break ground on a $66 million dollar expansion, a 26,000-square-foot ambulatory surgery center with four operating rooms, 50,000 square feet of medical office space, a parking garage with 875 spots, and a café/retail space. Performing arts? The Bardavon 1869 Opera House (the oldest surviving venue of its kind) is just moments from the Mid-Hudson Civic Center, so if half the family wants to hear the Philharmonic and the other half would prefer to catch live wrestling or the Renegade Revival Tour with Travis Tritt, you're set. Then there are the Cunneen-Hackett Center, the Chance, Vassar's Powerhouse Theatre, and Bananas Comedy Club. Visual arts lovers can sate themselves at Vassar's Francis Lehman Loeb Art Center, with its 15,000 works; the Barrett Arts Center, which offers classes and studio space along with juried exhibitions; or the GAS (Gallery and Studio) on Main Street. Need help of some sort? A couple of dozen community organizations focusing on everything from literacy to fair housing to youth issues make their homes here—from branches of well-known national helpers to homegrown flavors like the decades-old Catherine Street Community Center, currently partnering with Vassar athletes to teach squash to street kids. Kids of all sorts and all ages are guaranteed a mind-expanding good time at the Mid-Hudson Children's Museum, with its array of 50 amazing hands-on exhibits—everything from local ecology to the human body to virtual reality and back.
In Poughkeepsie, the old and the new have a way of joining hands. Where else, after all, has a stately suspension bridge been played as a musical instrument (Joseph's Bertolozzi's Bridge Music) and decorated with "Necklace Lights," a high-tech and flexible state-of-the-art LED display?

The Bridge That Casts a Spotlight, Not a Shadow
Consider Ed Kowalski's life path. As a teen, he toiled in an Italian deli down by the riverside. Five years ago, he opened Lola's Café in that same building, which now lies in the shadow—or perhaps one should say the spotlight—cast by the Walkway. Business has been so good that he's opened a new restaurant and nightspot, Crave.
"We've been getting a lot of really great foodies from Manhattan—and a lot of new locals who get here from the Walkway," Kowalski says happily. "And the city has been absolutely supportive—they got us a façade grant and a low-interest renovation loan." During Walkway construction, Lola's fed breakfast to chilled bridge workers all winter long, and Kowalski hosted a couple of fundraising dinners out on the span itself before it opened. "That was a blast. We cooked a five-course gourmet meal right out there on the bridge."
Tkazyik is proud of his efforts to make city government nimble and user-friendly, for businesses and residents alike. "It used to be, 'You don't want to deal with Poughkeepsie government,' and I think we're turning that around." According to Kowalski and Valdivia both, Tkazyik is succeeding—and Poughkeepsie's new breed of entrepreneurs seem determined to give as good as they get. Café Bocca on Mount Carmel Street (another Walkway neighbor) hosts an eclectic array of fare indeed: film screenings, readings, art openings, belly dancing, and music, and participants in a "Mount Carmel Community Forum" discussion in late July included a retired state mental health worker, a grandma and IBMer, a hipster DJ, a retired postmaster/technical analyst, a Hudson River Housing employee who's heavy into transformative mediation, and representatives of Vassar and Bard.
And it's an easy guess that folks from Lola's circle will show up, and that the Irishers at Mahoney's are cheering on the birth of the Bull and Buddha. "It's all about collaboration, not competition," says Charlie North, president and CEO of the Dutchess County Regional Chamber of Commerce. "There are plenty of opportunities to make capital when you collaborate—it's the right thing to do and the polite thing to do. When you become partners you become family. The waterfront, Main Street, the Walkway—they're entrees on the menu of success for the capital city of the Hudson River Valley. Keep watching—we're percolating right now, and it'll come to a boil fairly quickly. There are new initiatives about to be announced in the next few weeks."
The fermentation of New Urbanism can be left behind, when so desired, by simply driving east on Route 44 and crossing the border into Pleasant Valley, a town of about 9,000 souls that prides itself on keeping the finest traditions of American small-town life alive and thriving. Residents come together often, for free concerts and art shows or exercises and brain games. Postcard-pretty, Pleasant Valley boasts a quadruple handful of community organizations, ranging from the classics like Rotary to the Women in the Wind bikers and an active children's theater. North is a big Pleasant Valley fan: "It's the town everyone would have liked to grow up in—a classic small town with a thriving business corridor. They even have an actual department store. Everybody knows everybody, but they're a warm and welcoming bunch—it's a pleasure just to drive through because they keep it so nice."
Pleasant Valley, laid-back and sweetly traditional, offers low-key and intriguing retail alternatives to the big-boxes: besides the department store, there are a hobby shop and a thrift shop. Several restaurants are thriving. The historic Mill Site Museum offers a window into the past, and the Bower-Quarry Trails network beckons walkers, bikers, and cross-country skiers to peace and fresh air. "It's just what it says it is," says North. "A really pleasant valley. How can you top that?"
Indeed. Pleasant Valley, quintessential small town, and Poughkeepsie, venerable city dancing happily along to its own new rhythms, near neighbors offering complimentary, contrasting flavors of Hudson Valley life—and perhaps, models other towns and cities might learn from. For if each community is thriving in difficult times, the key would seem to lie in being exuberantly, unashamedly exactly who and what they really are—and loving it.
RESOURCES
The Artist's Palate www.theartistspalate.biz
Bananas Comedy Club (845) 462-3333
Bardavon www.bardavon.org
Barrett Art Center www.barrettartcenter.org
Bull and Buddha www.bullandbuddha.com
Café Bocca www.cafebocca.net
Catherine Street Community Center www.catharinecenter.org
The Chance www.thechancetheater.com
Crave www.craverestaurantandlounge.com
Cunneen-Hackett Center www.cunneen-hackett.org
Dutchess Community College www.sunydutchess.edu
Dutchess County Regional Chamber of Commerce
www.dutchesscountyregionalchamber.org
GAS www.galleryandstudio.org
Lola's www.lolascafeandcatering.com
Mahoney's Irish Pub www.mahoneysirishpub.com
Marist College www.marist.edu
Mid-Hudson Children's Museum www.mhcm.org
Mid-Hudson Civic Center www.midhudsonciviccenter.com
Powerhouse Theater www.powerhouse.vassar.edu
Ridley-Lowell Business and Technical Institute www.ridley.edu
St. Francis Hospital www.sfhhc.org
Vassar Brother Medical Center www.health-quest.org
Vassar College www.vassar.edu
Walkway Over the Hudson www.walkway.org
click to enlarge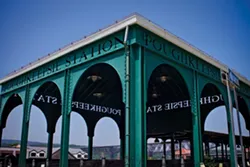 click to enlarge
click to enlarge