Sometimes what might at first seem like an odd pairing makes for a perfect fit. Take, for example, the ongoing live collaboration between Marshall Crenshaw and the Bottle Rockets. Crenshaw has long been recognized as a genius of melodic, jazz-inflected, Beatles-/Buddy Holly-based power pop, while the Bottle Rockets are revered as pioneers of a twangy alt-country sound that owes more to Southern rock and the heavy crunch of Crazy Horse. To many, such a fusion of disparate styles shouldn't work. But work it does—gloriously so, as YouTube clips of the two acts' recent live collaborations inarguably display. And no doubt such scenes will be reprised when Crenshaw and the Bottle Rockets' current tour brings them to the Iron Horse Music Hall on January 25. So when and how did this uncanny joining of forces begin?
"We've been doing shows together on and off since 2011," says Crenshaw. "Basically, it started because we both have the same booking agent and he suggested we work together. I'd always liked the Bottle Rockets' stuff, so I was really into the idea. And it turned out they were, too. There's a real mutual respect between all of us as songwriters and musicians, so the whole thing really clicks well. At this point we've done somewhere between 30 and 40 shows together."
click to enlarge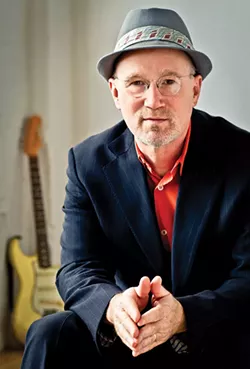 Crenshaw, a Rhinebeck resident, is one of the brightest lights of the contemporary singer-songwriter field. He played John Lennon in Broadway's "Beatlemania" before rising to prominence on 1980s alternative radio and, in addition to other film work, penned the theme for 2007's
Walk Hard: The Dewey Cox Story
. Lately, Crenshaw has been busy with a series of 10-inch, 45rpm vinyl EPs, releasing a new three-song disc "every few months"; the latest is
Driving and Dreaming
(Red River Entertainment). Formed in 1992 in the musical metropolis (?) of Festus, Missouri, the Bottle Rockets, along with the pre-Wilco unit Uncle Tupelo, co-led the '90s insurgent country/roots-rock wave. Presently comprised of guitarist and vocalist Brian Henneman, drummer Mark Ortmann, guitarist John Horton, and bassist Keith Voegele, the Rockets are touring in support of Bloodshot Records' double-CD reissue of their crucial first two albums,
1993's
Bottle Rockets
and 1995's
The Brooklyn Side
.
On this tour's shows, the Bottle Rockets will play their own set before joining Crenshaw for a segment that spans his deep catalog. "It's definitely an equal collaboration: On some nights, the audience is made up of more of my fans, and on others, it's more of theirs," says Crenshaw. "Even if we haven't played together for a while, once we get on stage there's a real chemistry there that comes right back." And at the moment, the only way to get a taste of that rare chemistry is in a live setting, as Crenshaw and the Bottle Rockets have no plans to enter the studio together at this time.
Marshall Crenshaw and the Bottle Rockets will perform at the Iron Horse Music Hall in Northampton, Massachusetts, on January 25 at 7pm. Tickets are $20 in advance and $25 at the door. (413) 586-8686.