The moment of truth is about to arrive: Mars stations direct Monday, after being retrograde since March 1.
The essence of Mars stationing is: get ready for a shift in how you direct your willpower and influence, and watch the balance of power in relationships carefully. As Mars reverses its apparent direction and begins retracing its path back through Libra, it's an opportunity to clarify some answers to questions about balance, gender, sexual power and 'maleness' in your life.
click to enlarge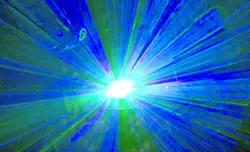 What do you want and why do you want it? I believe a message will be forthcoming as Mars stations direct -- a message that may distill much of what has happened in your life so far this year.
On the eve of Mars stationing direct, I will be hosting the first-ever Planet Waves community forum at 8 pm EDT on Sunday, May 18. This 90-minute event, available by phone, Skype and web, will morph a teleseminar and a live, call-in edition of Planet Waves FM.
This event is free, though it requires pre-registration at this link. After you sign up, you will receive an email with instructions for participating by telephone, Skype or Internet a day or two before the event.
Wednesday's Scorpio Full Moon may have brought to a head an opportunity to make changes voluntarily and not have to be pushed into them; it may have been a profoundly transformational event for you. Note that Mars is the traditional ruler of Scorpio, creating a direct link between this week's astrology and Mars stationing next week.
With Venus conjoining Uranus and squaring Jupiter today through Sunday, you'll want to remember the difference between 'reacting' and 'responding' to sudden emotional shifts and unconventional impulses in your love life. Watch out for the temptation to overindulge this weekend, and don't be a drama queen -- people care how you feel without the histrionics.
Mercury squaring Chiron, in effect now and exact Saturday, may be indicating self-doubt, and a lack of faith that words can convey feelings. Under the current astrology it would be a lot safer to trust your intuition than not to trust it.
Doubt is natural enough even when someone is right; on its own, it's not a sign that you are wrong. It's more like a factor that you must address and resolve -- rather than yielding to it and, in the process, avoiding yourself.