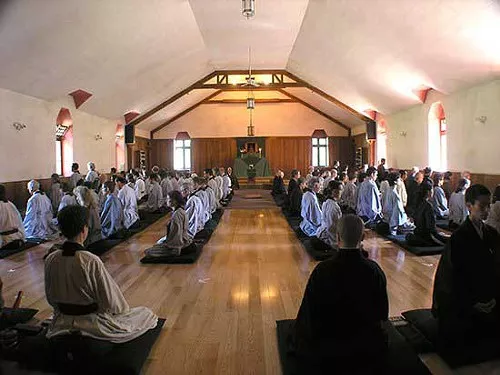 Every time I've driven past the Zen Mountain Monastery in Mt. Tremper, I've wondered what it's like in there. It is the main house of the Mountains and Rivers Orders. It was on my 2012 Wish-List, so I finally made a date night out of it and went to the Wednesday Evening Meditation that is open to the public.
The Wednesday night meditation is open to the public, but the website suggests you call ahead of time. (If you can't make it on Wednesday night, you can go to the longer Sunday morning service.)
I was told on the phone to arrive at 7:10pm to be shown around and receive instruction. In the main hall lounge, monastic students were reading books and talking softly to each other. (Confession: I'm not sure who the students were and who the trained monks were, but everyone was very nice and very engaged.) A couple of students came over and introduced themselves to us by their Dharma names and asked us where we were from and what brought us here. Everyone there had a composed, friendly gentleness to them. Though we were the only newcomers that night, I felt comfortable because students answered my questions before I had a chance to ask them. "Do you know where that cup goes?" offered one of the students when I was done with my tea. She showed me to the kitchen where I dunked it in soapy water and placed it on a dish rack.
As 7:30 approached, I started to get a little nervous. A student told us that we would be given special instruction during the first part of the meditation, then we could take a break, and then join the rest of the group for the next 30 minute round of meditation. We followed the students (now dressed up in grey robes) up a narrow stone staircase to the Zendo area where you take your shoes off. This is when I panicked! About a hundred or so students were already seated in the Zendo still in darkness in perfect rows, while a young man was making clacking sounds with a piece of wood on a board.
I could tell by Tom's rapid breathing that I wasn't the only one panicking. Someone whispered to us to just sit on the bench for a few minutes and then we would be taken into a separate room for instruction. I took a few deep breaths to calm down. A male teacher wearing a black robe appeared and ushered us into a small cozy room with cushions (called kosho) and a shrine with a Buddha statue.
After about five minute of silence, he introduced himself and told us that he would be explaining the poses and the basics of Zazen meditation. His talk was formal in nature, but it was direct and helpful. The idea is to find the most comfortable pose for absolute stillness. You can take a few deep breaths to settle in, but then you are supposed to breathe as silently and be as still as possible. He mentioned that there are monitors during meditations to help guide people when needed, and sometimes you might hear one of them yell "Wake up!" or "Be still!"—but that is probably only going to happen if someone is falling asleep or really moving a lot. It was a lot to process in that setting, but the main takeaway I got was that if you get thoughts or daydreams, you can counter them by counting your breaths to 10, or just being aware of how you are feeling or observing your feelings.
After the instruction, and the half-time of the meditation, he led us to our two spots in the Zendo. I decided to stick with my half-lotus pose since I'm very comfortable in that position. Tom adopted the kneeling position at the last minute, and later regretted it because his feet fell asleep, and he had trouble standing up at the end. (He goes to the gym a lot, but he is not very flexible.)
Oddly enough, I didn't have any intrusive thoughts during the meditation like I do during yoga class. I wasn't thinking about my to-do list, holiday cards, or obsessing about a stupid comment I made yesterday. I was just totally focused on getting through the 30 minutes without squirming or scratching or coughing.
The biggest challenge for me was keeping my eyes open. (We were told that the gaze should be at a 45 degree angle, but not focused on a spot on the floor). My eyes felt scratchy and tired. Finally, I closed them for five minutes, and then opened them a tiny bit on and off. I suspect the incense wafting through the room could have irritated my eyes.
The evening meditation ended with brief chanting and bowing. (There was no zen stick, but we had been prepped on what to do in case there was a zen stick. You are to bow if you want to get wacked on the shoulder). Tom and I both felt great at the end. We followed everyone downstairs for refreshments.
One of the students told us that we came on a good dessert night. (Indeed there were pies from Bread Alone and Deising's, and one homemade gluten-free chocolate cake supposedly made from garbanzo beans. I had that one. It was kind of dry, but good.) The students were very happy to answer questions about the practice. I asked one woman, who had been meditating for four to five years and had been living at the monastery for eight months, what she thought was the biggest benefit to her daily meditation practice. (She said she meditates about three to four hours a day.)
She said that there were many, but the main one was that years of meditation had helped her stop stuttering. She told me that she used to be so nervous and stressed that she used to stutter a lot. Since coming to the Zen Monastery and becoming a student, she very rarely stutters. For the most part, it has gone away.
We said a few goodbyes and left around 9:15pm. It was a beautiful night, and a full moon. Afterwards, Tom felt euphoric even though he confessed that he was also concentrating on not making a fool of himself by squirming, scratching, or waking up his sleeping leg. It was an interesting and fun date. I would definitely recommend visiting the Zen Monastery in Mount Tremper if you are interested in an introduction to Zen meditation. There is no charge for the Wednesday Evening Meditations. Donations are welcome. I'm thinking of investing in a Kosho cushion or a small meditation bench and practicing at home.
Follow more of Vanessa Ahern's writings and adventures at HudsonValleyGoodStuff.com, a blog she started 4 years ago.