The region that includes the towns of New Paltz and Gardiner is set against the backdrop of the scenic Shawangunk Ridge, which stretches from the tip of New Jersey to the Catskill Mountains, and is actually the northern end of a long ridge within the Appalachian Mountains that begins in Virginia and continues through Pennsylvania and New Jersey. The name is derived from the Native American Lenape, and means, roughly, "in the smoky air." The Ridge is composed of layers of white quartz pebbles, sandstone, and dark gray shale that were pushed up in a northward plunging series of asymmetric folds some 270 million years ago.
That's old news—but there are quite a few more recent developments in these two towns that, though not earth-shattering on a geological scale, will nonetheless rock your world.
Life Is Sweet in New Paltz
Orgasmic and sinful have become the adjectives most associated with the consumption of chocolate. And though the Huguenots might not have approved, Lagusta's Luscious has been purveying handcrafted, artisanal chocolates just down the road from Historic Huguenot Street on 25 North Front Street for the past two years.
"My partner Jacob and I moved here right after the famous same-sex marriages in 2004," says owner Lagusta Yearwood. "We both had jobs where we could live pretty much where we wanted, and we were drawn to the lefty politics and local farms in New Paltz. I've loved it since the first day we moved. New Paltz is a nice mix of people who are used to a New York City-level of sophistication—and are excited about and actively looking for some of our weirder creations, like candied asparagus caramels."
Among her "weirder creations" are the famous Furious Vulvas, yonic-shaped confections that have been reported to have aphrodisiac effects. "I do have some male pals who won't go on a date without a box of them by their side," says Yearwood.
A commitment to living and working in an organic and environmentally sustainable way is characteristic of Ulster County in general, and the New Paltz region in particular. Lagusta's Luscious is a completely vegan business using 100 percent postconsumer recycled paper and packing materials. They compost all kitchen scraps, use all eco-friendly cleaning products and generate almost no waste.
Yearwood's specialties for summer include frozen drinking chocolates with housemade caramel sauce, and their vintage milkshake machine is cranking out almond milk-based milkshakes with summery ice cream flavors.
Cupcakes got a big bump in the 1990s when they made a cameo on "Sex and the City," transforming them from a kid's birthday-party treat to a hip, boutique product. There's something special about getting your very own cake, cast into its own form and individually decorated, which simultaneously creates and satisfies a peculiarly obsessive desire. "Go ahead," it seems to say. "I'm just a little cupcake. You deserve it."
"Cupcakes have been around what seems like forever, but their recent popularity has definitely raised the question, how long will it last?" says Josie Eriole, owner of Moxie Cupcake, which has just opened in a new location on Main Street in New Paltz. Of the once-humble cupcake's newly found fashionability, Josie feels that "if you have a really great product—which I think we do—it will always be popular. Our cupcakes are different in many ways. They are all my own recipes, baked from scratch every morning. We only use the best ingredients, including fair trade organic cocoa, European butters, pure, local maple syrup and honey, local dairy, and as much local produce as we can. I truly care about each and every cake and want them to be a personal indulgence that is worth it."
Eriole and her staff have been overwhelmed with the popularity of the shop since reopening in a new location on Main Street this June. "It has been received so well, we are still playing catch up and finding our way, adjusting to the volume of new customers. We do a lot of catering, but it's the shop and the people in it that I love the most about what I do, which is why I made the move to a bigger, more visible and comfortable location. I love being a host to so many different people who come away with the same satisfied feeling."
Moxie is great all week, but Sundays are special—check out their Sunday Morning Cupcake, a French toast-inspired confection sprinkled generously with cinnamon before baking and doused with 100 percent local maple syrup before being topped with maple buttercream and crispy pieces of organic bacon.
In addition to cupcakes and coffee, Moxie will soon be adding live musical entertainment and some savory offerings to their menu.
click to enlarge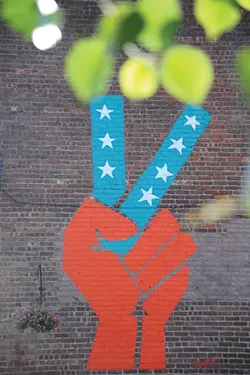 Gardiner
One of the things that makes a small town like New Paltz so livable is a piece of infrastructure that most of us take for granted: sidewalks. And the town of Gardiner, nestled against the Shawangunk Ridge just seven miles south of New Paltz, is getting new ones. The $1.5 million project, funded by the New York Department of Transportation, was awarded to Paul Colucci Excavation of Gardiner and includes colorful pavers, 27 lampposts, landscaping, and vegetation.
"When we were working on building our new sidewalks, we discovered old ones 20 feet down," says Carl Zatz, Gardiner town supervisor, who is overseeing the project. "Gardiner has so much history, and it has always been a strong town. It's changed a lot in the last 10 years or so, and though things slowed down a bit in 2008, interest in the town has been steady." Zatz has been supervisor since January 2012, but actually served two previous terms in that post from 2003 to 2007. The project is scheduled to be completed this August, and will create a sidewalk from Town Hall to the Wallkill Valley Rail Trail, and a second sidewalk that will connect the Gardiner Reformed Church to the Rail Trail.
While strolling down the new sidewalks, stop in to The Village Market and Bakery. "Everything here is made from scratch," says John Reilly, who, together with his wife Karen Schneck, is chef and owner. Now in their fourth year, the Village Market has become a real hub and anchor in the town. "I love the sense of community here. I was living in Gardiner, commuting to Manhattan, where I was a corporate chef for one of the largest catering companies in the Northeast," says Reilly. "I wanted to do something close to home, and though I loved the excitement of the city, my dream was to ride my bike to work. The heart of the business is breakfast and lunch, and there's a smaller component that's bakery and market. We've kept the baked goods fairly simple, with muffins, scones, and croissants. This year we're carrying local produce and Gardiner-raised grass-fed beef. This week it's local radishes, eggs, Swiss chard—it changes with the seasons." The couple also runs Omnivore Catered Events, a full-service off-site catering business.
Just across the street from the Village Market, Susan Eckhardt, who owns a number of buildings in Gardiner, is renovating 128 Main Street. From the street, the 1910 home appears unassuming. Entering, one finds an inviting space poised to become a bar and an intimate dining room with a soaring ceiling that spans two floors. The space is still only roughed out, framed, and awaiting sheetrock and the final touches of its future occupant. "We want this to be a real destination kind of place, and we're looking for chefs with some great ideas to come bring this space to life," says Eckhardt. Her own commitment to sustainable, humane, and organic farming is reflected in Brykill Farm in Gardiner, which she owns, where humanely raised grass-fed Charlois/Red Angus cross cattle happily roam over 450 acres. Her other projects include a "Wiki" office for Gardiner, providing space to those needing a place to work with high-speed Internet access and meeting rooms available.
The Hudson Valley produces some world-class wines, and Perry Goldschein, the new owner of Gardiner's Hudson Valley Wine Market, encourages his customers to visit the wineries. "You enjoy more if you know where it's been made and the people behind it," says Goldschein, who bought the market this year and opened in May. "Hudson Valley wines are holding their own in competitions—Whitecliff, right here in Gardiner, won Best White Wine at the San Francisco Wine Competition in 2010, right in Napa's backyard. Wine Enthusiast magazine rated 20 Hudson Valley wines in their upper point range. Hudson Valley wineries are producing world-class wines, and though it's a small shop, we carry 20 different wines form six or seven local wineries. It's one of the best selections in the region, if not the largest, and local wines certainly make up the largest percentage of our inventory." His suggestions for the best local wines to taste? "The varietals that do best in our region are the Rieslings. Chardonnay can do well—Millbrook puts out an excellent one. Of the hybrids, lighter wines like Traminette, Seyval blanc are doing well. Reds like Cabernet franc and pinot noir are also very good." The market also features Tuthilltown whiskies and vodkas, distilled in Gardiner.
It's inspiring to see the energy and creativity of these small business and to watch them take root in the thriving small towns of Gardiner and New Paltz. What draws them to the region and supports them is the belief, shared by their customers, in eating and drinking locally, knowing where your food comes from and the people who raise and prepare it, sustainable farming practices, and a commitment to the community.
Resources
The 1850 House Inn & Tavern
Barner Books
Brookside Farm
Café Mio
First Care Family Practice
Fleet Service Center (845) 255-4812
Gray Owl Gallery
Jack's Meat & Deli (845) 255-2244
Jar'd
Joanne E. Secky (845) 255-8680
Keith Buesing (845) 255-6634
LaBella Pizza Bistro
Mac's Farm and Garden World
Mark Gruber Gallery
McGillicuddy's
Rock da Pasta
Samuel Dorsky Museum of Art
SUNY New Paltz School of Fine Performing Arts
Tuthill House at the Mill
Wallkill View Farm Market