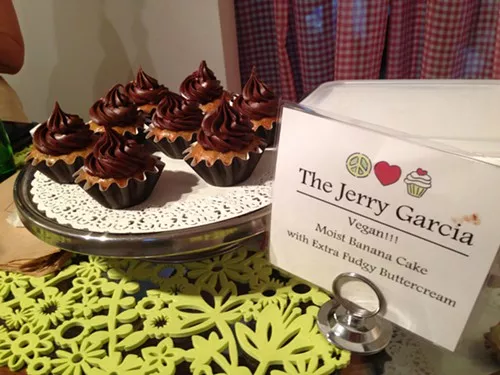 The Jerry Garcia will send vegans and non-vegans into orbit
When I'm craving something sweet I head over to Woodstock, Peace & Love and Cupcakes, a cupcake bakery in Woodstock. I was there for their grand opening week in June 2012. All the cupcakes I tasted there were delicious. I bought 3 at $3 dollars each. I tried The Dylan, which is a carrot cake and cream cheese frosting, 1 Woodstock Tie-Dye a vanilla bean cupcake, and 1 Jimi Hendrix, which is mocha cupcake with triple shot espresso cream. (It was hard, but I shared the cupcakes with my family!) I have since tried the vegan Jerry Garcia cupcake, which is my new favorite. It's made of banana bread with extra moist fudge frosting. The shop is sort of tucked away behind the Dharmaware store so follow the Cupcake signs to the cupcakes.
Follow Vanessa Ahern's blog Hudson Valley Good Stuff for where to eat, play, and recharge your spirit in the Hudson Valley.