John Dugdale was an extremely successful commercial photographer, doing high-end advertising work for clients like Bergdorf Goodman, Ralph Lauren, and Martha Stewart. He was, that is, until a series of strokes, along with CMV retinitis (an AIDS-related illness) took away most of his sight. Now totally blind in one eye and with less than 20 percent of his vision in the other, he looks upon the loss of his sight as a sort of gift—unable to continue with commercial photography, he has spent the past 15 years dedicated to his artistic vision, which is indelibly attached to the (comparatively) slower pace and craft-intensive processes of the 19th century.
Now known for his luxurious cyanotypes and large-format, gently lit albumen and velvety Van Dyke prints, Dugdale has turned adversity into an opportunity for fierce independence. While in recent years he's depended on assistants to help focus his large-bellowed view camera, he's now undertaken to devise a system of premeasured cords and cables to allow him to work alone in the studio of his lovingly restored Stone Ridge farmhouse, which itself feels like a portal to the 19th century.
A selection of Dugdale's work is featured in "The Camera Always Lies," the Center for Photography at Woodstock's second Regional Photographic Triennial, opening on June 14 and continuing through August 17.
(Full disclosure: I curated the exhibition.) (845) 679-9957; www.cpw.org.

JOHN DUGDALE ON HIS WORK
The Historical Record
When the daguerreotype came out, it was called a mirror of life. I think that one of the miracles at the time for people was to see an exact likeness of themselves on this little mirrored jewel that they're holding in a case. Maybe over the years, photography has been understood as this perfect representation. That's why it's not painting, and maybe it was easy for people to expect that. I think that people expect extreme clarity and perfect representation in a photograph because of the way it started. People on the whole, outside of the art world, people expect photographs to look like themselves. Painting is filtered through somebody's eye and hand, right through their body onto the canvas. A photograph is meant to be a mirror, in most people's understanding.
That obscure object of desire
I always have trouble defining "subjective" and "objective." In that photograph of my mother, I couldn't have been objective, because she's my mother. I've been intensely involved with her in some way shape or form for 48 years. If I was Diane Arbus I probably could have been extremely objective. I end up being in love or falling in love with most of the people I photograph—that's pretty subjective, right? It's not possible for me to not be subjective.
I wouldn't describe photography as objective in more general terms, either. The light entering the lens and hitting the film makes it a kind of screen for me. It's as though that's how it is etched into my mind, not that it's blocked by the film receiving it. Because of my sight, the camera is like me, it's like my eye. I want to look for that place where my subjective relationship to the object or the person comes across really clearly, which is why I think my pictures are so popular. People respond to them in a really primal way, because they're emotionally accessible. [I like] allowing my emotion and my experience and history with the people that I photograph to pass right through the camera into me and onto a piece of paper.
Since everybody sees everything completely differently anyway, there's nothing less truthful than a photograph of somebody. Two people can look at the same person and see somebody different; you can look at the same color flower, and it looks different. So there is no "truthful" or "untruthful"—there are so many variables to every situation, filtered through human experience and mind. How could it be any less or more of a lie?
Beauty is blind
A long time ago, I stopped encountering stuff in the world. The things that are fixed in my mind, what makes them appear are words, or relationships. When people hear that I have a visual impairment, they say, "How can you be a photographer?" Because the first thing that people think about in general when you say that is not about setting up tableaux in the studio; they think about walking around outside and catching something beautiful. That's certainly not what I am able to do, nor did I ever really want to do that. When I look back on the history of my own photography, when I was 11, I set my sister up under a grape arbor and told her to act like Venus de Milo. At 11, I didn't even think about going to photograph the spectacular car in the driveway, or kids playing ball or whatever, it was about creating something. People automatically assume that you go outside and look for things, rather than looking inside, and then making them. I use the camera like a canvas, to create the stuff that inspires me, like my mother (who's like a novel in her own right), or flowers. People say that daffodils don't really smell, but I'm not sure what they're smelling, because to me they smell like fresh air. I can still see them in a blur with my eye, but when I sniff the thing, or I hold it, it becomes much more real.
In the age of mechanical reproduction
I'm actually shying away from [high technology]. As I'm trying to work alone in the studio now, I'm trying to eliminate the use of the computer. There's another very beloved picture of my mother and I, where she's holding me against her chest, that was in my first book. I went to Italy and showed that picture, and a woman wanted to know if it would be okay to use it to make billboards about Alzheimer's. It so took me aback, I had to think about it—I always want to help with anything the way that I can, but in the end I said no. I couldn't imagine seeing that intimate picture of my mom blown up, by the highway, all over Italy. It seemed to devalue the picture, not in a monetary way, but it took away the intimacy.
I want to stay on the other side of the superfast cutting of images on TV in commercials and videos, and the omnipresent barrage of images. It makes me cringe when I think of being a part of that. I think people are craving not-that. But they can't be away from it, because that's all that's presented now.
I think at this point I'm very much a conscientious objector. But I don't think that people can just choose not to participate. You can't divorce your art from the current moment completely. I grew up on Bugs Bunny, "The Munsters," and every other thing that was on TV then. Once that stuff gets etched into your mind, it's permanently in there, you can't erase it. It inevitably becomes part of your work.
Now when I go to my mom's house, with the TV on, I have to look away, because the commercials make my head hurt, how quickly they move. How much faster can things get sped up, before they become abstract? I don't want to watch that anymore-—it makes me feel nauseated.

Seeing slowly (again)
For the last three months, I've experimented with making the best Van Dyke brown that was ever made. It's been a slow process, with the same image over and over again, because each test looked at a different variable, to compare the results. People are now making 80 shots of the same thing in one session with a digital camera, and then picking from all of them, instead of choosing and framing with your eye.
I love the idea of using photography as a medium to slow things down. People in the 19th century were excited to go six miles an hour on the railroad. It's all really relative. You look at the work from then, and it's no wonder it's so quiet and peaceful. I consciously am trying to keep that alive. That's what I love.
click to enlarge
click to enlarge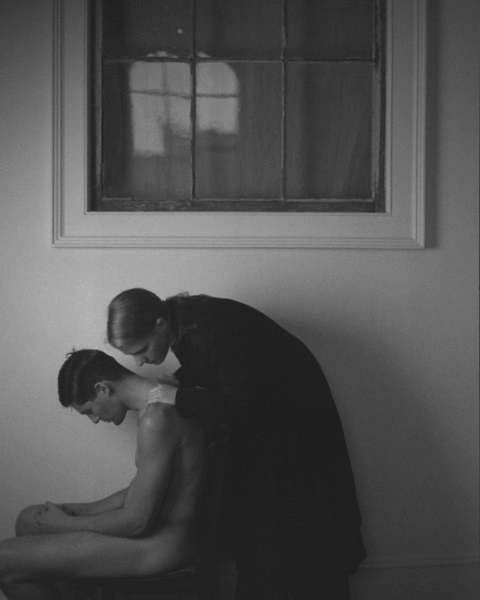 click to enlarge
click to enlarge
click to enlarge