In a sprawling stone-walled basement in Woodstock, Larry Lawrence crafts kinetic sculptures out of bright steel wire and copper-coated steel rods using a jeweler's torch. With their curved armatures, embedded springs, and curlicue embellishments, the wire pieces are dainty yet industrial, biomorphic yet mechanistic. Chutes, wheels, and oscillating rods called pitmans, all powered by a tiny electric motor, collect and convey marbles to a series of swooping tracks. They make a racket: mechanical clicks, random chimes, the rumble of marbles speeding down the wire tracks, and the occasional thud of a ball hitting the floor intermingle with squawks from the artist's parrot.
Born and raised in Los Angeles, Lawrence early on demonstrated a gift for fashioning fanciful mechanisms and miniature worlds. As a child, he constructed toothpick towers, took apart a piano, and blew the fuses in his school classroom by plugging in contraptions rescued from Dumpsters. He began hopping freight trains in his teens and developed a fascination for trolley lines and cable cars, boardwalks with carnival amusements, the Pacific Northwest rain forest (ferns are a favorite motif), and belching Rust Belt factories.
After moving to New York in the mid 1960s, he and his partner Paul Feasel developed a successful business selling elaborate miniature carousels, musical cable cars, hot-air balloons, and other gift items to department stores and specialty music-box stores. They briefly relocated to San Francisco and then returned to New York, before purchasing an 1867 house on the green in Woodstock a decade ago. Lawrence started building his rolling ball machines five years ago and, more recently, miniature tableaux of stoneware figures in working man's poses. An exhibition of Lawrence's work will open at the Woodstock Artists Association and Museum on May 9 and continue through June 7. (845) 679-2940; www.larrylawrenceart.com.
LARRY LAWRENCE ON HIS WORK
Early Inspiration
I can remember finding an apple crate when I was five years old. TV had just come in and we used to go over to [visit] some neighbors who had a set and watch the Rose Bowl. The TV seemed really cool. So I built a TV studio out of the crate. I had to do the lights and control panel. I had a fascination not with what's going on out front but with the set, light panels, controls, and fly space [the tower above the stage enabling stage hands to move lights and other elements quickly onto the set]. That was the first distinctive thing I recall building.
I was always the kid getting all the other children in trouble for going out someplace and constructing some sort of village or city out of mud or whatever was available. Of course, they'd go home all dirty. Once I found a neon transformer on the way to school and brought it into shop class. I made most of the class uncomfortable showing how many things I could do with the sparks.
On Riding the Rails
When I was riding in the 1960s there was loose freight and lots of open boxcars. They were truly luxurious—nice and comfortable and reasonably warm. I would get off and wander around, run into somebody else and go to the jungle, a spot where the hobos camp out. In some areas it was a shantytown, or under a trestle. I recall stopping in Missouri and going through Cleveland and Detroit. There was no concept of clean smokestacks, and that colorful smoke added to the ambiance of going through the industrial area. The rolling ball pieces are certainly inspired by that industry.
Life Is a Carousel
There was this Con Edison explosion out in the street. Some of us were standing as close as possible to the manhole covers so you could see them when they blew up and there was this photographer across the street. We got to chatting about picking up some extra bucks and this idea of making carousels came up. We found some of those real tinny-sounding music boxes, covered them up, put a top on, and added plastic horses from the candy store. We got a felt pen and some glitter. We sold that first batch, and with that money we got a little more exotic and sold [a second batch]. Each batch would become more elaborate. By the second year, there were moving horses and lights. In later years I started making the [carousel] ribs out of wire. The animals were also made on wire armatures. That was the beginning of working with wire.
Dr. Seuss in Detroit—Devising the Sculptures
I wanted to do a mechanism for the sake of the mechanism. Each [sculpture] became a study of a different random operation, and each has a very different mechanism. The inception for each is that I'll get an idea for a part. At some point it will be able to pick up a marble, once I get it actually working. In this case [pointing to Snatch Snail] the wheel was the beginning. Then it was, "What can I do with the big wheel?" What followed was the pitman action, which is always kind of interesting. It's like a steam engine lifting, with the piston going in and out.
Doing the tracks becomes a kind of choreography. Initially, I tried to do [the tracks] with no [wire] side rails. It would have worked if I had used metal balls, but those weren't as interesting to me as marbles, which are actually pretty lumpy. If you try to run one down the chute without the side rails it'll come off.
Malleable Materials and Working Men
Molding steel is like working with clay, except it's 2,000 degrees while you're working on it. If a piece doesn't work, you just bend it and break it off. Steel can be reworked endlessly. You can cannibalize one piece and use it on another.
The stoneware figures are made of fired clay and situated in construction sites. This [piece of three figures perched on a board balanced on a beam] was inspired by the famous picture taken during the building of the Empire State Building. You look back and see what a short time ago [the] pre-OSHA [period] was, when there were no safety regulations of any kind. In industrial pictures that are not that old you'll see people sitting on the edge of stuff with no harness and no hard hat. So far, I haven't been putting modern safety equipment on the figures. I'm not sure that's politically correct.
Lost Days of Freedom
All those great years in New York with [Mayors] Lindsay and Koch, you could do anything you wanted. I feel fortunate to have lived during those years. You didn't think much about lawyers back in those days. You rented the boat in Central Park for two bucks, had a gallon or two of vodka screwdriver in the boat, and by noontime everybody would be out of the boat into the lake. One could go too far that way, where it ends up being derelict. It's unfortunate, on the other hand, to see everything overly regulated and overdeveloped. I feel kind of sorry for kids now because of all the over-control they have to live with. On the other hand, kids also have rights, so they can get away with more.
click to enlarge
click to enlarge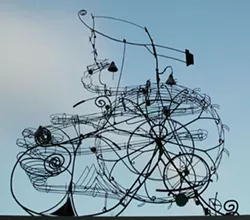 click to enlarge
click to enlarge
click to enlarge