Lilo Raymond's photographs relentlessly pare away the inessential, presenting simple subjects—a neatly made bed, a vase of flowers by a window, the carved stone face of an angel from a funeral monument—enveloped in a rich veil of natural light.
Born in 1922, in Frankfurt, Germany, Raymond fled the Nazi regime when she was 16, settling in New York, where she became part of the bohemian Greenwich Village art scene, taking various jobs as an artist's model, a waitress, and even a tennis pro. She came to find her poetic vision only later in life, seriously taking up photography only in her late 30s, when she studied with the legendary photographer and fine art printer David Vestal at the Photo League. She began exhibiting her work at various galleries in the '70s, eventually moving to the Hudson Valley some 20 years ago.
Her work can be found in the collections of the Museum of Modern Art, the Metropolitan, and the Victoria and Albert Museum, among others. A retrospective exhibition of Raymond's photographs, "Lilo Raymond Photographs: An Elegant and Natural Light," will open at the Samuel Dorsky Museum of Art at SUNY New Paltz with a reception on October 10 at 5pm. She will be receiving a Vision Award from the Center for Photography at Woodstock, at its 2008 gala in a ceremony at the Bearsville Theater on October 11; www.liloraymond.com.

Seeing shades of gray
At one point in my very early years, I thought I would like to be a painter, but it took too much imagination. I liked seeing things in front of me, things that I could connect with. I couldn't do it without something concrete. It turned out all right, I guess. I just sort of plugged along, and I didn't pay much attention to what else was going on in the world. I made my own little world, and I liked that a lot. I look at things in black and white—I say, "Oh, this might be a good picture." I see things, and it's absolutely in black and white, like I have some glasses on that change things. It's awesome, it really is.
I always had that approach. I was always centering in on very simple things, like a vase of flowers. That's how my still life came about. But I always had that sense of simplifying things [with my photographs]. I think what I do is that I stare at something, and then it invites me to take a picture.
Staying centered
I have the same camera I started off with. Well, not quite, it's a Nikon 35mm, but I had a 2¼ when I started out, I think it was a Minolta, a copy of a Rolleiflex. I started with that, but then somebody I knew went to Japan and brought back the 35mm. I'm very conservative, I don't change easily. If something works, why not use it? That's my attitude. I was never looking for what's new, what's different. That has something to do with really getting serious at a more advanced age. I knew who I was, and what I liked, so I didn't have to go through all that other stuff.
I never thought of photography as a technology. Photography suits me perfectly, I find it very expressive. How many pictures can one take in a lifetime, that will mean something to yourself, or to others? My students [at the School of Visual Arts] loved me, because I told them I only take one picture a year that I really liked.

Delayed entry
When I was a teenager, before I left Germany, nice Jewish girls and boys had to learn a trade. I had a friend who was attached to a photographer and I thought that it was really interesting. But my parents had to pay for [the training], so somehow I ended up as a millinery person, and hated every moment of it. That was the beginning of it. Then I came over [to the US] at age 16, and I went to Sid Grossman's class at the Photo League. I came to a class with some pictures I had taken, and I put them on pink and blue mattes, and everybody laughed. And that was it—I never picked up a camera again until my late thirties.
Finally one day a friend of mine who was a photographer took me by the arm to David Vestal's class, which started at seven on Friday night, and ended at two or three or four in the morning. It was wonderful. We talked about everything, including the kitchen sink. Coming in at an advanced age, I didn't have to go through a lot of things, like copying things, or doing grunt work in the darkroom. I think it's true of anything that people do—if they do it in their 20s versus their late 30s, there's quite a difference.
Going commercial
I also worked commercially for many years, taking, strangely enough, interiors for magazines, because they found me (I didn't seek the clients out). In the very beginning, with David Vestal's class, commercial photography was a big no-no. At that time he was a real purist, but I don't think he is so much anymore. In a way, I enjoyed the whole thing. I got to travel, I had an assistant who was an ex-student of mine. I enjoyed the commercial work because it was a group effort, it was so different from doing my own work. And I made a living at it.
The most money I ever made [on a commercial job] was a black-and-white picture of a central air conditioner. They paid me $6,000—I can't still believe it—to photograph this air conditioner in a studio, with a silk scarf blowing with a wind machine, or whatever. I couldn't believe it. They went to great lengths to get the essence of a person's work, but to commercialize it. I had a good time, though.
[Photographer] Peter Hujar lived around the corner from me. He was an exceptionally nice man—peculiar, but nice. He was at my house one day, when somebody mistakenly called to ask if I would do this wedding. So I asked Peter, "Would you like to do this wedding together?" He said yes, so we did. Let me tell you—I knew nothing about using a flash, or artificial light. And whenever I looked, Peter was having a wonderful time eating. It was a total disaster. I was an available-light photographer, and I had no lights—the photographs were awful. I didn't know you had to do all this like the grandparents, and the bridesmaids, and all that. I haven't the vaguest idea whose wedding it was now—I'm sure I've blocked it. Peter mostly ate, and he didn't worry about anything. At that time, being a photographer wasn't a big deal. We all scrambled around for a living, doing this, that, and the other thing. It didn't have this awe attached to it. It never occurred to me that some day somebody would honor me. What have I done? Fifty good pictures, period!
On recognition
I came to the Hudson Valley in the late 1980s. At first I just came here for weekends in the summer, and then New York City was getting impossible, so I moved. I really love it up here. The Center [for Photography at Woodstock] has been wonderful. What I am most interested in now, though, is the exhibition at the Dorsky Museum. I never thought I would have another exhibit. It's wonderful. That's really what I care about. I don't care so much about being honored [with the Vision Award]. Actually, it sort of embarrasses me.
It's been a long life in photography. It's almost too late, but it is good to have this recognition now.
click to enlarge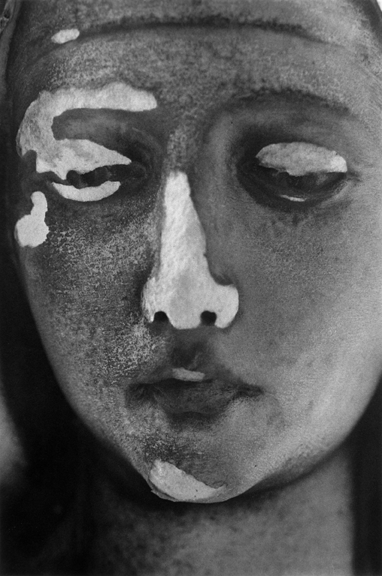 click to enlarge