Mau (Marian Schoettle) makes conceptual clothing that incorporates the vicissitudes of the natural and urban environments. A dark, flowing dress is made of fabric that's been exposed to the elements, resulting in a pattern of distressed splotches that resembles storm clouds and sprays of stars, while her white Tyvek "ruffled flak jacket"—fit for a female commando—has fasteners and pockets fashioned from industrial surplus packaging. Defiantly resistant to fashion trends, her garments, which she likens to "site-specific art," feature stitching or layering effects that are metaphors for geologic or topographical phenomena. They are also imminently wearable, gracefully draping the body and allowing for free, spontaneous movement.
The artist, who works out of a large, skylit studio in Kingston's Shirt Factory, has exhibited her pieces at galleries and museums in the US and Europe. She regularly shows at Julie: Artisan's Gallery, on Madison Avenue, and her clothing is in the permanent collection at the Victoria and Albert Museum in London, the Philadelphia Art Museum, and other noteworthy institutions. But Mau is not overly fond of art-world pedestals. She relishes the sociological aspects of her clothing art medium. She has participated in "psychogeography" projects in New York in which her jackets become a vehicle for recording the poignant and random social encounters in the city.
A native of Philadelphia, Mau majored in sociology at Colgate University. In 1983, she and her husband moved to Europe. During stints in London, Paris, and the Netherlands, she showed her art clothing, helped organize shows of conceptual clothing, and taught art and design at the University of Wales, the Rietveld Academy in Amsterdam, the Academy of Visual Arts and Design in Tilburg, and The Royal Academy of Art in the Hague. In 1995, she and her family returned to the US and settled in Esopus.
Lately, Mau has branched out, selling her series of "postindustrial folk wear" to retailers. Made out of Tyvek, a paperlike but tough, spun-bonded olefin material used in everything from FedEx packages to house wrap, the industrial white or concrete-gray pieces are washable and waterproof, feather light, breathable, reversible, and recyclable. In 2006, she set up a booth at the New York International Gift Fair and showed some samples. Since then, she has been selling the jackets, dresses, and bags through museum gift shops and boutique design stores in the US, Europe, and Japan.
Besides selling her postindustrial folk wear, Mau is working on a number of other projects. She is designing costumes constructed from scraps of Tyvek for a collaborative dance performance by Clyde Forth, a dancer based in Saugerties. The dance, part of Clyde Forth Visual Theater's sixth season, will be performed at Merce Cunningham Studios in New York on September 11 and 12. Mau is also fascinated by African textiles and is exploring a project involving making pieces out of barkcloth.
Mau will be exhibiting her clothing in the ground floor exhibition space at the Shirt Factory, 77 Cornell Street, in Kingston on Saturday, October 3, at 8pm. www.conceptualclothing.com.
MAU ON HER WORK
Sewing Apprenticeship
As a kid, I used to make clothes. My mother taught me how to sew. She was one of these sewers who would go to a thrift shop, pick up something, and completely remake it. I also had a French teacher in high school who wore everything, from [French fashion designer] Courreges—these very modern, micro-mini things—to flour sacks to dashikis. She really influenced me. When I was about 16 or 17, I made my first group of clothes to sell to a store. They were made from dish towels from Woolworth's, sewed together.
Urban Guerilla Wear
A lot of my work in the past has to do with the urban experience. My garments relate to deteriorating buildings, the flotsam and jetsam. I tend to have a couple of clothing models I've stuck with over the years, and they're in the realm of protective clothing, like jackets. That kind of work can use elements of debris, such as netting and smashed bottled caps, things that can be appliquéd on a jacket. I'm very much interested in the whole of something; I'm not decorative. My work comes out of a more Modernist idea: the form and the structure lend the detail and the interest to the piece. Since living here in the country, I've taken on more iconographic clothing shapes, like circle dresses, so the garment shape in itself becomes a metaphor.
Tyvek: A Miracle Material 
I found out the one Tyvek I was really interested in pursing had the ability to be adapted to clothing. After you wash it, it gets softer and softer, like leather. It has a little bit of give. I have jackets that I wear all the time, and when I take them off, there's my arm at rest still in the jacket. I'm totally thrilled about that because we always think of industrial materials as hard and as a far-away-from-our-bodies-as-possible kind of thing, and then this actually gets drawn into who you are.
A big part of my Tyvek clothing project was that it was going to be made in New York. I visited 70 factories in the Garment District with samples under my arm. Everybody looked at it and said "what the hell is this, we're not going to work with this." I finally found a factory through the Garment Industry Development Corporation. The International Ladies Garment Workers Union and the city started it 25 years ago to keep the garment industry alive in New York City. These are shops that are inspected and come up to code.
Big in Japan
The Japanese have a huge reverence for materials. One of my most pleasant memories in doing the gift show was having a buyer from Tokyo come into the booth. He didn't speak any English and arrived with a couple of assistants and a translator. He immediately grabbed a few pieces and sat on the floor and just kept turning the piece around, turning it inside out. They would smile, they would give it to each other, they would roll on the floor laughing. I said to the translator, "You have to tell me what they're saying," and he said, "They're just really appreciating what you've done." Their reverence for detail and concept and material is also high. When I have contact with Japanese buyers, they want to investigate it.
Mapping the Urban Psyche
I sent a proposal to [the nonprofit organization] Chashama, which gives you a dilapidated storefront in midtown Manhattan for two weeks, and in 2008 I got a storefront in the Garment District. I put graffiti jackets all over the walls and white jackets right next to them. I'd give these coats away to people and ask them to do things with the jacket while they were on their normal walk. My favorite one was this guy who asked everyone he passed if they had something in their pocket they could attach to his coat and could write a little story about it. People divulged the most incredibly personal things. Maybe accompanying a little bill from some grocery store was a note saying "you know this is the last time Minetta and I had lunch together. I will never ever see her again."
Discovering Barkcloth
I'm trying to cook up a project with this English sociologist who works part time in Capetown, where I go over there and work with some African textiles. I'm interested in this cloth made from the bark of a tree. UNESCO just declared barkcloth making in Uganda an Intangible Cultural Heritage of Humanity [and added it to its endangered list]. The stuff I got came from the Congo, from the Mbuti pygmy people. It's essentially a felted material; they lay the bark cloths on top of each other and beat them together. In the process of beating, it sometimes gets too thin and tears. Then they come in with a piece of sinew and do a whipstitch mending job. Every Westerner who's coming out of any kind of art context looks at the stitching and loves the repair. I was thinking it could be interesting to make a set of garments and wear them over a period of time, and then I will mend them.
click to enlarge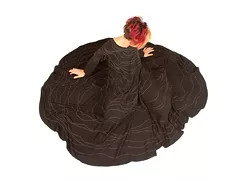 click to enlarge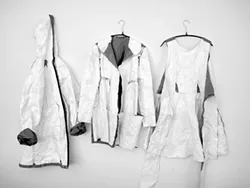 click to enlarge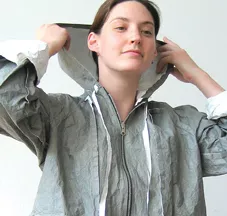 click to enlarge