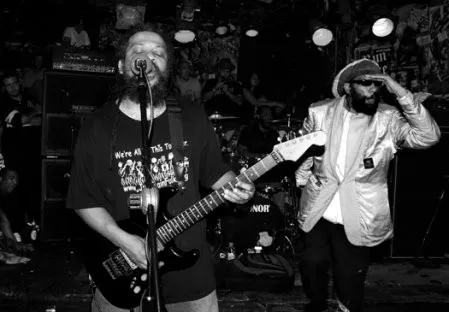 Dr. Know (left) and H.R. of the Bad Brains at CBGB in 2006
Last November came the troubling news that Bad Brains guitarist Dr. Know (aka Gary Miller), a Woodstock resident, had suffered cardiac arrest and multiple organ failure and was fighting for his life. Thankfully, after nearly three months in the hospital, he defied the odds given by doctors and has begun to recover via his transfer to rehabilitation facility. Since the costs of his treatment have mounted astronomically and are beyond the means of Doc, an uninsured artist, and his family, a Gofundme campaign has been set up to help with the massive expense.
Formed in Washington, DC, in 1977, the Bad Brains were, as most who saw them perform at the height of hardcore punk in the 1980s will agree, the greatest live band of that era. Mixing lightning-speed rock 'n' roll with deep-dub reggae, they remain one America's most influential bands, and as a fan and fresh-faced music editor in 2006 it meant a lot to me to cover them during their reunion shows at CBGB during the New York club's closing week.
Here they are at the legendary venue in 1982, delivering a typically earthshattering performance of the classic "The Big Takeover":
To contribute to the Dr. Know support fund, visit https://www.gofundme.com/drknowbadbrains.