Billy Joe's Rib Works
845-565-1560; 26 Front Street, Newburgh;
www.ribworks.com
Billy Joe's has all the makings of a down South barbecue—and then some. Smoked ribs (half rack $16.99/full rack $19.99), hand-rubbed meats, baked mac 'n cheese, sliders, and baked spuds. With an equally extensive drink menu, 5 55" LED TVs, an outside bar, and nightly live performances this new smokehouse is set to bring fresh flavor to Newburgh the waterfront.
click to enlarge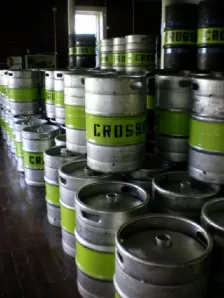 Crossroads Brewing Company
21 Second Street, Athens;
www.crossroadsbrewingco.com
Ken Landin and Janine Bennett have restored the formerly dilapidated 15,000-square-foot Brooks Opera House in Athens and turned it into a two-story brewery, music venue, and restaurant. Crossroads is currently serving up pints of Outrage— a citric IPA, Brick Row Red Ale, Black Rock Stout, and Brady's Bay Cream Ale.

Fiori
47 Railroad Street, Great Barrington MA; (413) 528-0351
Berkshire-native brothers Alexander and Matthew Feldman have transformed a long vacant restaurant into a showcase for a fresh take on Italian cuisine. Fiori ("flowers" in Italiano) boasts classic Italian staples like lasagna, antipasto ($18 serves two), and risotto, but the brothers mix-up their lineup with items like wood-grilled hanger steak ($23) and local grass-fed pork.

Gaby's Café Rhinebeck
6423 Montgomery Street, Rhinebeck;
www.gabyscafe.com
Table-side mashed guacamole ($10.50), sizzling fajitas, and fresh vegetables are some of what you can expect when dining at Gaby's. After opening in Ellenville in 2008, the Mexican-American restaurant is bringing its specialty fare to Montgomery Row in Rhinebeck with a brand new venue, and meals prepared right at your table.

Henry's at Buttermilk Falls Inn & Spa
220 North Road, Milton;
www.henrysatbuttermilk.com
After a walk through exquisitely manicured gardens with Hudson River views, return to a beautifully decorated dining room for a colorful, contemporary American meal. Henry's menu features local produce and meats (NY Strip steak in horseradish demi-glace, $26) prepared with artisanal flare and served under intimate touches like blown-glass light fixtures.

Hopheads Craft Beer Market & Tasting Bar
2303 Lucas Avenue, High Falls;
www.hopheadscafe.com
Jane Simos has turned her former Morning Brew coffee house space at the crossroads in High Falls into a cozy beer lovers' nook. Hopheads features half a dozen craft beers on tap—Lake Placid IPA and Capt. Lawrence Liquid Gold were recent pours—and more than 50 bottles for drink-in or takeout. For noshing, charcuterie (serving board for three, $20), cheese boards, small plates, and sandwiches are available.
Pizza Shop
27 South Water Street, Newburgh;
www.pizza-shop.com
Giving new life to the West Shore Train Station along the Newburgh waterfront, Pizza Shop is much more than any old pizza joint; featuring a cathedral ceiling, open air kitchen, Hudson River views, and a dining deck. The refurbished pizzeria also offers a plethora of menu items like crispy wings ($8.95), chopped salads, and cheesy pastas. Pizza options include gluten-free, thin and wheat crust, gourmet toppings ($14.95), delivery and dessert.
Twisted Foods Pretzel Roll Factory
446 Main Street, Rosendale; (845) 658-9121
Twisted Foods takes one of those great ideas we've all had for a combination food concoction and turns it into a gourmet masterpiece. Start with a homemade pretzel roll infused with salt, herbs, or fruits—top it with flavored cream cheese or make it into a breakfast sandwich ($3.95 for a frittata on a pretzel roll with fruit, or make it $4.50 for tuna/chicken salad). Wash it down with freshly squeezed grapefruit juice, or a cup of organic coffee.