There is no shortage of eateries in the Hudson Valley, so for a tiny, historic village to be known as a foodie destination, it's got to pack an impressive array of dining options into a small area. Rhinebeck proudly fits the bill.
Sure, the village is well known for a variety of things—namely, its boutiques, historic attractions, and horse culture—but this isn't a case of "Jack of all trades, master of none." Rhinebeck's culinary culture is an experience that leads you by your senses; once evening settles in, the air is filled with savory scents complemented by a soundtrack of clinking glasses and fork-to-plate squeaks. If you weren't hungry by five o'clock, you're salivating by seven. Whatever your mood, options abound: Choose by ethnicity—French, Thai, Italian; by proximity to activities—Foster's Coach House Tavern is a budget-friendly eatery/pub located next to indie cinema Upstate Films; or by in-house entertainment—a hot spot for live music is the Liberty Public House. You can also decide based upon your ideal dining atmosphere; there's a sophisticated tavern in a historic inn (Tavern at Beekman Arms); a romantic French/Mediterranean restaurant (Arielle); a family- and wallet-friendly retro diner (Eveready Diner); or a renovated church where the crowd is chic and the fresh, New American food is divine (Terrapin). What you won't find: bland chain eateries or vast, overcompensating dining rooms with questionable menu options (such as "Riverfront Restaurant Who Shall Not Be Named").
Shop owners have taken notice of this culinary craze and have added inventory that appeals to local and visiting foodies. Holly Raal, owner of Bumble and Hive—a boutique on East Market Street that offers honey-based soaps and candles, plus gift items, collectibles, and more—set up a Honey Bar in her shop. "When I opened in 2011, we offered just a few honey-based items. The customer response was so great that I started offering more culinary honeys and honey health products that I get from local apiaries and beekeepers," she says. At the honey bar, customers can sample 30 types of honey, each of which has a different flavor and health benefit. "The honey bar is great for people who want to have an interactive experience," she says. "We have some staff members who are CIA grads and can thoroughly explain the culinary aspects of the honey samples. Plus, we're passionate about supporting products that are ethical and local, and Honey Bar visitors can learn more about the importance of bees, ethical products, and more."
Around the corner at Montgomery Row—a small strip of shops and restaurants—you'll find Oblong Books, a locally owned bookstore with a larger-than-average offering of cookbooks and food writing. As the demand increased for culinary literature, the shop quickly sought to meet expectations. "We've certainly increased our culinary section," says manager Suzanna Hermans, who co-owns the shop with her father, Dick, who opened the store's original location in Millerton in 1975. "We have a lot of Culinary Institute students that this appeals to, and now that Rhinebeck has become a foodie destination, cookbooks are a big section for us. Customers are very interested in our variety; we have a wide selection, including gluten-free, vegan, and all the specialties people are into these days."
Oblong's author events are just as popular as its carefully chosen selection and the store hosts about 80 events per year for all ages. The recently started Hudson Valley Young Adult Society, for example, meets once a month and sees anywhere from 50 to 200 attendees. "We're very fortunate to have a very literary community here in Rhinebeck—meaning, one that values literature and what we offer as far as bringing authors to the area," she says. "Our goal is getting people to fall in love with books and to discover their next favorite author. The store is very curated; every book is chosen by hand. We read a lot, know our inventory, and can recommend a book for everyone."
Keep an eye out for their extensive local interest section, featuring Hudson Valley authors, regional history, and a few self-published titles not available in larger bookstores.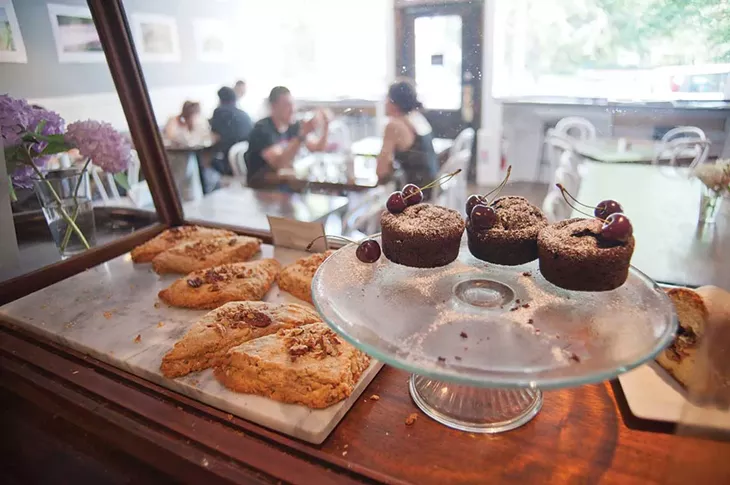 16 slides
Easygoing Hardscrabble

While Rhinebeck is better known for its happenings than nearby Red Hook, there is still much to do in the small town once known as Hardscrabble. Along its outskirts you'll find
Taste Budd's Chocolate & Coffee Café
, a funky little coffee shop and eatery with delicious coffees (including fair trade and organic blends), scrumptious sweets, and a mixed crowd ranging from artsy teens to—well, artsy adults. If the town seems quiet on Thursdays it's because almost everyone is at the café's open mic night—possibly one of the most supportive, encouraging environments for an open mic in the Mid-Hudson region; there's just a great community vibe.