At the river's edge just north of the Rip Van Winkle Bridge in Columbia County sits the historic city of Hudson. Founded as a whaling port in 1783 by Nantucketeers displaced by the Revolution, Hudson was constructed on a hill and from its geological apex, the old cemetery, the city spills fo rth like rainwater to the river's edge. Traveling down through the city streets Hudson gains momentum. A study in Hudson Valley historical architecture, Hudson's shops and residences are tucked into a hodgepodge of old brick buildings, row houses, grand mansions, housing projects, recommissioned churches, banks, and even barns.
Much of Hudson's draw to visitors is in this somewhat unpolished aesthetic. Perhaps nowhere is that more visible in the Hudson's many alleys, which run the length of the city. Vine-covered barns and carriage houses, and private gardens line the uneven and pocked one-lane-wide two-way traffic alleys. The alleys are like the wrinkles in Hudson's face that show the complexity in its age. The alleys show that the city, so known for the upscale appearance of its main thoroughfare, Warren Street, is also one that is lived in by a wide range of peoples and co mmunities.
"It's our diversity that people are attracted to," says seven -term Mayor Richard Scalera, "Its a draw, we attract people of all walks of life."
Unlike the rest of Columbia County, Hudson is racially diverse, with large African American and Bangladeshi communities. While the busiest upper section of Warren Street has been gentrified, in a city that only covers two square miles one can't help but know their neighbors.
This summer Hudson also saw its first ever gay pride parade and two gay best friends were prom king and queen of the high school. Both happenings went off with only marginal protest, most of which came from outside the city.
Cultural Evolution
Decades of cultural influence from New York City transplants has brought a stylistic revolution to Hudson. In the '90s, antique dealers brought the struggling city back from the brink, as manufacturing jobs left and the strip malls in nearby Greenport put many locally owned shops out of business. Antiques and art filled long-vacant storefronts that line Warren Street, Hudson's backbone. Now it's hard to imagine the city without the shops and art galleries that have since made the city a destination.

There were once as many as 70 antique stores in the city. Now Warren Street is changing again. Store are more varied then they have been in a long time. Clothing stores—vintage and modern—are becoming more prevalent. Five and Diamond, Sideshow, and others are offering attentively curated and rather inexpensive racks of rare vintage while Kosa and White Rice are providing new styles.
In recent years the restaurant industry on Warren has boomed as well, creating a reason for visitors to stay in Hudson after they're done shopping. Up and down the street, restaurants like Mexican Radio, Swoon Kitchen Bar, Da/Ba, Red Dot, and the new American Glory Barbecue are providing a wide spectrum of menus and atmosphere.
The city is also filled with music, with local performers and traveling acts playing nearly every night somewhere, in venues from the small bar and bookstore The Spotty Dog to the palatial Club Helsinki, recently transplanted from Great Barrington, Massachusetts.
Hudson even has its own live-in circus. The gritty punk-vaudevillian hallucination that is the physical and exceedingly professional act of the Bindlestiff Family Cirkus somehow slides seamlessly into Hudson's complicated cultural tapestry. Hudson's quirky circus folk have a social conscience too. Co-founder Stephanie Monseu teaches circus skills at the Hudson Youth Center.
Then there are organizations like the Time and Space Limited Warehouse, an arts facility that attracts visitors and opens its doors to a community in need.
"The chances of survival are against one," says Linda Mussmann who, along with her partner Claudia Bruce, has operated the hard-to-define TSL on Columbia Street for the past 20 years. "We're just always keeping one nostril above water in the arts. It's always exciting. It's always risky."
TSL's largest draw these days are high-definition broadcasts of the Metropolitan Opera. The arts center is also known for the original theatrical productions of its founders  and performances by visiting artists like Bread and Puppet Theater.
Since the beginning, TSL has continuously shifted in tone with the vibrations of the city. "As Hudson changes, as the region changes, you have to keep up," Mussman says, sitting behind her long desk cluttered with papers and objects like printing blocks, a meat grinder, and a box of small bullets, none of which seem particularly out of place or like they couldn't be made useful at any moment in her daily office life. "That's why there's the slipperiness of 'What is TSL?,'" says Mussmann.
While now she now can't imagine TSL without them, Mussmann said when they started, she never expected the kids, coming in from the poverty-stricken and truck-route-rattled Columbia Street neighborhood. TSL now holds a youth summer arts camp and runs programs for children throughout the school year. Mussmann and Bruce are running a "Macbeth" theater workshop this summer, with performances of the classic slated for August. "Children came in and were eager to do things, and frankly they were hungry. I saw all of what happens to at-risk kids here. TSL's youth programs changed who we are as an arts organization," Mussman says.
Investing in the Future
Born and raised in Hudson, Mayor Scalera said the city has come a long way from its last vibrant period in the '50s and '60s, when the city was dominated by mom-and-pop shops and over 40 bars. "Hudson has a new energy now," Scalera says. "It's different but I don't know if I'd want to go back. Every community goes through an evolution. Hudson is fortunate to have had so many people find it and want to invest in its future."
For many trying to run a business in Hudson or the body of the county during the recession, the new successful business model boils down to a few key tactics: Offer something distinctive, put an emphasis on all things local, and work seven days a week.
In Valatie, near the county's northern border, at the Harvest Spirits distillery those principals apply to both a family tradition and the beginning of a growing legacy.
Behind a tall hedgerow in a section of the apple storage barn at the Golden Harvest Farm, Derek Grout is using apples and other fruit grown on the farm his grandparents started in the 1940s to create award-winning spirits.
"A lot of people get into distilling because they want to be nightlife impresarios. We come to distilling from an agricultural point of view," says Grout, standing beside a tall rack of aging barrels, his hands and forearms cut and scraped from a morning of picking black raspberries for brandy.

Grout said the impetus to start the distillery came about in an effort to solve a consistent problem on the farm: what to do with the tons of surplus apples the farm can't sell? Grout says it was finally Tom Crowell at the Columbia Land Conservancy, which suggested making liquor from the extra fruit.
After a few years of research and setup, Core Vodka, distilled from vats of fermented apples, began to flow into eager glasses in 2007. Core has already won numerous awards, from New York to the most important spirits competition in America, the San Francisco World Spirits Competition, where it brought a silver medal back to Valatie.
While Harvest continues to grow its original product line, Core vodka and apple and pear brandies, it's the the company's new projects that have Grout and his small team excited, especially the bourbonlike Cornelius Applejack, which won a double gold medal in San Francisco despite being aged only for a year instead of the desired three to five years.
Grout says that while running the distillery with the help of his wife Ashley Hartka and two part-time employees has been a lot of work, doing everything themselves gives the distillery a sense of credibility and a connection to the agricultural character of the county. "I feel a little magic in Columbia County," Grout says. "I'm using apples that were only going to get worse. We're freeing apples from the burden of time."
Harvest Spirits is becoming a successful example of a persistent motivation in Columbia County to take the resources provided by a strong, established agricultural history and heighten it with contemporary ideas. On a larger scale, in the quiet village of Philmont, a grassroots nonprofit is working to use the same energy to revitalize a community.
Local Love
Philmont Beautification, Inc., was formed in 2000 by a group of citizens who wanted to see the village they love thrive instead of languish. The organization connects local businesses with grants, creates low-income housing opportunities, promotes local art, runs youth programs, and hosts the Philmont Farmers Market on summer Sundays. While it behaves like any small farmers market on the surface, behind the stands of fresh local produce, dairy, and breads PBI is doing more by helping farmers sell directly to restaurants and make their crops more profitable.
PBI Farmers Market Manager Sebastian McCabe grew up in Philmont and returned after six years in California. "I'm really grateful to be giving back to the community that raised me," says McCabe, who is working directly with farms to help them find new, more lucrative distribution opportunities. "It's a selling point for farmers and restaurants for the customers to know it's locally grown and produced."
In Philmont, two local restaurants—on either end of Main Street and the culinary experience—are benefiting from PBI's farm-to-table efforts. Local 111 is searching for the heights that county-grown ingredients can reach. Sourcing from neighboring farms almost exclusively, Local 111's Executive Chef Josephine Proul does a little bit of everything, from pickling and canning to making sausage and ice cream. "You just have to plan," Proul says during a busy Sunday brunch rush at the highly stylized modern restaurant. "You have to know how to extend the season and have the customers understand that it's worth it to wait for it. We'd like to create a whole community of locavores." They have begun to do just that. Proul says regulars constantly ask if one thing or another is in season yet, as they prepare to enjoy their favorite dish from the year before.
"We specifically wanted it to be locally sourced," says owner Linda Gatter, who feels dinners are willing to pay a little more when they know that the food is of high quality and the producers are being compensated fairly. "Farming is a hard way to make a living. Let's keep it in Columbia County when we can. Joe [Proul] has a great relationship with the farmers. It makes the food better."
Just down the hill in the unassuming Main Street Public House (established 1898), Elizabeth Angello is following the same philosophy of sourcing her ingredients locally while offering a twist on traditional pub fair at a low price point.
Angello also happens to be the mother of Proul at Local 111. While there may be an underlying sense of friendly mother-daughter competition, the two are more allies than competitors due to the differences in establishments and their shared food philosophies. They recently bought a whole pig together (raised locally, of course), and shared the meat between the restaurants.
At the Public House, Angello is trying to heighten the quality of average bar food and, as much as possible, make it healthier. "It surprises people how good, delicious and fresh our food is," Angello says, sitting beneath the sun at a iron table in the center of the farmers market, in the heart of Philmont.
It Takes a Village
Arguably the most important local well of cultural identity in the storybook village of Chatham ran dry on January 16 with the sudden and unexpected death of Tony Quirino. Quirino was the second-generation proprietor of the historic Crandell movie theater in the center of Main Street. For nearly seven months the Crandell's doors stayed closed, until, on July 9, a large crowd once again poured past the old arched-window box office and popcorn-filled concession stand. Nostalgic patrons returned to the double-decker single theater to watch Toy Story 3 at the Crandell's consistent budget price of $5 for adults and $4 for children.
After Quirino's passing, an emotional local scrum ensued to find a new owner and operator for the theater, built in 1926 by Walter S. Crandell. A group of area residents pooled their resources, made the purchase, then immediately turned around and deeded the Crandell to the over-400-member Chatham Film Club, which has been screening movies at the theater once a month since 1998.
"I think every one in the community is glad," says Anthony Quirino, who bought the theater in 1961 (the same year he met his wife) and relinquished control to his son Tony in 1985. He says he is sure Tony would be proud of the film club's commitment to keeping the Crandell as it was.
"When Tony died it sort of pulled the carpet out from under everyone's feet," said Film Club President Sandi Knakal. "This is very much a family-oriented establishment. We would like to continue that legacy and we know we can do it with the support of the community."
Keeping the Crandell running won't be easy. It needs a new roof before winter and the old reel-to-reel projector has persistent problems. It would be easy to toss the old projector or raise ticket prices at the Crandell, but the film club won't. It would be easy for the Main Street Pub and Local 111 to get their produce from Sysco at a lower price than the farmers offer, but they don't. It would be easy for Time and Space Limited to just stick to showing movies and broadcasts from the Met, the things that make money, but the organization feels they must do more.
Columbia County has rich soil and is still dominated by farms and farmers, and while not everyone has their hands in the dirt, throughout the hills and fields, along dusty wooded roads and crowded city streets, an agrarian work ethic seems to beat beneath the ground, one that looks forward while holding tightly to what remains strong in the county's past.

RESOURCES
American Glory BBQ www.americanglory.com
Bindlestiff Family Cirkus www.bindlestiff.org
City of Hudson www.cityofhudson.org
Columbia Land Conservancy
Crandell Theater www.crandelltheatre.com
Harvest Spirits www.harvestspirits.com
Local 111 www.local111.com
Main Street Public House www.mainstpublichouse.com
Philmont Beautification, Inc. www.pbinc.org
Time and Space Limited Warehouse www.timeandspace.org
click to enlarge
click to enlarge
click to enlarge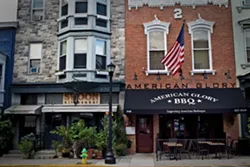 click to enlarge
click to enlarge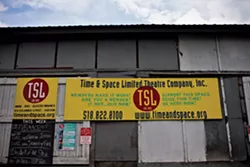 click to enlarge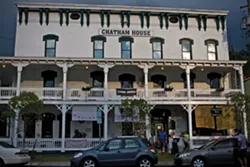 click to enlarge