Best known as a flavor of Ben & Jerry's ice cream, Wavy Gravy is immediately recognizable as the voice saying, "What we have in mind is breakfast in bed for 500,000!" in the Woodstock film (and innumerable `60s montages). Actually, at the Woodstock Festival he was still known as Hugh Romney, a member of the Hog Farm, one of the earliest hippie communes. (He was given his current name by B. B. King in 1969.) Born in East Greenbush, New York (near Albany), Romney was a poet in Greenwich Village in the late `50s, managed by Lenny Bruce. After moving to California in 1962, Romney became one of Ken Kesey's Merry Pranksters.
The Hog Farm traveled in school buses for seven years, eventually settling in Northern California. Wavy Gravy co-founded Seva, a medical relief organization, in 1978. He has organized dozens of benefit concerts for Seva featuring members of the Grateful Dead, Jackson Browne, Bonnie Raitt, Ani Difranco, and Elvis Costello. Wavy and his wife started Camp Winnarainbow, a multicultural children's camp, near the Hog Farm in Laytonville, California. Wavy Gravy also spearheaded numerous Nobody for President campaigns. The renowned 74-year-old hippie spoke to me by phone from his bedroom in Berkeley. His greeting was: "Gravy in your ear!"
Saint Misbehavin': The Wavy Gravy Movie will screen at Upstate Films in Woodstock on December 11 at 4pm, a co-production with the Woodstock Film Festival. Mr. Gravy himself will appear, along with director Michelle Esrick, for a question-and-answer session after the film. www.upstatefilms.org; www.woodstockfilmfestival.com.

I saw your film, Saint Misbehavin'.
Fuck a chicken! Did you go on the back end for the little treats? There should be something on Seva [Foundation].
You mean DVD extras? I didn't see them on my copy.
Seva is the charity I founded 33 years ago—something like that. "Seva" is a Sanskrit word that means "service to humankind." We mostly work in curable and preventable blindness. You know, 80 percent of the people in the world that are blind don't need to be? You can get their sight back for about 30 bucks. It's pretty amazing. We've done about two million sight-saving operations. It's a good thing.

Are you listening to jazz right now?
Actually, this is the new Jimi Hendrix album! It's really a great album, too.
What's it called?
Oh, Something on Venus? You can Google it. [It's actually Valleys of Neptune.]



Did you really invent the slogan "US Out of North America"?
I suspect I did.
You don't know yourself?
I don't. What's the one we're really not sure of? "If you remember the 60s, you probably weren't there." I suggested that Robin Williams made that up, and he says that I made it up—so who the fuck knows?

It's fitting that the person who invented that maxim wouldn't remember it.
There's a line that I got from [Ken] Kesey: "Always put your good where it will do the most." And there's a line of Steven Ben Israel: "I have a nostalgia for the future." A lot of these things are blamed on me, and things that I said, other people take credit for. I guess we're all interchangeable, to a certain extent.

Or maybe hippies are more interchangeable than other people.
I hope so.
How accurate was The Electric Kool-Aid Acid Test?
In that book, [Tom Wolfe] accuses me of being the one who put the acid in the Kool-Aid in Watts! The truth of the matter was, I was on the microphone explaining to people—and this was on the evening LSD became illegal—"Listen, folks, the Kool-Aid on the right is the electric Kool-Aid!" (I did make that up.) "And the Kool-Aid on the left is for the children! Now let's go over that again...." We had these huge galvanized garbage cans, just fresh out of the hardware store, smack full of Kool-Aid. And people'd be dancing for three hours to the Grateful Dead, and they were looking for something wet. If they took the wrong ashcan, there was maybe 200 micrograms a sip! And people started melting down. Twenty-eight people were committed to mental wards—some of them only overnight, of course.
And in the middle of everybody's meltdown, this one sister started screaming, "Who cares?! LSD! Who cares?" And somehow Ken Babbs got the best of Owsley's microphones jammed down her throat, and into everybody's DNA goes: "Who cares?!" I stumbled to a microphone; I said, "This sister is unglued, and we've got to glue her together again. If you feel the same way I do, meet me where she is, and we'll do our best!" Then I started crawling around, and after about 15 minutes I found her in this little side room. There were maybe 14, 15 people around her, and we all joined hands and turned into jewels in light, and she turned into jewels in light, and smiled. The microphone slipped to the floor—and that's when I actually passed the acid test.
I maintain that if you get to the very bottom of the human soul, and you're slipping, but you see somebody slipping much worse than you are, and you reach down to give them a hand—that's when everybody gets high. And you don't even need acid to do that.

You have a natural talent for handling bad trips.
Yeah, I guess. Just hippie do-it-yourself Vipassana. "Breathing in, I calm my body; breathing out, I smile." I do that with the little children at camp. I got it from Thich Nhat Hanh, who is my hero of the moment.
Have you gone on his incredibly slow mindful walks?
Usually when he comes out here, I do child care. He loves talking to the kids, and even I can understand that stuff. Then, when the difficult philosophy comes, I get up with all the kids and we go somewhere and draw Buddhas and rainbows.
click to enlarge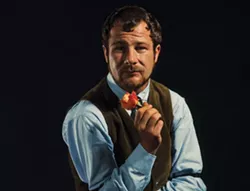 click to enlarge