click to enlarge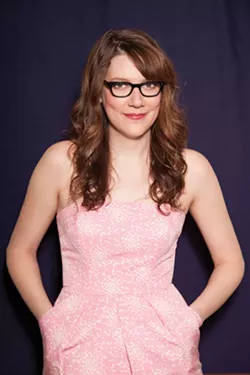 In his essay "Humor" of 1927, Sigmund Freud unpacked what takes place in the exchange between the humorist and the audience:
"Humor has something liberating about it: But it also has something of grandeur and elevation, which is lacking in the other ways of obtaining pleasure from intellectual activity. The grandeur in it clearly lies in the triumph of narcissism, the victorious assertion of the ego's invulnerability. The ego refuses to be distressed by the provocations of reality, to let itself be compelled to suffer. It insists that it cannot be affected by the traumas of the external world; it shows, in fact, that such traumas are no more than occasions for it to gain pleasure."
The stand-up comedian is perhaps the only individual in our society whose job is to tell the truth in public. The confession of disappointment, trauma, embarrassment, and the exposure of hypocrisy in daily life is a cathartic experience shared by both the performer and the audience. It can also be very funny.
"When you are born, if you come out of your mom as a smart girl with glasses, they put you in the comedian bin. It all works out." Sara Schaefer is a smart girl with glasses. A critically acclaimed stand-up comedian, writer, and producer, she has won two Emmy awards for her work as head blogger for "Late Night with Jimmy Fallon" and was named one of Comedy Central's Comics to Watch in 2010.
Schaefer will make her Ulster County debut at Rosendale's Market Market Café on Saturday, October 20.
"I've been performing comedy for over 15 years, doing everything, including stand-up, sketch, and improv," says Schaefer. "As far as stand-up goes, I've been doing that for about nine years." She got started doing sketch comedy with a college group and performing on a regular basis when she moved to New York in 2001. "I had no idea what I was doing or even what I wanted—I tried all sorts of things and gradually, stand-up became my favorite thing. I was doing sketch, improv, hosting shows, blogging, videos—in addition to doing stand-up. I am pretty sure one of the most ridiculous comedic ventures I did was an improv show based on the satirical heavy metal band GWAR—there was lots of blood. I worked as a financial analyst for a securities fraud law firm for five years. That job was hell but it taught me about stock trading! Useful for a career in comedy."
In 2010, she launched a podcast called "You Had to Be There" with comedian Nikki Glaser, which has received critical acclaim and a rapidly growing audience. She has a show coming out on MTV in January called the "Nikki and Sara Show." She'll play the part of Sara.
Schaefer's brand of snarky, irreverent humor touches on the usual traumas of life—growing up, dating, relationships and sex, parents, everyday disappointments and her life as a comedian. Pop-culture references abound—her website features a public service announcement begging Justin Timberlake to make music again. As a smart girl with glasses, of course, there is no lack of self-deprecation.
She's looking forward to enjoying our famous autumnal scenery; but, aware of our region as a Mecca for the yogic-minded, she warns, "I am not good at yoga. I have the posture of Quasimodo. But I do enjoy the basic principles of Buddhism. I think when you're performing, you have to be in the moment. I actually want to learn how to meditate. Can Rosendale teach me?"
Sara Schaefer will appear at Market Market in Rosendale on October 20 at 10pm. (845) 658-3164;
Marketmarketcafe.com
.