Page 2 of 2
And chefs that do rely on local purveyors don't always get what they order. Farmers are tied to the rhythms of nature, which don't work on a fixed schedule. Richard Erickson, chef and co-owner of gourmet takeout joint Bistro-to-Go on Rt. 28 just north of Kingston, is sanguine about the chef-farmer relationship, however. "Sometimes we get what we want, sometimes we don't," Erickson says. "Yesterday I was counting on cucumbers but we didn't get cucumbers, so I didn't make tabbouleh. You make the menu up on the fly with the vegetables you've got." Erickson, who formerly owned Blue Mountain Bistro in Woodstock before opening Bistro-to-Go, believes that partnering with farmers helps him hone his craft. "Listening to farmers talk about their crops, I learn things about vegetables I didn't know before," says Erickson, "like when certain vegetables are at their peak, or what potatoes go best in certain preparations."
Chance encounters with purveyors can also be a boon to chefs. The Main Course's Kazan was met at the back door of his kitchen recently by a forager he has a relationship with, who had five pounds of chanterelles and ten pounds of porcinis to sell. Kazan bought it all, incorporating the mushrooms into a number of dishes on his menu. And according to Erickson, having a smaller palette of ingredients to work with doesn't have to be dispiriting to either the chef or the consumer. "[As a chef] you've got this memory bank lodged in you of all that you've tasted, eaten, or prepared in your life," says Erickson. "If your technique is strong enough, you're able to create different dishes from the same ingredients each week."
The real drawback of working with farmers for chefs is not a condition that can be overcome: the shortness of the growing season. Salad greens started in a greenhouse can be harvested in April, but after October, not much is still being taken out of the ground that will be on the plates of the region's restaurants. Yes, root vegetables and certain other products like apples can be cellared all year, but restaurant consumers are trained to want everything, all the time. "People wouldn't understand if I tried to give them an onion and apple salad," says Terrapin's Kroner. "I wouldn't have many customers if that was the case." Gabriel Vasquez put it more bluntly: "People want avocados in the middle of winter." (That avocados don't grow in New York is another story entirely.)
THE FARMER AS CELEBRITY
Despite the obstacles facing chef-farm partnerships—weather, consumer demand, price pressures, general economic conditions—more and more chefs are creating lasting relationships with farmers, and consumers are willing to pay to pay more for the privilege of eating local. A study published in the May issue of the American Journal of Agricultural Economics suggests supermarket shoppers are willing to pay a premium for locally produced foods, and that farm-market shoppers are willing to pay almost twice for the same locally produced foods. In addition, farmers are finding their status elevated from that of rural laborer to foodie champion. In a recent issue of New York, Amy Hepworth, of Hepworth Farm in Milton, who supplies a variety of produce to adoring fans at the Park Slope Food Coop in Brooklyn, was profiled in an article titled "The Farmer as Cult Hero." Many of the restaurants that carry Irving Mink's tomatoes and squash, including Gigi, Terrpain, Beekman Arms, and Sabroso, feature his name on the menu, branding their dishes with some of Mink's farmer mystique.
So while the winter looms ahead like a great white waste of supermarket tomatoes that resemble cardboard more than the real thing and canned vegetables that are eaten more for color than for taste or nutrition, remember that we still have two or three months to enjoy the bounty of the region before it's back to dreaming about the first greens of spring.
click to enlarge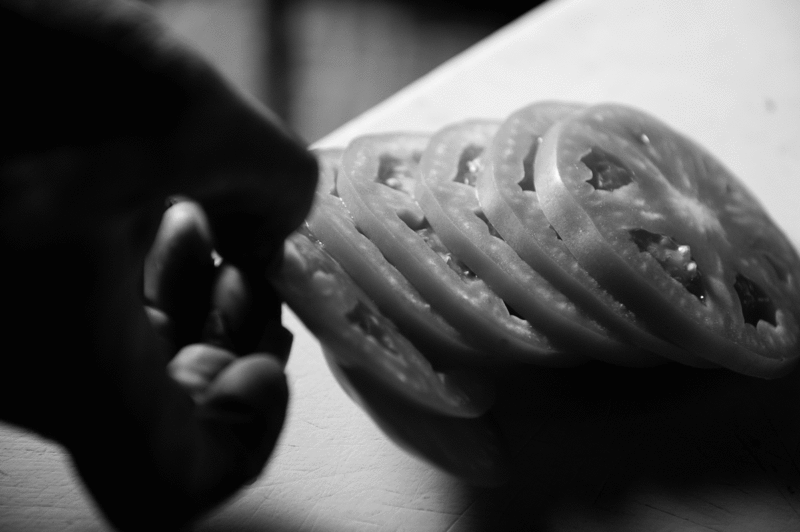 click to enlarge