click to enlarge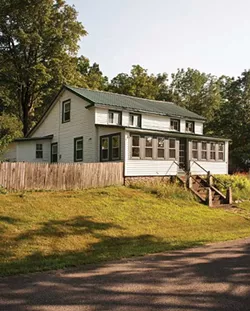 When acclaimed craft-furniture maker Michael Puryear met marketing consultant Nicole Carroll at a conference in Savannah 10 years ago, she lived in Wisconsin and he lived in Manhattan. Puryear was a widower, and Carroll's marriage was ending, so initially they conducted a long-distance flirtation. "I'll always remember the first e-mail Michael sent me," says Carroll, who recently established the American Tuition Project, a new way to raise money for college students that leverages the as-yet-untapped power of crowdfunding. "He just wrote, 'And my heart went boom boom boom.'"
Putting their lives together residentially in the Mid-Hudson Valley was a gradual process. Carroll felt she needed to stay in Madison until her daughter, Mehla, now 24, finished high school; last year, Mehla graduated from Bard College. Also, although Carroll grew up out west, she's long had strong ties to New York. "When Michael and I met, I traveled a great deal. I was in New York maybe nine times a year already, helping artists market themselves," says Carroll. "I knew who Michael was before we met in person."
After three decades in Brooklyn and Manhattan, Puryear, a serious outdoorsman, was ready to move upstate; he already knew he liked the Shokan area. Also, his older brother Martin, a famous sculptor, lives in Accord.
A Muddled Old House
"My landlord wanted to buy me out of the loft in which I'd lived for 24 years, and it took about a year for us to come to terms," explains Puryear, who began looking at places upstate with a realtor. "When we drove into the driveway of this place—I was with my brother—I felt that this could work," he says. "There was something about the total package that just seemed right, and it had an outbuilding large enough to be my workshop."
Located on Longyear Road, a quiet, dead-end street paralleling Route 28, the 1870 farmhouse was the original homestead of the Longyear farm, which covered much of the Shokan area back in the day. "It was clearly a lovely little house originally, but over the years, with additions, it got muddled," says Puryear. "Of course, that's what happens to old houses, until someone like me comes along and straightens things out again."
The two-story house is small, about 1,200 square feet, with three bedrooms and two baths. It sits on two acres and has four separate outbuildings of various ages, with the wood-storage shed possibly being original. The previous owner collected antique farm equipment. The 24' x 36' structure Puryear has converted into a heated and insulated showcase of a workshop was added in the '80s, although its rough-hewn pine board and batten siding matches the older buildings on the property.
"Michael bought the house. But I did get to see it before he closed," says Carroll. "He's very particular about his home, so I knew it would be great. Also, he's superhandy, so he could easily visualize how much he could do to open it up."
A Craftsman's Renovation
"When I bought the house, it was in close to move-in condition, but there were acoustic tiles on the ceiling, a strange hall to nowhere, and lots of small rooms," says Puryear. "To create this open space downstairs, I took down supporting walls and put in beams. Note there aren't any strange lumps in the ceiling. That's because I inserted the beams into the joists. That's not a beginner's renovation."
The craftsman also laid bluestone for the entrance floor, and wheat-colored bamboo plank flooring elsewhere. Carroll chose the dark jewel-toned paint for the walls. Upgrading the carpentry seen and unseen throughout, Puryear fashioned the decorative downstairs window sills from exotic Indonesian lace wood. "They look good, but it turns out I'm highly allergic to lace wood," laughs Puryear, who sliced through 40 percent of his trachea in a freak shop accident four years ago. He made a full recovery.
The house had an existing UV light water purification and filtration system, but it wasn't operational; Puryear fixed it. Eventually, they added a compact Munchkin high-efficiency boiler and a fine Rais woodstove, made in Denmark. Spray-foam insulation in the basement and between the walls further enhanced the comfort and thermal efficiency of the farmhouse. All the appliances were replaced, as was the entire septic system.
click to enlarge
"That's one advantage of living in the watershed. The city of New York reimbursed us for safely upgrading our septic; it's a great deal, it didn't cost us anything, and our neighbors on both sides did it too," explains Carroll.
Puryear made almost all of the furniture in their home. Clean-lined and substantial, it possesses a resonance that underscores the sanctuary vibe of the no-chaos-allowed residence. "To me, good design is all about how it is experienced," he says. "There's a lot of furniture available these days that's attractive but poorly made. My pieces all have heirloom potential. I use traditional joinery techniques, because they last—that's how you make a piece of wood furniture that stands the test of time."
Puryear's aesthetic pays homage to both Shaker and Scandinavian design. He also combines curved elements with planar surfaces and contrasting wood colors and textures. He's profoundly influenced by the Japanese concept of shibui, which translates as simple elegance, objects of which one never tires because of the artful balance of line with textural complexity.
After eight years and three major phases, upgrading the farmhouse presently takes a backseat to both Puryear's and Carroll's careers. Puryear's completing a dramatic and whimsical chess bench for a repeat client. Carroll, a graduate of New York University's philanthropy and fundraising certification program, recently attended a conference examining ways in which computer games might be used to better serve humanity. But continuing to fix up the farmhouse is always a priority. "We're in the process of gut renovating the upstairs bathroom," says Puryear. "Then we'll probably fix up the front porch, which might become Nicole's new office, and rip off the vinyl siding ... but it all depends on how much work I have, and the cash flow, too, of course."
Puryear currently has a show of his furniture on display at Gallery Naga in Boston, although most of his sales come through direct referrals. "I make very fine furniture for a discerning client, and to make things the way I do takes a lot of time, plus the expensive materials. Even the very wealthy are being careful about spending money right now," says Puryear, who anticipates sales will continue to pick up as people begin to invest with confidence in their surroundings again.
"I don't think things will really fall apart. We're just in a time of extreme change. I have faith in humanity and in America," says Puryear. "Nicole and I like to live small and think big."