Rhianna, the owner of the Dreaming Goddess retail store in Poughkeepsie, had a vision of bringing together a community for healing, spiritual growth, and understanding. She created just that in Akasha Con, a weekend-long spiritual gathering now in its sixth year. "Our intentions are to create a space for people to come and learn about Earth-based, positive spiritual practices." And hundreds do. From March 23–25, the unique blend of workshops, festivities, food, merchant wares, and healing arts will again be held at the Poughkeepsie Grand Hotel, where, Rhianna says, "they really support us and are very open and receptive. We call it our 'Grand Nest' because we flock back to it each year."
The weekend begins with a welcoming circle on Friday evening at 6pm followed by a meet-and-greet. Saturday evening offers a sumptuous feast and a festival of music, singing, drumming, and dancing around an indoor "alchemical" fire circle. A Merchants' Room offers unique artwork and crafts; a Wellness Room provides bodywork, healing energy sprays, tarot, and more at a nominal fee. (Both rooms are open all weekend to unregistered guests.)
This year's presenters and workshops include:
Jim Donovan is a founding member of Rusted Root, an acclaimed solo recording artist, and a renowned drummer. "The Rhythm Renewal: Drumming Workshop" is an interactive, transformational experience of international rhythms, songs, and chants. "Rhythmic Motivation" explores building purpose and connection with others, deepening listening skills, and enhancing creativity through the power of group hand-drumming.
A'alyvyne Foxwood is an herbalist, faery seer, drummer, tarot reader, and initiate witch and priestess; she holds a master's degree in women's studies and counseling. "Dancing the Shadow: Journey to the Dark Goddess" will focus on the Dark Feminine voice within and transforming pain and fear through one's greater spirit self. "Embracing the Shadow: Navigating the Underworld Landscape" explores deepening connections to the Underworld for healing self and others.
Michael Gryffyn has been a student, teacher, and researcher in metaphysical and healing arts for more than 30 years. A member of the Sound Healers Association, he studied with the discipline's pioneers and with Lama Tashi, the chant master of the Dalai Lama. "Infinite Om: Principles of Sound Healing" shows how sound restores one's natural body vibrations and harmonic tone using drums, singing bowls, tuning forks, the human voice, and overtones. Michael will also teach "Manu Mantra and Meditation."
Hrana Janto is a professional artist who co-created the acclaimed card deck The Goddess Oracle and provided illustrations for the PBS series "Joseph Campbell's The Power of Myth." Explore the history, iconography, and influences of the Goddess in Hrana's workshop, "Goddess Guide."

E. H. "Rick" Jarow is assistant professor of Eastern religions at Vassar College and author of Creating the Work You Love, In Search of the Sacred, and The Yoga of Work. His workshop will teach the "Alchemy of Abundance."

Cait Johnson has authored several books on tarot, seasonal celebrations, the four elements, and magical cooking. She is an intuitive counselor with a private practice. Cait will teach "Basic Tarot for Wild Ones" and "Tarot Journeys."
Dona Ho Lightsey is a celestial shaman, angelic sound healer, ordained priestess, channel for the Ascended Masters, IET master/instructor, serenity vibration healing practitioner, and massage therapist. Dona's workshop "Egyptian Alchemy: The Principles of Sacred Relationship" will explore the fundamentals for sacred relationship with the self, the beloved, and the world, as taught by Magdalen and Yehsua. She will also lead "Communing with the Goddess Mother Mary and the Sisterhood of the Rose."
Deborah Lipp, author of Elements of Ritual, The Way of Four, and The Way of Four Spellbook, is a Gardnerian witch and a high priestess, and has been teaching Wicca and running pagan circles for decades. Deborah will teach "The Way of the Four," a discussion of the four elements and how they play out in your personality and life, and "Structure of Wiccan Ritual."
Sharynne MacLeod NicMhacha is a professional singer and musician specializing in ancient, Celtic, and medieval music. She teaches at the Celtic Institute of North America and is a Celtic priestess, a shamanic/druidic practitioner, and author of Queen of the Night: Rediscovering the Celtic Moon Goddess. Sharynne will lead "Journey to Avalon" and "Feathered Cloak: Celtic Shamanism and the Shapeshifting Tradition."
Dorothy Morrison, author of Everyday Magic and In Praise of the Crone: A Celebration of Feminine Maturity, is a third-degree Wiccan high priestess and founder of the coven of the Crystal Garden. "Swifting of Energy" will let you discover the difference between positive and negative energies and learn how to turn energy in ways that work for you. In "The Magical Solution," you can learn to create magical solutions for the problems life throws at you.
Michelle Payton is trained in hypnotherapy and neurolinguistic programming and author of the award-winning books Adventures of a Mainstream Metaphysical Mom and the "Birth Mix Patterns" series. Join Michelle for "Understanding Your Relationships Using Quick Astrology, Numerology, and Birth Order" and "Realign Yourself with Success Financially and Spiritually."
Lady Rhea is a free-will eclectic witch who co-owns Magickal Realms in the Bronx, created the Enchanted Candle Magick system, and authored The Enchanted Formulary. She will be teaching workshops about "Enchanted Candle Magick" and "Magical Oil Blending."

Dana Rudikoff has studied many forms of dance, yoga, authentic movement, and improvisational movement as tools for expanding consciousness and deepening connections. Dana will teach "Arriving in Our Bodies: Listening to the Wisdom of Flesh, Muscle, and Bone" and "Weaving the Thread of Dance: Connecting Through Movement at 'Fire Circle' and Beyond."
Lisa Sullivan holds a degree in psychology and is certified in transformational healing and angel therapy. She created the process "I Surrender This" to help cope with her son's deployment to Afghanistan. She will lead "Angels 101: Connecting and Communicating with the Angels" and "I Surrender This: The Art of Letting Go."
Riva Weinstein is an artist and writer whose work embodies themes of ritual, nature, and sacredness. "Beauty to the Bone" honors the animal spirits by creating sacred works of art from materials from nature. "Magic Medicine Rattles" explains how to create the oldest form of musical instrument used to call and calm our souls.
Amy Wilde has extensive experience with henna and is certified in its use. She offers "Henna Party," an interactive workshop with supplies to decorate ourselves or a partner.
Jim Wood has studied shamanism extensively and is a shamanic practitioner and workshop facilitator. Join him for an "Introduction to Shamanism" and "Stepping Back: Healing the Ancestral Wounds," a guided visualization to find and heal emotional wounds of our ancestors and free ourselves and our descendants.

Participants can attend all or segments of the weekend; register before March 17 for a discount. For more information and registration visit www.dreaminggoddess.com or call (845) 473-2206.
click to enlarge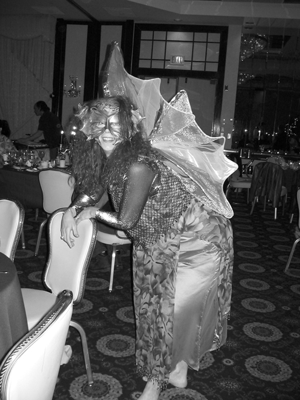 click to enlarge
click to enlarge