When Stormwater Runs Amok
On May Day this spring my husband and I went to down to our community garden plot by the Wallkill River; we found it—and even the parking lot—under water. This is not uncommon for this location—it is a floodplain, after all—but some of the little seedlings that gardeners had already planted were going to be unhappy. We felt chagrined by that, but we once again admired the stalwart trees and shrubs between the gardens and the river. They keep the aftereffects of storms from being much, much worse.
These trees and shrubs were planted in 2004-05, when the Ulster Soil and Water Conservation District, with other partners, put in a marvelous 35-foot-wide riparian buffer of woody plants along 1,200 feet of the Wallkill. The project, according to their signage, was meant to "slow down the erosion process and keep this special place from dissolving into the river." For the buffer, the District and its partners used trees and shrubs that could withstand periodic flooding, like river birches, willows, button bushes, and elderberry.
Here in the Hudson Valley, flooding is a hazard for many people. Even those who don't live on floodplains will often have parts of their properties affected, or even overwhelmed by, inadequate channels for stormwater. This could lead to simply an area of lawn that stays persistently wet and won't support grass, all the way up to stormwater that runs catastrophically off into the basement. And even those of us who do have good runoff would like to keep more of the stormwater in place so as to avoid taxing municipal infrastructure.
Woody Shrubs to the Rescue
Woody shrubs can be used for all kinds of stormwater retention projects, from massive municipal bioswales to tiny rain gardens—you just need to know which ones to select.
click to enlarge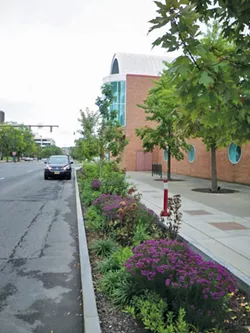 These shrubs are covered in a comprehensive, 56-page, illustrated free new guide from Cornell's Urban Horticulture Institute, Woody Plants for Stormwater Retention Practices, by Ethan M. Dropkin and Nina Bassuk.
The guide describes the following stormwater retention systems, all of which can be adapted for home landscapes: Vegetated Filter Strips (strips of lawn that help slow water as it moves to a riparian buffer or natural area), Vegetated Swales (constructed channels in the earth lined with turf), Tree Plantings (tree canopy slows stormwater down on its way to the earth), Rain Gardens (planted depressions in the earth used to temporarily retain stormwater), Stormwater Planters (surface or subsurface planters designed to slow, filter, and possibly retain stormwater runoff), and Bioswales (stormwater conveyance systems that ideally rely on a variety of plant materials so as to provide additional ecosystem benefits, like food for wildlife).
Key Points in the Guide:
The shrub rationale. Why not rely on herbaceous plants, like the flood-tolerant perennial Joe-Pye weed, or swamp milkweed, or rushes? Perennials have to be cut back every year and thus require more maintenance than shrubs. Also, a shrub generally fills more space than a perennial, which can be desirable for planting large areas. However, depending on your willingness to perform maintenance, you could always integrate shrubs and herbaceous plants; that tends to be more ornamentally pleasing.
Plants must be wet and dry tolerant. Wetland plants would seem to be the likely choice when picking out shrubs for stormwater retention systems. However, whereas wetlands are permanently or semi-permanently wet, the majority of planted stormwater retention systems are only inundated for a few minutes up to a few days. They can be quite dry for most of the season. For this reason, plants that can handle both temporary inundation and relatively protracted drought are the best choices.
Bottom versus top. The location within the swale or other vegetated system is significant; the top of the swale is going to be drier than the bottom, so plants have to be matched accordingly. (This is a common mistake—planting water-loving plants at the top of swales, which can be quite dry.) Also, all the plants, regardless of placement, are likely to need irrigation during the first year in order to get established.
Site assessment is essential. As with any landscape design, critical information is yielded by assessing the site's sun/shade exposure; soil type, fertility, pH, and so on. The guide provides a complete Site Assessment Checklist with instructions.
A full plant palette should be considered. From the guide: "Most stormwater treatment planting guidelines suggest the use of native plants exclusively. However, due to the unique moisture/drought tolerances required for successful growth in these sorts of practices, it would be imprudent to exclude non-native plants. Because of the growth limitations associated with these planting areas, as long as a plant can succeed on site, and is not invasive, any plant that can grow here should be considered." Please see "Resources" for a more thorough discussion of native and exotic plants in the home landscape.
Shrub Superstars for Stormwater
The dozens of shrubs in the guide were selected for their performance in experimental trials at Cornell and/or for their proven use in New York City and/or Syracuse, and for their documented cultural tolerances (like preference for sun or shade and adaptability to different soil types). The guide's list of suggested shrubs is not comprehensive but provides a wide array of choices for sites that are periodically saturated.
Here are some examples of shrubs for stormwater retention systems that are hardy in our area; be sure to do a site assessment first to make sure these are appropriate for your site. If these are too big for what you have in mind, know that most of these shrubs have more petite cultivars available in the nurseries.
Red-twig Dogwood
Full Sun to Part Shade
Cultural Tolerances: Tolerant of a wide range of soils, including very saturated
Ornamental Features: White flowers and fruits; bright red stems in winter
Height: 6 to 9 feet
Spread: 8 to 12 feet
Winterberry Holly
Full Sun to Part Shade
Cultural Tolerances: Prefers wet, acid soil but can handle relatively dry soils
as well
Ornamental Features: Dense crops of bright red berries in fall and winter
Height: 3 to 12 feet
Spread: 3 to 12 feet
Ninebark
Full Sun to Part Shade
Cultural Tolerances: Tolerant of a variety of soil types; tolerates flooding and drought
Ornamental Features: Showy white or pink flowers, handsome burgundy or chartreuse foliage available, exfoliating bark
Height: 5 to 8 feet
Spread: 4 to 6 feet
Pussy Willow
Full Sun to Part Shade
Cultural Tolerances: Prefers full sun and moist soils but can tolerate some drought
Ornamental Features: Showy silvery flowers in spring
Height: 6 to 15 feet
Spread: 4 to 12 feet
Elderberry
Full Sun to Part Shade
Cultural Tolerances: Prefers moist soils but tolerates some drought; tolerates a variety of soil types
Ornamental Features: Handsome green or black foliage; large masses of white to pink flowers; dark purple fruits
Height: 5 to 12 feet
Spread: 5 to 12 feet
Silky Dogwood
Full Sun to Part Shade
Cultural Tolerances:Tolerant of nearly full shade; tolerates prolonged inundation
Ornamental Features: white flowers and showy blue fruit
Height: 6 to 12 feet
Spread: 6 to 12 feet
Native Spirea/Steeplebush
Full Sun
Cultural Tolerances: Tolerant of a variety of soil types; prefers acid soils; tolerant of flooding and drought
Ornamental Features: Pink flower spikes, handsome leaves
Height: 2 to 4 feet
Spread: 3 to 5 feet
RESOURCES
Woody Plants for Stormwater Retention