Pizza at Slices in Saugerties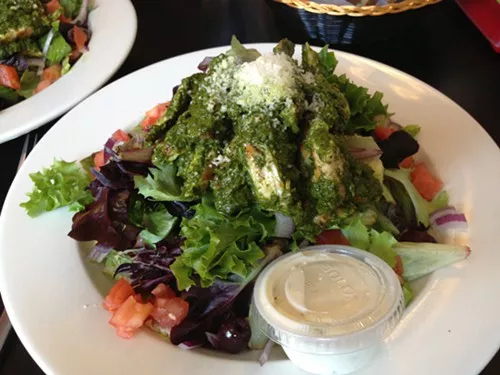 Chicken Pesto Salad at Slices in Saugerties
After sleigh riding at Snyder's Hill in Saugerties, we stopped by Slices in Saugerties because it is very kid-friendly and the pizza is made from only the freshest ingredients. I have been here several times since they opened their new pizza place in Saugerties last November. The owner did a fantastic job transforming the former Moroccan themed Fez Cafe space into a bright and cheery pizza place. I love their thin crust pizza—I don't feel guilty eating it because it doesn't have that heavy oily pizza feeling.
My daughter had 2 grandma slices, and my husband and I both ordered the Chicken Pesto Salad. The portions were generous and the salads were very fresh. Trays and platters are also available for parties. Gluten-free crust, whole wheat crust, or grandma crust are also available upon request. They deliver in town, which is great for those lazy winter nights. You simply can't go wrong eating here!
For more Hudson Valley restaurant reviews check out Vanessa Ahern's blogHudson Valley Good Stuff.